Innovation and Growth Important to Gambling Industry
Home
»
Poker News
» Innovation and Growth Important to Gambling Industry
Monday, October 30th, 2017 | Written by Charles Washington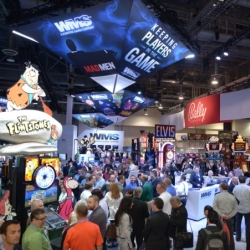 The gambling industry must constantly adapt, and keep looking for new streams of revenue to help grow the market. In Las Vegas, for instance, the Strip is forever changing, and offering new products and services to attract customers to the gambling mecca. Even then, revenues have been recovering only slowly following a decade spent in the doldrums. Likewise, the country's East Coast land-based casinos have also been struggling for a number of years, highlighting the important part growth and innovation play in establishing an attractive, thriving industry.
NY Casinos Below Forecasts
Most people in New York, for instance, already know that the state's three new upstate casinos are not doing as well as originally hoped. In fact, Tioga Downs is expected to come closest to reaching the initial $100 million prediction made for this year, while the largest venue, Del Lago, has thus far generated just one third of its anticipated $263 million in revenue. Meanwhile, the third property, the Rivers Casino, looks more promising, despite currently being short of initial projections, with its potential partly a result of its successful poker room, as well as its impressive table game and slots offerings.
Other Markets Struggling
New York and Nevada are not alone in facing many challenges, though, with Atlantic City, Pennsylvania, as well as numerous other states also struggling to attract new customers to their casinos. The question is, how will they accomplish this goal? One such way is through the introduction of more online gambling products, which in turn will appeal to a much younger audience than the demographic that currently frequent gambling establishments.
Growing Online Poker
Fortunately, the past few weeks has produced some incredible news for the USA's gambling industry with first Nevada, Delaware and New Jersey agreeing to share their online poker pools, followed by Pennsylvania passing online gambling legislation, and now just awaiting a signature by Gov. Wolf to make regulation official. The Keystone State is expected to subsequently join the aforementioned online poker compact, which in turn may provide just the incentive for other states such as New York, and perhaps even California to follow suit.
A bigger player pool will inevitably lead to a greater availability of cash game action, as well as more tournaments with larger, more attractive prizes. However, efforts must also be focused towards stimulating more interest in poker amongst recreational players, which in turn will help to grow the game both online and in the live arena. A recent article sheds some interesting ideas on how this may be accomplished, with the study examining and reviewing the different motivations for recreational players to join in poker games.
Online Gambling Expansion
An online gambling expansion could then lead on to other products being introduced, such as daily fantasy sports, and sports betting, should New Jersey win its PASPA challenge in the Supreme Court, thus presenting casinos with another significant opportunity for innovation and growth. One just has to look at the example of New Jersey to make the case, with the state's online gambling segment now accounting for a significant proportion of its overall casino revenues, with that figure only set to continue growing going forwards. Commenting upon the situation, gaming analyst Steve Ruddock explains:
"Online gambling now accounts for some 10 percent of all casino revenue generated by Atlantic City casinos, which is a staggering total for such a young industry. The bottom line is that legal online gambling has become an incredibly competitive market with many winners, and that has undoubtedly been a boon for New Jersey."
New Slots Innovations
Complementing a gambling expansion online, the land-based casino world has launched a number of other innovations lately, such as the introduction of skill-based video game gambling at some casinos. These now can be seen at various casinos across the states of Nevada and Oklahoma, while some cruise ships have also started offering products such as Terminator 2- Judgement Day video gambling machines. According to the game's manufacturer, GameCo, demand for skill-based games presently outpaces their supply, with the company's CEO Blaine Graboyes, hailing the innovation as a great market opportunity for the whole industry.