Female Participation at WSOP Lowest in Six Years at Just 4.86%
Home
»
Poker News
» Female Participation at WSOP Lowest in Six Years at Just 4.86%
Wednesday, July 25th, 2018 | Written by Charles Washington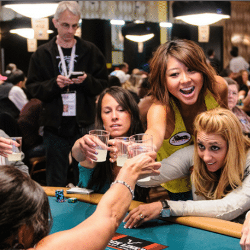 The 49th Annual World Series of Poker recently concluded its 50-day run at the Rio All-Suite Hotel & Casino, and produced a number of dramatic headlines, including Phil Hellmuth winning an incredible 15th bracelet, and Justin Bonomo winning the $1 Million Big One for One Drop to overtake Daniel Negreanu on the 'All Time Money List'. Chris Ferguson also cashed 18 times at the 2018 Series, representing a new all-time record for the competition, and currently has an unprecedented 115 WSOP scores to his credit since his first WSOP cash almost a quarter of a century ago.
A number of other records were also set, including a massive 123,865 players entering the World Series. This then created a prize pool that eclipsed quarter of a billion dollar for the first time in its five decade long history, with a record 18,105 places subsequently paid out.
One exception putting a dampener on things, however, was a reduced level of female participation at this year's Series. The poker industry has made its mission to attract more women to the game by breaking down gender and cultural barriers, but unfortunately participation numbers haven't changed much over the past decade, and at just 4.86% in 2018 ended up being its lowest percentage in six years.
Lack of Women Participation
Most organizers do not track the number of women taking part in their tournaments, while the World Series of Poker only began doing so in 2013, apparently making the decision based upon interest expressed by the poker community. As the WSOP subsequently wrote at the time:
"The WSOP recognizes that player characteristics such as gender, race, etc., do not typically warrant special mention. However, since many members of the media and public wish to know details about female participation, this information is made available."
Since tracking began, the percentage of women taking part at the WSOP has only dropped on two occasions, although 2018's figure represents the first time it has dipped below the 5% mark:
2018: 4.86% (5,717 entries)
2017: 5.4% (6,516 entries)
2016: 5.12% (5,522 entries)
2015: 5.43% (5,625 entries)
2014: 5.28% (4,351 entries)
2013: 5.1% (PartyPoker Tracking)
Aren't Things Improving?
News concerning the WSOP's lower female participation level came as a surprise to many, as the industry has actually taken huge stride over the past few years in making the game more amenable to women players. These days, for instance, there are more women sponsored ambassadors than at any time in the past, with an increasing number of them airing their experiences via social media and online streaming platforms, such as Twitch.
Moreover, tournament organizers and casinos have been made aware of the prevalence of sexism in poker, and have become more proactive in confronting those guilty of such harassing behavior. Similarly, women players now feel comfortable enough to call out players for their negative and stereotypical comments, contributing to an all round more comfortable playing environment for the ladies. Unfortunately, though, there is so much more that still needs to be done.
Reasons For Decrease
While the situation has changed dramatically over the past few years, sexism continues to be problem in tournament and cash games taking place around the world. In a recent example, for instance, Tournament Director Matt Savage referred to an incident that occurred at the L.A. Poker Classic on his WPT blog. Apparently, a security guard had to remove a male player from the Commerce Hotel & Casino for shouting at a female player, and as an extract from his blog then read:
"We need players, floor men, tournament directors, and card room managers to not only encourage women to play in their casinos and poker rooms but to be strong and monitor the behavior of people in the games where abuse can and does take place.

"Men, imagine your mother or your daughter is the dealer or another player at the table. Would you allow people to be inappropriate in front of them or would you speak up? I must admit, despite the efforts I have made, I need to be much better as an industry leader."

"Until we can make the poker environment more player friendly, and women made to feel comfortable and unintimidated, we are doing an extreme disservice to women and our game."
Positive Action
While Matt Savage makes some interesting observations and recommendations in his piece, one of the actions he failed to mention was the promotion of more women to positions of power within casinos and poker rooms. In addition to promoting more inclusiveness and gender equality at the tables, they could also play an expanded role in keeping an eye on offenders and policing the games taking place.
Elsewhere, online poker sites have continued their efforts to attract more women. PokerStars, for instance, offers women-only tournaments, but boasts only a limited lineup of female sponsored pros which includes Liv Boeree, Celina Lin, Muskan Sethi, Maria Konnikova, and Fatima Moreira de Melo. Meanwhile, 888poker's lineup is more gender-diverse, but the brand's stance is generally an exception within the industry.
Finally, poker television commentary continues to be male dominated, with the exception of a rare appearance by players such as Kara Scott, Maria Ho, and Jamie Kerstetter. Its therefore fair to say that industry-wide changes involving more female personnel and better marketing towards women needs to put into motion before any significant increase will be noted in female participation levels in the game.