UKGC Hits Paddy Power Betfair with £2.2M Fine Over Responsibility Failings
Home
»
Poker News
» UKGC Hits Paddy Power Betfair with £2.2M Fine Over Responsibility Failings
Saturday, October 20th, 2018 | Written by Shane Larson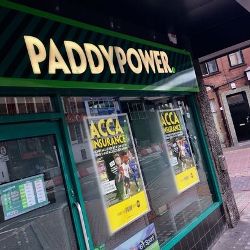 Ireland-based public gaming firm Paddy Power Betfair has been slapped with a huge £2.2 million ($2.89m) fine by the United Kingdom Gambling Commission (UKGC) over its failure to uphold adequate levels of consumer protection in five individual cases dating back to 2016. Commenting upon the penalty, Richard Watson, the UKGC's executive director, stated:
"These failings all stem from one simple principle – operators must know their customer. If they know their customer and ask the right questions then they place themselves in a strong position to meet their anti-money laundering and social responsibility obligations."
Paddy Power Betfair has now been ordered to pay £1.7 million to GambleAware, an independent charity tasked with reducing gambling-related harm in the UK, while the remaining £500,000 will be returned to those impacted by the company's failings. In addition, the gambling operator will pay a further £50,000 towards covering the UKGC's investigative expenses.
Addiction and Theft
The commission's investigation found five separate cases of significant shortcomings by Paddy Power, three involving gamblers using the brand's high street shops and website, and the other two related to customers that used its betting exchange. In three of the cases, Paddy Power had apparently failed to identify signs of addictive behavior, while in two instances the operator had allowed customers to gamble using stolen funds.
One of the latter examples involves Simon Price, who during his tenure as chief executive of the Birmingham Dogs Home, stole £894,754 from the charity over a four years period (2012-16). Price was given a five year jail sentence for embezzlement, while his wife Alayna received a two-year suspended sentence for her involvement in the crime. During his trial, Price said that £700,000 of the money he stole went towards feeding his gambling habit, and was specifically gambled away on Paddy's Betfair-branded exchange.
It would appear that most of the £500,000 earmarked by the UKGC in compensation payment to original victims of the company's failings will be handed over to the Birmingham animal charity, although the commission has not yet provided details of the precise allocation.
Response to Failings
Commenting upon the company's litany of responsible gambling and customer protection missteps, the UKGC's Richard Watson said Paddy Power Betfair had demonstrated "significant" negligence in allowing such large amounts of stolen money to flow through its exchange. He further iterated that gambling firms have a duty of care to ensure that the proceeds of crime are not used at their establishments.
Meanwhile, Paddy Power Betfair was required to release a statement of its own admitting its own ineffectiveness in the matter, and offering an apology concerning the situation. As Peter Jackson, the CEO of Paddy Power Betfair, subsequently added:
"In recent years, we have invested in an extensive programme of work to strengthen our resources and systems in responsible gambling and customer protection. We are encouraged that the Gambling Commission has recognized significant improvement since the time of these cases in 2016. This work is continuous and we are committed to working in partnership with other operators, and with the Commission, to become better and better at protecting customers."
Comparison to Other Fines
This is not the first time that Paddy Power has been hit with a penalty by the UK Gambling Commission, although it does represent by far the highest amount. In 2016, for instance, the UK regulator saddled the Irish betting company with a £310k fine  for failings in its anti-money-laundering and know-your-customer practices. In one of the cases, Paddy Power accepted the claim of a customer concerning  his source of his wealth after he asserted that he owned a chain of restaurants. In actual fact, however, the customer was a problem gambler who was forced to work five jobs in order to make ends meet, and was ultimately allowed to keep betting at Paddy power until he lost his jobs, home and access to his children.
Nevertheless, numerous other operators have also fallen foul of the Gambling Commission's rules, with the long list including 888 (£7.8m), William Hill (£6.2m), Camelot (£3m), Ladbrokes Coral (£2.3m), 32Red (£2m), and Sky Bet (£1m).
As can be seen, 888 has been handed the biggest fine to date, and was ruled to have committed "outrageous" failings after allowing more than 7,000 self-excluded gamblers to access their accounts between October 2015 and September 2016. In one of the cases, a customer was even permitted to place £1.3 million in bets over a single year using money stolen from his employer. These exceptional costs, combined with a hefty VAT charge in Germany, caused 888 to sink to a $17.3 million (£13.4m) loss during the first half of that year, compared to a pre-tax profit of $27.8 million over the same period a year earlier.