Heather Alcorn Triumphs at 2018 WSOPC Southern Indiana Main Event
Home
»
Poker News
» Heather Alcorn Triumphs at 2018 WSOPC Southern Indiana Main Event
Thursday, October 11th, 2018 | Written by Lucy Brown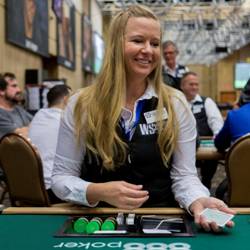 Heather Alcorn is turning heads in the poker world after making three final tables in a row at the 2018 WSOP Circuit Southern Indiana, including taking down its $1,700 Main Event for a whopping $129,654 payday. At a time when women comprise less than 5% of World Series of Poker fields, it's good to see that the tide is changing and that women are more than holding their own at the tables.
Poker Dealer Career
Heather Alcorn spent 13 years as a real estate agent, and also ran a spa and beauty salon before deciding to become a casino card dealer six years ago. During that time she has worked at the annual WSOP in Las Vegas, and over the past three years has dealt hands at the prestigious WSOP Main Event final table.
Alcorn said that she became a card dealer because she wanted a "fun" career that permitted her to travel to different locations around the country. Interestingly, that is precisely what the Missouri resident was doing when she was passing by the poker tournament series taking place at the Horseshoe Southern Indiana. As she then explains:
"I couldn't work this event for personal reasons so I just happened to be driving through town so I thought I'd just stop and say hi to everybody. I thought I was going to stay one night and play one tournament, ended up final tabling, so I stayed the next day and final tabled that one. So I went ahead and played the main."
Heather's Winning Streak
Prior to this year, Heather Alcorn had just $23,036 in live tournament winnings since her first live cash in 2013. Nevertheless, 2018 has proven a breakout year for the 41-year-old mother of two, having made four consecutive final tables, starting at the WSOP Circuit Tunica in January where she finished its $580 event in a 4th place for $9,981.
The WSOP Circuit Southern Indiana subsequently took place from Sept. 27 to Oct. 8 in The Hoosier State, during which time Heather finished the $400 NLHE event in 8th place for $1,752, and the $400 NLHE Monster Stack in 4th place for $10,150, before going all the way and taking down the $1,700 NLHE Main Event to claim a huge first place prize worth $129,654. She also received a $10k seat through to the season ending Global Casino Championship (GCC), an invitation-only tournament for this year's WSOP Circuit ring winners, as well as Circuit ring winner from past seasons.
$1,700 WSOPC Main Event
The $1,700 WSOPC Southern Indiana Main Event attracted 389 players to build a prize pool of $589,335. A number of notable pros took part in the competition, and amongst those finishing in one of its 45 money places was Corey Bierria (41st), Alan Percal (37th), Reginald Roberts (28th)), Alan Engel (16th), and Benjamin Grise (14th).
David Sill and Heather Alcorn subsequently entered the final table of eight in first and second positions, while WSOPC champion Kevin Iacofano was in third place, and 2-times WSOPC winner Michael Lech was the shortest stack at the table. Nevertheless, Heather saw her chips drop to just 13 big blinds before mounting a comeback, and as she later commented:
"I just got coolered one hand and honestly I was pretty sure I was going out at that point but I was not ready to give up. It just turned around I got a few good hands right away."
David Sill was responsible for the first series of eliminations having knocking out Daniel Loizzo (8th), Saleem Delawalla (7th), and Michael Lech (6th). Alcorn then entered the fray after being dealt pocket kings and seeing off Michael Foley (A-8) in 5th, while Kevin Iacofano's pocket queens were good enough to send Abhishek Yerra (A-Q) to the rail in 4th.
During three-handed play, David Sill looked to take advantage of an opening raise by Alcorn followed by a call by Kevin Iacofano by moving all-in over the top holding a marginal K-9 hand. Unfortunately for Sill, Alcorn had laid a trap with her pocket kings and after calling his bet, the board rolled out 7-A-10-Q-9 to oust him from the competition and get heads-up play underway.
Heads-Up Recap
Alcorn took a more than 2-to-1 chip lead over Iacofano into the final battle, and then managed to plow ahead to a more than 9-to-1 advantage by the time the deciding moment arrived. The final hand saw Iacofano raise all-in preflop holding pocket fives, and after Alcorn made the call with an A-9 holding, the board ran out K-10-7-10-7 to counterfeit Iacofano's hand and secure a famous victory for the World Series of Poker dealer
Final Table Results
1: Heather Alcorn $129,654
2: Kevin Iacofano $80,120
3: David Sill $58,545
4: Abhishek Yerra $43,469
5: Michael Foley $32,799
6: Michael Lech $25,088
7: Saleem Delawalla $19,483
8: Daniel Loizzo $15,346