Illinois Holds First of its Two Gambling Expansion Hearings in Chicago
Home
»
Poker News
» Illinois Holds First of its Two Gambling Expansion Hearings in Chicago
Monday, August 27th, 2018 | Written by Lucy Brown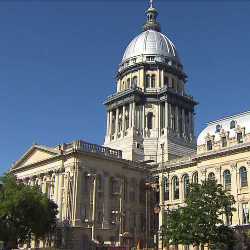 On August 22, the State of Illinois held the first of its two scheduled gambling expansion hearings in Chicago. The joint session overseen by the House Sales and Other Taxes and Gaming Sub-Committees heard testimonies from various stakeholders regarding a piece of legislation (SB 7) introduced by Democratic Rep. Bob Rita in early 2017, which also contains provisions for legalized sports betting.
The hearings were called for by Rita at the beginning of this month, with the latest debate setting the stage for further discussions at the state Capitol in Springfield on October 3. Rita has been championing the push for gambling expansion in Illinois for many years, and as he explains:
"The gaming landscape has changed significantly since I took on this issue five years ago, and I want to use these hearings to understand how those changes present new opportunities for us to put together the right package as we look to meet budget needs and provide a spark for our economy."
Severe Financial Crisis
While Illinois managed to pass its $38.5 billion budget in May, the state continues to suffer from severe financial problems, and last summer saw its credit rating downgraded to "junk" status. Counted amongst its many woes are unfunded liabilities estimated to be between $100-$250 billion, as well as unpaid bills of around $15 billion. Needless to say, the Prairie State desperately needs to secure new sources of funding, with some analysts predicting a gambling expansion could contribute an extra $1 billion annually, including $300 million from online gambling.
Declining Gambling market
Illinois opened its first casino in 1991, and has since developed into a thriving gambling market which last year generated $1.41 billion in revenue, resulting in tax revenues of $475.5 million for the state. Nevertheless, it has also experienced five consecutive years of annual declines, leading politicians such as Rita to contemplate measures designed to grow the industry, including permitting five new casinos, allowing slots and table games at the state's three racetracks, a video gaming machine expansion to include bars, restaurants, and airports (O'Hare and Midway), as well as legalizing online gambling and sports betting.
House Gaming Subcommittee
At the first hearing held last week, the House Gaming Subcommittee heard testimonies from stakeholders representing gaming and municipality interests, although gambling opponents were also present who took the opportunity to chastise lawmakers for even contemplating introducing more gambling options. The main topic of the three-hour hearing, however, was video gaming machines, of which there are currently around 30,000 spread across bars, pubs, and other facilities in the state.
Firmly in the positive camp is Jumer Casino and president, Mark Bennett, who stated that his operation was prepared to support video gaming machines at racetracks, although preferably just on "live racing days." He also said he was in favor of scrapping the $2 admission tax at casinos, as well as an expansion of other forms of gaming.
On the other side of the spectrum, Tom Swoik, the Illinois Casino Gaming Association's executive director, presented his association's view on the proposed VLT expansion, stating that "cannibalization and saturation are not abstract talking points." As opponents of the measure subsequently pointed out, an additional $12 million in annual tax revenues would be produced from a video gaming machine expansion, an amount which they deem to be wholly insufficient.  Further concerns were also expressed regarding the social costs associated with a gambling expansion, including a rise in gambling addiction, crime, and the breakdown of families, especially among vulnerable and lower-than-average income groups.
Springfield Hearing in October
All eyes are now on the second hearing scheduled to take place in Springfield on October 3, with the main subject of that discussion being legalized sports betting, daily fantasy sports, and online gaming in Illinois. The hearing will be jointly held by the Gaming Committee and Revenue and Finance Subcommittee, and will offer the opportunity to discuss a vision for the state's future gambling industry, and how to structure Senate Bill 7 in order to better reflect those needs. All this will have to be done whilst satisfying the disparate concerns and interests of lawmakers and stakeholders.
The October hearing is expected to provide a clearer indication as to the bill's standing and way forward. All being well, a vote can subsequently take place during the mid-November veto session, a period during which legislation previously vetoed by the state governor can be addressed.