New York's Expanded Casino Industry Below Forecasts
Home
»
Poker News
» New York's Expanded Casino Industry Below Forecasts
Wednesday, October 11th, 2017 | Written by Lucy Brown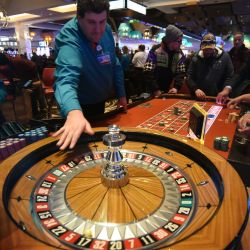 2017 was slated to be a celebratory year for New York's gambling industry, with new casinos opening, and an expected influx of bettors and new tax revenues flooding into state coffers. But much like casinos themselves, the reality has not lived up to optimistic expectations, with the returns so far having come in below estimates, and increasing evidence pointing towards cannibalization of other state casinos, as well as the rumbling of further conflict with tribal gambling interests in the state.
Casino Expansion
In 2013, the New York Governor, Andrew Cuomo, signed a law into action permitting seven brand new, gambling venues in New York. He did this in the hope of revitalizing the state's economic activity by providing an additional source of tax revenue for the upstate area. Before this happened, the state had only allowed the building of racinos featuring video lottery terminals in New York, with table games, such as craps and blackjack, strictly forbidden.
Revenue Below Forecast
While the casino expansion has led to around $70 million in new gaming taxes, and created a number of different jobs, either at the casinos or during their construction period, information released by the New York State Gaming Commission has shown that early returns from two of the casinos that opened for business in February are much weaker than initially predicted.
At the Del Lago Resort & Casino, for instance, the gaming revenue of $151 million it is currently on track to generate by the end of its first year is significantly less than the projected $262 million it had anticipated while applying for a license back in 2014. Similarly, the Rivers Casino and Resort has generated just $81.8 million since opening its doors on February 8th, although its initial estimates for its first full year of operation came in at up to $222.2 million.
In addition, the Tioga Downs, which was converted from a racino to a full fledged casino in December, is also nowhere near its optimistic projections.
Too Early to Tell?
Countering the arguments related to an under-performing gambling market, spokesperson for the Gaming Commission, Lee Park, has said that it is way too early to make any meaningful projections about the performance of these venues. Park also highlighted the fact that many of the establishments are still completing construction of their amenities, including their hotels.
Casino experts are not so convinced, though. Fitch Ratings gaming analyst Colin A. Mansfield, for instance, described the early results released by the Rivers and Del Lago casinos as being "not overly impressive." Elaborating further, Mr. Mansfield explained that "when a new, original property opens the first couple of months are usually the strongest."
On top of all this, there are already new threats looming on the horizon, including the building of a new $1.2 billion casino resort in the Catskills, slated to open in early 2018, as well as new casinos about to spring up in neighboring Massachusetts and Connecticut. Consequently, Manhattan real estate expert Jeffrey Gural, who also owns the Tioga Downs, recently felt compelled to admit that his own estimates for the venue had been overly optimistic, and that they had also been affected by an increasingly over saturated market.
Economic Development Achieved
While Gural concedes that a certain level of economic development has taken place as a result of New York's casino expansion project, as he explains:
"What hasn't been achieved is as much tax revenue as we had hoped."
At present, the new casinos have to fork out a huge gambling tax rate of between 37 and 45 percent of slot machine revenue, and 10 percent for table games. These funds are subsequently funneled towards funding for local cities and town. However, the sharp fall off in net winnings by racinos in Saratoga Springs suggests that any success that the three new casinos are enjoying are coming at the expense of these area's already established gambling venues. Last August, for instance, the Saratoga Casino Hotel collected $16 million in revenue, with that total having now dropped by 25 percent just one year later. Similarly, other racinos have also reported precipitous declines in their business since the opening of the state's newest casinos.