Somerville and Neeme Join Forces to Grow Media Brands
Home
»
Poker News
» Somerville and Neeme Join Forces to Grow Media Brands
Friday, October 12th, 2018 | Written by Stephen Smith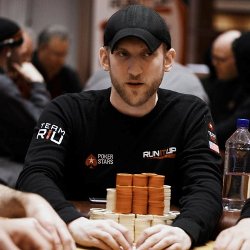 Over the years, the gambling world has seen major poker brands such as Parypoker and PokerStars offer high profile pros lucrative partnership deals in order to help grow the game. Of particular interest to these sites are players who have a strong social media presence, such as Jason Somerville, who was recruited as a Team PokerStars Pro in 2015, and is currently the world's most popular live poker streamer.
Its not just poker operators who are striking deals with the players, however, as this week two Las Vegas based players with huge online followings announced a strategic partnership to help promote each others brands. Commenting upon the deal, Jason Somerville said that he was delighted to be teaming up with one of poker's "great content innovators," while Andrew Neeme said that he was looking forward to working with an industry pioneer and expert in producing "fun and insightful" poker content.
Jason Somerville
Throughout his tournament career, Jason Somerville has amassed $3,633,625 in live winnings, including taking down the 2011 WSOP $1,000 No-Limit Hold'em Event for $493,091. He has also won a further $2,245,196 playing online tournaments under the screen name JCarver.
In addition to his poker skills, Somerville has built up a strong online presence on Twitch, with the Run It Up channel he launched in 2013 currently showing an incredible 223,488 followers. Ever the entrepreneur, Somerville strengthened his Run It Up brand a couple of years later after organizing a bi-annual live poker series called 'Run It Up Reno', with the Peppermill Casino hosted festival in Reno, Nevada specializing in low buy-in events, a fun playing environment, as well as live streaming and commentary.
Somerville's poker activities in both the live and online arena soon attracted the attention of the world's biggest poker site, PokerStars, and in 2015 he was subsequently signed as a Team PokerStars Pro. This year, Somerville and PokerStars then launched 'Run It Up Studios', a facility based in Las Vegas designed to assist the Twitch poker community improve their brands. As Eric Hollreiser, VP of corporate communications of The Stars Group, stated at the time:
"Twitch Poker is an exciting new platform for poker innovation and community-building. We're eager to build upon our partnership with Jason and to mine the vast PokerStars library of content, promote poker streamers and create exclusive promotions and original content for Run It Up."
Andrew Neeme
Andrew Neeme is a live cash game specialist who competes at the mid and high-stakes levels, but for vlogging purposes usually focuses on No-Limit games in the $1/2 up to $10/20 range. While Somerville has built up his online presence on Twitch, Neeme has a massive 95,927 following on YouTube, placing his vlogging activities behind only Daniel Negreanu (233,393), and Doug Polk (218,620).
On his YouTube channel, Neeme showcases the lifestyle of a professional poker player while touring casino properties throughout the US and the world. He also organizes regular live meet-up cash games (MUGs) at various gambling establishments in Las Vegas, with a particular preference for the Westgate Casino.
Strategic Partnership
Both Somerville and Neeme have hailed their new strategic relationship, which they announced together during Somerville's appearance in his new partner's vlog on Monday. As part of their arrangement, the duo will help promote each others brands across their platforms, and while Somerville said that he would be taking part in some of Neeme's regular cash game meet-ups, Neeme also announced his participation in Somerville's upcoming Run It Up's live tournament series taking place from October 19th-29th.
Needless to say, Neeme's commitments will see him taking his live skills to the online arena via WSOP.com, potentially eating into the amount of time he will have available to spend playing live poker. However, the pro has said that the partnership arrangement will grant him access to Someville's Run It Up Studios, and the "entire suite of services" that the business offers. This could subsequently cut down on the amount of time Neeme usually spends editing his videos, therefore allowing more time for him to spend at the tables, either live or online.
Elaborating further on the possibilities offered by their collaboration, Neeme said: "Online poker is just one genre of what might be stream-worthy. What about streaming live cash games? What about doing IRL's around Las Vegas and elsewhere? What about streaming literally anything else that might be fun? There are no rules now. Your channel doesn't have to be pigeon-holed."