New Mexico Becomes Latest State to Launch Sports Betting
Home
»
Poker News
» New Mexico Becomes Latest State to Launch Sports Betting
Friday, October 19th, 2018 | Written by Stephen Smith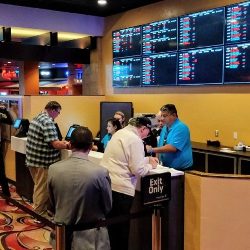 Sports betting legislation has been gaining momentum in the US since the Supreme Court overturned a federal law that handed Nevada a monopoly over the whole industry for the past quarter of a century. Following its landmark ruling in May, five other states have since joined Nevada in offering the full range of sports betting products, with their numbers set to explode further over the coming months and years.
The latest state to become part of the sports betting fraternity is New Mexico, which now joins Delaware, New Jersey, Mississippi and West Virginia in becoming early movers in a nationwide market said to be worth as much as $150 billion.
Santa Ana Star
On Tuesday, Oct. 16. the Santa Ana Star Casino Hotel in Bernalillo accepted its first sports bet via a new section of the venue set up to cater specifically for the vertical. While the pioneering punter in question placed a $30 bet on the Houston Astros to defeat the Boston Red Sox, his preferred team actually ended up losing the match and ultimately seeing their World Series dreams ended for another year.
The Santa Ana Star casino is run by the Pueblo of Santa Ana tribe which opened the venue back in 1993. The tribal casino is one of the state's top earners in terms of revenue, and boasts a 109,000 square feet gaming space, complete with 1,475 slot machines, 20 table games, and a poker room. It also has a range of other facilities available for guests to enjoy, including five restaurants and a 204-bedroom hotel.
The Pueblo of Santa Ana partnered with Las Vegas-based firm USBookmaking to launch sport betting at the casino, with punters able to place wagers at four windows or two self-service kiosks from noon to 8 p.m during the week, or from 7 a.m. to 10 p.m on Saturday and Sunday.
Class III Gaming
Although the state has yet to officially legalize sports betting within its borders, the Pueblo of Santa Ana tribe interpreted their compact with the local government to include sports betting under a class III gaming category. The New Mexico Attorney General Hector Balderas duly gave his nod of approval to their move last week, explaining at the time:
"Sports betting at the Santa Ana Star Casino is governed by the Pueblo of Santa Ana Gaming Regulatory Commission. As such, we will closely monitor New Mexico's tribal gaming compacts and work with the legislature for proper statutory and regulatory oversight to require responsible gaming and enhanced integrity to create an even playing field for all."
The Santa Ana Star casino may be New Mexico's first tribal casino to start providing sports betting services, but it appears that other tribal casinos in the state are keen to get in on the action as soon as possible, and are currently in the process of opening sportsbooks of their own.
Change Necessary
In 1988, the Indian Gaming Regulatory Act gave Native Indians the right to run gambling operations on their own reservations. Between 1998 and 2008, gambling revenue then grew from $9.8 billion to $26.5 billion, and following stagnation during the Great Recession has seen revenues increase over the past four year to reach $32.4 billion in 2017.
Currently, there are 246 tribes running 506 gaming establishments across 29 states. These operations are naturally eager to modernize their establishments, keep up with their customers' changing tastes, and ultimately secure new revenue streams for their tribes. It seems that sports betting has the potential to be just such a lucrative source, and the Pueblo of Santa Ana now joins the Fort Mojave Indian Tribe in Nevada, and the Mississippi Band of Choctaw Indians in offering sports wagering in the USA, although other Native American tribes will also be exploring their options.
Similarly, individual US states with commercial casinos also have a strong interest in pursuing a gambling expansion of their own involving sports betting since the Professional and Amateur Sports Protection Act (PASPA) was struck down this summer. While revenues generated by regulated online gambling have failed to garner much interest from state legislators, sports betting, on the other hand, has already produced some spectacular results.
For instance, New Jersey sports betting last month generated $24 million in revenue, already rivaling its almost six year old online gambling industry. In September, the Garden State subsequently reported a 7.7% year-over-year improvement in its overall casino market, with David Rebuck, Director of the DGE, pointing towards "the explosive growth in sports wagering and continuing improvements in Internet gaming" as a significant contributing factor to the impressive growth.