NJ Sports Betting Generates Revenue of $24M in September
Home
»
Poker News
» NJ Sports Betting Generates Revenue of $24M in September
Wednesday, October 17th, 2018 | Written by Lucy Brown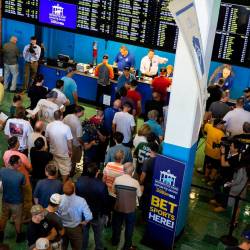 In September, New Jersey's sports betting market attracted almost $184 million in wagers, of which around $105 million, or 57% was placed online, according to the latest figures released by the New Jersey Division of Gaming Enforcement (DGE). This then resulted in a revenue hold of $24 million for the industry, meaning the nascent vertical has already carved out an 8.5% share of the state's entire total gaming market.
Overall, sports wagers last month were up by a whopping 90% compared to the $95.6 million collected in August, which then translated into $9.2 million in revenue. In September, the Garden State subsequently received $2.6 million from taxes paid on sports betting revenues, with David Rebuck, Director of the DGE, commenting:
"Driven by the explosive growth in sports wagering and continuing improvements in Internet gaming and brick-and-mortar casino win results, the gaming industry produced another month of superb revenue increases. The revenue results point to a strong finish for New Jersey's gaming industry in 2018."
Football Season Boosts Figures
It is only the first month of the football season (college and NFL regular season) and already the state has seen a staggering amount of money bet on football alone, with the figure said to be in the region of $90 million. In light of the football seasons commencing, it's no surprise to see this sport top the chart, with baseball in second place, and basketball in third. Parlay betting also made up a huge chunk of revenue, as did surprisingly a number of other sports such as soccer and golf.
As mentioned, the majority of bets where placed online or via mobile apps. Whilst mobile betting is in the infancy phase in NJ, it has taken the industry by storm, and the state is expecting to see a further exponential boost in revenues as the number of mobile sports betting apps increases in the coming months.
Biggest Brands
Amongst the nascent industry's big earners are two sports books, namely DraftKings using the sports license granted to the Resorts Casino Hotel; and FanDuel, which has partnered with gaming giant IGT to provide legal sports betting from the Meadowlands Racetrack. Together, these two companies topped the charts for commanding the biggest slice of revenues out of the $24 million collected in September.
Nevertheless, DraftKings has become a clear market leader after becoming the first online sportsbook to launch on August 6th. Having collected $2.97 million in August, the company's revenue subsequently shot up by 186% to $8.5 million in September, placing it above FanDuel which earned $7.2 million during its first month of operation.
Biggest Venues
The Meadowlands Racetrack (FanDuel) posted $4.38 million in live sports wagering revenue, up by 42.8% from the $3.06 million collected in August; while Monmouth Park (William Hill) reported a solid $2.14 million in revenue, marking a more impressive 135% gain compared to the August's figure of $898k.
These racetracks' earnings were significantly ahead of their land-based casino counterparts, with the exception of Borgata which generated more than $1 million from live sports bets in September, and $2.4 million in total including online sports wagering. Overall, its earnings was up by a huge 197% versus the $805k taken in August. Coming in second place from NJ's land-based casino operations was Ocean Resort which only opened on June 28, but still posted $1.3 million in sports betting revenues.
In the meantime, revenue for the state's other land-based sports operation came in as follows; Golden Nugget ($1.1m), Bally's ($394,046), Harrah's ($310,766), and Resorts ($279,492).
Below Forecast
To put New Jersey's $184 million figure for September into perspective, the state of Nevada saw around $450 million wagered on sports during the same month in 2017 (Nevada's September 2018 figures are yet to be released). Whilst NJ's figure is less than half that of Nevada, it still shows the potential and huge gains that the state has made in the sports gambling industry over the past few months.
Even though September's figure is promising, however, it has drawn some level of criticism. After all, wagering is less than first predicted, especially given the fact that the football season has already started. Despite a forecast of $200 million being bandied about, September's figure is $16 million short of predictions. However, revenue/handling is expected to grow again in October as sports betting companies become more established in NJ, publicity increases and mobile betting grows. Furthermore, although the baseball season is winding down, the new seasons for basketball and hockey are due to start, which are expected to significantly boost figures in NJ in October 2018.
Story So Far
Since New Jersey launched legal sports betting on June 14 of this year, sports wagering has attracted more than $330 million in wagers, resulting in $40.4 million in revenue. Furthermore, New Jersey has made approximately $4 million in tax revenue since allowing sports betting both offline and online across a four month period. This extra source of revenue is one of the reasons which helped legal sports betting get passed in NJ in the first place, and with growth still accelerating, the state's local economy is now beginning to reap the benefits of having more funds available for investment.