Slovak Government Launches Illegal Gambling Crackdown
Home
»
Poker News
» Slovak Government Launches Illegal Gambling Crackdown
Thursday, July 5th, 2018 | Written by Stephen Smith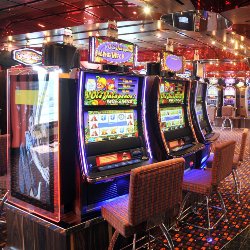 The Slovak Financial Administration has seized 80 gaming machines as part of a crackdown on illegal gambling in the country. The operation that took place on June 28/29 targeted 100 gaming facilities in Slovakia, and in addition to gaming machines being removed, authorities also took away tax documentation pertaining to 4 individual firms.
According to Ludovít Makó, head of the Financial Administration's criminal department, the raids were instigated following a tip-off that quiz machines were being used to gamble, in some cases by underage players. A total of 180 comptrollers and custom officers raided around 100 establishment as part of the Diamant Operation, the goal of which was to uncover any breaches of the new gambling laws that Slovakia introduced last year.
Quiz Machines
Out of the 80 gaming machines seized, five of them were quiz machines, which according to reports may have been used for gambling purposes. Slovakian law requires servers for these quiz machine to be located within the country's borders, and currently there are 800 such machines whose servers are mostly situated in the Slovakian cities of Bratislava, Trnava, and Zilina.
Nevertheless, there are suggestions that some of the quiz machines may have their servers based outside of the country, with the Financial Administration having now sent all the potential gambling machines that they seized to the Technical Testing Institute for analysis. Investigations are also continuing as to whether sufficient safeguards were in place at the various venues to ensure underage players were not granted access to play on their machines.
Commenting upon the crackdown referred to as the 'Diamant Operation', Ludovít Makó, the head of the financial administration's criminal department, said:
"It wasn't an easy action, first, the controllers had to visit the facilities and try the machines to ascertain whether their use could be deemed as gambling or not. In some facilities, the gambling machine was turned off during the investigation, while in the others there were missing internet connections and power supplies."
Accounting Information
The accounting documents of four companies covering 2017 and 2018 were also taken during the operation, all of which ran facilities where the quiz machines were located. The government's tax department will now be carrying out a thorough review of the documentation to find out whether they corresponds to details provided by the servers.
If the companies are found to have been breach of the new legislation, and ultimately avoided paying value-added tax, they could then find themselves subject to criminal prosecution.
Impact of New Gaming Laws
The raids come in the wake of Slovakia's new gambling laws that came into effect on 1st January 2017. One of the changes to the Gaming Act required gaming and slot machines to be banned from restaurants and hospitality establishments, with the government re-balancing the reduction by allowing gaming halls to host a total of 12 gaming machines, as opposed to their previous 5 maximum.
Meanwhile, some businesses have reacted to the hit to their gaming revenues by continuing to offer gaming machines posing as quiz machines. Nevertheless, the government's clampdown on land-based gaming has reduced the number of products available to such an extent that Slovakians have increasingly been taking to online websites for their gambling requirements.
That said, the Slovakian government has also put in place provision to help safeguard the interests of online players, including blocking the IPs of all unlicensed online gambling operators. Advertising of non-licensed gambling games in Slovakia is further restricted, with hefty fines leveled against those companies breaking the law.
According to a new online Gambling Bill scheduled to come into effect in March 2019, Slovak online gambling licenses will be made available to all those operators satisfying three criteria. These include operators having an office based in Slovakia or another EU state, and their paying an online licensing fee and online taxes.
153 Fines in 2017
Over the last few years, an increasing number of fines have been slapped on gambling operators deemed to have violated the law. In 2015, for instance, 10 fines were issued, rising to 57 in 2016, and 210 in 2017. In 2017, however, the amount of penalties only increased by 3.75% to €378,660 ($440,300), year-on-year, indicating that petty crime in the sector was becoming ever more widespread.
According to those opposed to the government's strict approach to gambling, it is excessive regulation and prohibition that has helped feed the illegal market. One of the detractors is Dominika Lukáčová, spokesperson for the Association of Entertainment and Gambling, who said that regulators are being outsmarted by fraudsters who are able to erase data and software on quiz machines remotely, thus potentially avoiding any possible charges and fines.
"We welcome the fact that the state has the ambition to fight illegal gambling, but we have to realize that it cannot erase the legal concerns," explained Lukáčová.