Closure of Clichy-Montmartre Poker Club in Paris an End of an Era
Home
»
Poker News
» Closure of Clichy-Montmartre Poker Club in Paris an End of an Era
Saturday, September 29th, 2018 | Written by Adam Brown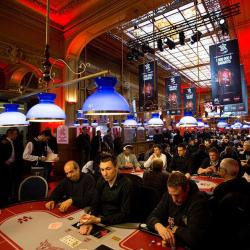 On Wednesday, Sept. 26, France's live poker scene was dealt a massive blow after authorities shut down the Cercle Clichy-Montmartre in Paris. According to the French daily newspaper 'Le Parisien', the decision follows the indictment of five people in July accused of "organized money laundering, concealed work, breach of trust, and concealment of break of trust."
With the club's closure this week, the last stronghold of live poker in the country's capital has now fallen, with Le Parisien describing the event as "the end of an era." In the meantime, hundreds of patrons have posted comments lamenting the demise of a local institution, with many of them haling its friendly atmosphere and staff.
Cercle Clichy-Montmartre
Established in 1947, Cercle Clichy-Montmartre was one of fifteen 'gaming circles' that could be found in Paris until recently. On the club's website it boasts of being open every day from 1.30pm to 6am, and offering thirty cash game tables with buy-ins from €50 to €1,000 across a range of different card games and poker variants, including Texas Hold'Em No Limit, Omaha, and Dealers Choice.
The establishment has offered a regular poker tournament schedule over the years, and in 2018 played host to Very Deep, Wonder8, DreamStack, Ultra Deep, and the Winamax Poker Tour 2018 from February 15 to March 6. This December, Clichy-Montmartre was also supposed to organize the French Student Poker Championship in partnership with PokerStars.
This week, poker players then showed up at the club expecting to take part in a tournament that had been advertised on its Facebook account, only to find the venue shuttered. The gaming house's social media page now shows the following announcement:
"Hello everyone, following the temporary suspension of approvals authorizing the exploitation of games as a Circle, the Circle Clichy Montmartre is closed today and until further notice."
Last Farewell
While the message mentions a "temporary suspension", few are expecting the establishment to reopen again or for local authorities to renew its license. After all, the past few years has seen a series of such venues raided by police and placed into judicial liquidation by French authorities. In 2014, for instance, the Aviation Club de France (ACF), which originally opened in 1907, was shut down and subsequently liquidated in February 2015, leaving just the Cercle Clichy Montmartre as the only choice for Parisienne poker players. It looks like it was just a matter of time before the venue, too, followed suite.
Furthermore, its Facebook message originally stated that the club would consider re-opening in January 2019 under new gaming regulations as a gambling club, but that note has since been removed.
Criminal Investigation
The writing was on the wall for Cercle Clichy-Montmartre after the residence of its club director Luc Richard was raided this summer, as well as the home of a number of his employees. As mentioned, several arrests were subsequently made in connection with a range of criminal activities, including money laundering, and as a Le Parisien article stated in July:
"Nine officials and bankers of the establishment were arrested on Tuesday morning and placed in police custody by the service of Racing and Games. At the same time, a search was carried out in the same circle and in the homes of several employees."
Police suspect the "gaming circle" embezzled more than €10 million ($11.7m) over a period of years, with raids on some of the homes belonging to Clichy Montmartre's bankers unearthing $200,000 in cash each.
France's Poker Market
France's legalized online gambling just in time for the 2010 FIFA World Cup, but decided to ring fence its poker players from that other European markets, and charge exorbitant rates of taxes on its operators. The country's regulators ARJEL then somehow seemed surprised that the market continued to shrink each quarter and attract fewer and fewer players. Following four years post-regulation spent dismissing the game as a fad, however, ARJEL eventually agreed to share liquidity with Spain, Portugal and Italy last year, and has now seen the sector's revenues produce six straight quarters of growth.
In Q2, French online poker subsequently generated €60 million in gross gaming revenue, up by 2.4% from a year earlier. Furthermore, tournaments strung together thirteen consecutive quarters of gains after seeing its revenue jump by 8.7% in the second quarter. Cash games, on the other hand, continued their losing way and reported an 8.2% contraction in GGR, representing its largest year-on-year fall in eight quarters. That said, France has seen the number of its licensed poker operators plummet from 22 to a mere 5 post-launch, and now consists of just Winamax, PokerStars France, PartyPoker France, Bwin France, and PMU France.