Philippines Making Life Tough for Land-based Casinos
Home
»
Poker News
» Philippines Making Life Tough for Land-based Casinos
Wednesday, October 3rd, 2018 | Written by Charles Washington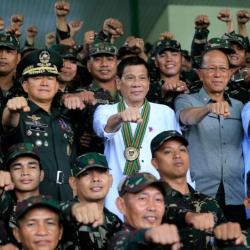 The Philippines has one of Asia's fastest growing casino markets after Macau and Singapore, with dozens of gambling venues spread across the country, including four integrated casino-entertainment complexes. Last year, for instance, the sector generated a massive PHP152.55 billion ($2.92bn) in revenue, higher by 13.8 percent compared to the previous year. From that total, its integrated casino resorts did most of the heavy lifting and accounted for $2.09 billion of GGR, an almost 26 percent improvement on their 2016 performance.
Nevertheless, President Rodrigo Duterte has long viewed the gambling industry with a wary eye, and after taking up office in June 2016, promptly declared that he would act to stop gambling from proliferating across the Philippines. At first his attention was directed towards online gaming, while land-based casinos were seen as a valuable source of income and a means of drawing tourists from Asia. More recently, however, the country's casino market has been put firmly in the Duterte's crosshairs, and in August the leader reiterated an announcement he made at the start of the year concerning a moratorium on new gaming licenses, stating:
"I hate gambling. I do not want it. There will be no casinos outside of what are existing. I am not granting anything."
Drug War Took Precedence
President Duterte's refocus on the casino market is most likely tied to his infamous "War on Drugs" attracting wide scale condemnation both at home and among the international community. According to the government, 4,200 drug suspects were eliminated between July 1, 2016 and April 30, 2018, although human rights organizations claim that the real figure is nearer to 12,000.
Extrajudicial killings on such a scale subsequently led the International Criminal Court (ICC) to declare a "preliminary examination" into the mass killings in February 2018, while in June a total of 38 UN member states released a statement through the United Nations Human Rights Council (UNHRC) calling upon the killings to stop, and for a probe to be launched in connection to the deadly drug war.
Land-Based Casinos in Crosshairs
President Rodrigo Duterte has since refocused his efforts on the country's gambling industry, but instead of clamping down on illegal online operations, it is terrestrial gaming that has drawn his ire. While a January 13 cutoff date had previously been set after which no new gambling licenses would be issued, recently two major casino operators have seen their projects blocked by the Philippine gambling regulator, PAGCOR.
Galaxy's Boracay Casino Uncertain
After obtaining approval last March, Hong Kong-based Galaxy Entertainment had planned this year on beginning construction on a new casino on Boracay Island, one of the most popular tourist destinations in the Philippines. In April 2018, however, the president stated that no such authorization had taken place, and later reiterated his opposition to the development once more in August. Despite Duterte stating that he would give the land to farmers before any casino company, Galaxy Entertainment chairman Lui Che Woo has since expressed his optimism that the development will still go ahead, and taking stock of what Duterte has said, commented:
"Gambling will actually be a small portion. We expect a few dozen tables, as this is not our focus for Boracay. We hope it will become a truly good tourism spot and return to the beautiful island it once was. This is very different to what is being said out there. We don't pay attention to unofficial commentary."
Landing International Project Annulled
Landing International, another Hong Kong-based company, has also run into trouble after signing a lease agreement in March with the Nayong Pilipino Foundation, an autonomous public-sector corporation under the Department of Tourism. Having started construction on its new $1.5 billion casino project On August 7, however, the President promptly annulled the agreement, declaring its 70-year lease agreement as absurdly long and "grossly disadvantageous" to the country. Demonstrating the extent of his disapproval, Duterte even went so far as to fire all board members serving on the Nayong Pilipino Foundation.
Gambling Exclusion List Grows
Earlier this year, President Duterte instructed authorities to strictly enforce an earlier directive banning all government officials, public servant, their children and partners, as well as university students from setting foot inside any of the country's casinos. Another group which has been targeted of late by PAGCOR is the Philippines National Police after some officers were found to be involved in the illegal loan sharking business, and lending money to vulnerable gamblers down-on-their-luck.
On September 6, PAGCOR followed up by adding casino employees to the list of people banned from gambling at the country's gaming establishments, with an accompanying announcement stating that their names would be included in the National Database of Restricted Persons (NDRP). Concerned about the strain unchecked gambling can have on a nation's society, PAGCOR has evidently taken note of a situation which has occurred in Macau in which casino dealers now represent an expanding percentage of problem gamblers on the island. As a result, they, too, have increasingly fallen prey to illegal money-lenders and other criminal enterprises looking for a way in to the lucrative gambling sector.