Pennsylvania iGaming Licenses To Be Made Available to Out-of-State Operators
Home
»
Poker News
» Pennsylvania iGaming Licenses To Be Made Available to Out-of-State Operators
Tuesday, September 18th, 2018 | Written by Charles Washington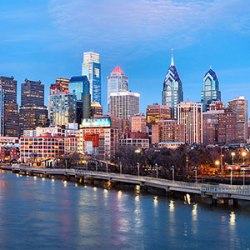 In 2017, Pennsylvania passed its gambling expansion bill, while this year legal sports wagering was added to the state's gambling mix after the Supreme Court struck down PASPA in May 2018. Since then, the Pennsylvania Gaming Control Board (PGCB) has been busy examining applications and issuing licenses to successful candidates, with the latest tender round now open to operators based outside of Pennsylvania.
This process is set to run from October 15th through October 30th, with any applicant having to first satisfy three criteria set out in the official licensure policy before being considered, namely that:
"(1) It is licensed in good standing in another gaming jurisdiction. (2) The licensing standards of that other gaming jurisdiction are comprehensive and thorough and provide similar safeguards as those required by this Commonwealth. (3) The petitioner has the business experience and expertise to operate an interactive gaming system."
With just seven individual games licenses (poker, slots, casino) available, the PGCB has also tried to ensure fairness in the selective process by requiring that any eventual winner has their name selected randomly from a box before being chosen. They will subsequently have 60 days to complete their license applications and provide payment.
Phase 1
Phase 1 of the tendering process ran from April 16 and July 16, during which time Pennsylvania's 13 casino licensees were able to apply for an all-inclusive online gambling license (table, slots, and poker) for $10 million. The following 30 day period then saw individual licenses offered to state casino operators at a cost of $4 million per game.
In the end, 11 of 13 license applications were submitted, with just Meadows Racetrack and Casino and Lady Luck Casino opting out of the process. Furthermore, all operators applied for a license covering the full range of online games, except Presque Isle Downs which applied for a casino and slots license, but not poker.
Phase 2
On October 15th, the application process will be opened up to other 'qualified gaming entities' (QGE) at a price of $4 million per each individual games license, which includes either poker, table games, or slots. At present, just seven online gambling licenses remain available, including three for poker, two for slots, and two for table games.
In addition to US firms, applications can also be submitted by operators from outside of the country, presenting a great opportunity for any company looking to directly access its online gaming market. Nevertheless, Pennsylvania's gaming market is beginning to look extremely crowded, which might dissuade any potential operator from paying such a high license price. Moreover, its not just the multi-million dollar application fees that may put off any potential investor, but also the exorbitant tax rates on gross gaming revenue (GGR) which have been set at 54 percent for internet slots, and 14 percent for internet poker and table games.
Casinos Up 2.8% in August
This week, the Pennsylvania Gaming Control Board (PGCB) released its latest financial result revealing that the state's casino market generated $275 million in August, or 2.8% more than it did during the same month last year. The slots machines segment provided all of the growth, too, with its revenue higher by 4.4% at $201.7 million, while table games saw their revenue fall off by 1.3% to $73.3 million.
In August, Parx Casino not only accounted for the highest revenue results, but also the highest growth with its $52.17 million up by 8.51% year-on-year. By contrast, Lady Luck Casino Nemacolin was the lowest earner having generated just $2.78 million last month, down by 4.19% year-over-year. Meanwhile, Mohegan Sun Pocono saw its revenue plummet by 5.54% to $19.54 million, making it the state's worst year-on-year performer last month.
Booming Market
The Keystone State launched its first slots casino in 2006, and after adding table games in 2012 saw its market hit an all-time peak of $3.15 billion that very same year. It then experienced a revenue drop off after neighboring states embraced casino gambling, including Maryland, Ohio, New York and West Virginia. In 2015, however, casino revenues returned to growth and generated 3.41% more revenues at $3.173 billion, representing a new state record, followed by $3.213 billion in 2016 (+1.25%), and $3.22 billion in 2017 (0.4%).
As a result, Pennsylvania has now experienced three consecutive years of record revenues. Judging by the level of interest currently being shown in its online gambling tendering process, as well as its $10 million sports wagering licenses, even bigger things lie in store for the state's gambling market going forward.