Ohio Introduces Two Bipartisan Sports Betting Bills
Home
»
Poker News
» Ohio Introduces Two Bipartisan Sports Betting Bills
Monday, August 6th, 2018 | Written by Stephen Smith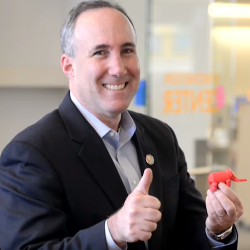 Ohio has taken the first tentative steps toward sports betting legalization after two new bills were introduced in its legislature last week. According to one of the bill's (HB714) main sponsor, State Representative David Greenspan, there is currently no preconceived notion as to what regulated sports betting in Ohio may eventually look like, and so details and objectives of the pieces of legislation have been left deliberately vague as a result.
"We're going to work together with the Senate and the house to come up with a comprehensive bill," explains Greenspan. "It's one issue, it's one policy we've got two chambers and we're going to work collectively and collaboratively to come up with a program that we believe will be in the best interest of the residents of Ohio and help promote our economy as well."
Courting Public Feedback
The other bill (SB316), co-sponsored by Senators John Eklund (Republican) and Sean O'Brien (Democrat), has also intentionally been given vague wording, with the latter expressing his hope that more specifics will be clarified by next month. As part of his research, O'Brien said he's spent time talking to bar, casino and racino owners, as well as exploring sports gambling bills adopted in other states, in order to devise an appropriate path forward for Ohio.
"My thinking right now is we already have casinos and racinos set up," O'Brien said. "I'd kind of like to keep it in those institutions because they are set up for gaming. I'm not sure we want it in every 7-Eleven and every bar."
Benefits to State
Ohio's two sports gambling bills were introduced three months after the US Supreme Court struck down a federal law known as the Professional and Amateur Sports Protection Act (PASPA), which originally limited sports betting to the states of Nevada, Delaware, Montana and Oregon.
Nevertheless, Nevada largely dominated the industry, and last year collected $4.8 million in revenue, resulting in a record $248.7 million hold for the industry. Meanwhile, experts estimate that somewhere between $50-$380 billion is spent illegally on sportsbooks each year in the US, therefore presenting a lucrative opportunity for states to help themselves to a slice of the pie.
Ohio currently taxes its casinos at a rate of 33%, which is subsequently allocated towards a range of different causes, including a county fund (51%), school fund (34%), and those cities hosting casinos (5%). The remaining money is then given to the Ohio Casino Control Commission, the Ohio Racing Commission, law enforcement training fund, and various problem gambling and addiction programs.
Meanwhile, the state's racino revenues are subjected to a 33.5% tax, with the money going to the Ohio Lottery Commission, which once its expenses are met then allocates the rest of the money to education.
In addition to securing potential tax revenues and regulating an underground sportsbook industry already prolific in the country, legalized sport betting would also allow Ohio to keep pace with its neighbors, many of whom have now started down the path to legislation.
Sports Betting Bandwagon
There has been a deluge of legalized activity since the Supreme Court ruled a federal sports betting ban as unconstitutional, and reinstated the rights of individual states to control business affairs within their own economies. Delaware, New Jersey and Mississippi, for instance, have already started offering the full range of sports betting products within their borders, while eight other states have passed sports gaming bills, although they are yet to act up them. Meanwhile, another thirteen states have introduced sports wagering bills, ultimately meaning that more than half the country's states have indicated their intention to become a part of the industry.
The expanding interest in sports betting across the country has naturally caused some of Ohio's legislators to be concerned over the potential loss of tourist and gambling dollars that could otherwise be spent in the Buckeye State. Pennsylvania and West Virginia to its west, for instance, already have sports betting bills on the books and are currently preparing to open sportsbooks, while on Ohio's east side Michigan, Indiana, and Kentucky have sports wagering bills sitting in their legislatures which are yet to pass. In other words, unless Ohio decides to join the bandwagon soon then it stands the risk of falling behind its competitors.
Poker Not a Priority
Despite all the attention and enthusiasm being heaped upon legalized sports betting, online poker does not appear to be a priority for those states looking to expand their gambling offerings. At this early stage, Ohio has shown no sign that it intends to include poker in its bills, with the situation repeated in other states such as neighboring West Virginia.
In fact, Pennsylvania is the only market to have legalized online poker since Nevada, Delaware and New Jersey did so back in 2013, and the Keystone State has already started its poker license application process. Perhaps the country's next best bet as far as poker is concerned is New York, which is expected to vote through new sports betting legislation in the next few months, with the possibility of regulated iPoker being included at least still on the table.