How Much Will the USA's Legal Sports Betting Market Be Worth?
Home
»
Poker News
» How Much Will the USA's Legal Sports Betting Market Be Worth?
Tuesday, May 15th, 2018 | Written by Stephen Smith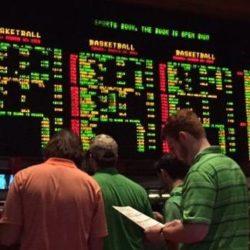 At the start of the week, the US Supreme Court overturned a more than 25-year old federal law which prohibited sports wagering from taking place outside of Nevada, and a handful of other states. As a result of the case brought against the Professional and Amateur Sports Protection Act (PASPA) by New Jersey, and approved by the US Supreme Court on Monday, however, individual states now have the right to choose whether or not to launch sports betting markets of their own.
Considering Americans are estimated to place $150 billion in sports bets each year, 97% of which are made through illegal channels, its fair to assume that numerous states will now be lining up to claim a slice of the incredibly lucrative pie.
$150bn in Wagers
The huge illegal sports betting figure was provided by the American Gaming Association (AGA), a national trade group representing the country's $240 billion casino industry. The organization released its finding last September as part of an Amicus brief filed in an appellate court in which it argued that PASPA was helping to fuel an illegal sports wagering market to the tune of almost $150 billion per annum. It should still be appreciated, though, that trying to estimate the size of an illegal industry is an extremely difficult task at best, especially since criminals obviously do not keep business records, and are usually adept at covering their activities.
$5.3bn in Tax Revenue
Nevertheless, in its brief AGA said that the 1992 sports betting ban had failed, and in addition to fueling an illegal market was also currently serving only to "prevents States and tribal sovereign governments states from repealing or amending laws that their citizens no longer support". By striking down PASPA, the AGA asserted that not only would this illegal market be curbed, but an extra $5.3 billion in tax revenue would be collected each year, while producing a further economic output of around $26 billion.
First States to Offer Sports Wagering
Until now, Nevada has held a virtual monopoly over the USA's legal sports betting market, and last year it collected $4.87 billion in wagers, resulting in a record $248.8 million in revenue for the state. In the meantime, Oregon, Delaware, and Montana are only permitted to offer limited types of parlay bets under PASPA, and as a result their business is worth considerably less.
Following the Supreme Court's landmark ruling, a number of states are now expected to be front-runners in the race to launch a comprehensive legal sports betting market, with Delaware Gov. John Carney announcing soon after PASPA's repeal that "full-scale sports gaming could be available at Delaware's casinos before the end of June."
Naturally, New Jersey, which has spearheaded the drive towards legal sports betting since 2011, will also be one of the first states out of the gates, with NJ Gov. Murphy saying that he would work with the legislature "to enact a law authorizing and regulating sports betting in the very near future."
All told, there are around 20 states who initially introduced sports betting bills in anticipation of the Supreme Court's positive ruling, and amongst those most likely to quickly launch regulated sports betting markets following its positive decision are Connecticut, New York, Pennsylvania, West Virginia and Mississippi.
What It Means for Gamblers
Needless to say, Monday's Supreme Court ruling to legalize sports betting across the country represents a huge win for gamblers. For instance, they will soon be able to place legal sports bets via casinos, daily fantasy sports sites, and racetracks in their states, instead of having to resort to trusting potentially unscrupulous, unregulated websites. In fact, DraftKings has already started informing its customers that it intends to accept sports wagers in the near future, with DraftKings CEO Jason Robins stating:
"Our mission has always been to bring fans closer to the sports they love and now, thanks to the wisdom of the Supreme Court, DraftKings will be able to harness our proven technology to provide our customers with innovative online betting products."
A further benefit for sports gamblers is that the ability to place wagers wherever and whenever they want across a range of different games, with bets via your phone likely to become available before long, instead of having to visit a casino or race track. Gamblers might even be treated to slightly better odds than those being offered at traditional Las Vegas sports books, too, with sports bettors soon presented with the option to shop around for the best bargains.