Live Poker Broadcasts At Twitch TV Driving Online Traffic Higher
Home
»
Poker News
» Live Poker Broadcasts At Twitch TV Driving Online Traffic Higher
Tuesday, December 23rd, 2014 | Written by Charles Washington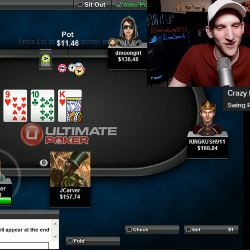 Live streaming video sites seem to have presented the online poker industry with an unexpected opportunity to expand its customer base, after the past few months have seen thousands of poker, as well as non-poker players, flock to Twitch.tv and other social media channels to watch players gambling for real money on sites such as Bovada. Giving an indication as to the power such channels can wield in increasing traffic to poker sites, Reddit user 'tityboi90′ commented that he had never seen US poker site Bovada so busy, writing"
"I really never have a problem finding 4 cash tables to sit at unless it's like 4am EST, but it was crazy how many were being filled. I've never seen it that busy before."
Jason Somerville Has Over 38,000 Followers
Following Ultimate Poker's demise a few months back, it looked like top US poker pro Jason Somerville may have lost the opportunity to complete his Run It Up challenge to spin a $50 bankroll into $10,000. However, the 27 year-old WSOP bracelet winner continued his live streaming on Twitch.tv, and not only did his legion of fans continue to follow his action, but Somerville picked up a whole new set of fans such that he now boasts more than 38,000 followers, with 10,000+ viewers watching his live broadcasts at any given time. As Somerville commented recently:
"It's been a very fulfilling journey so far, and my plan now is to finish up 2014 with our best live streams to date while continuing to lay the foundation for Run It Up's projects in 2015."
Interaction The Key To Success
Somerville streams his broadcasts on a four-minute delay, so as to stop his opponents knowing his cards in real time, and one of the main draws to the popular pro's streams is the level of interaction he has with viewers, and his willingness to respond to ongoing chat despite being involved in real money games. Having such a talented pro provide his insights into a game which has netted him millions over his career is obviously an attractive proposition for viewers, while for Somerville Twitch.tv provides him with the chance to engage with his fans and the broader poker community since losing his sponsorship deal. As he explains:
"I stay involved in the game by streaming four or five times a week, creating enjoyable, diverse content, and working hard. I don't believe you have to frequently attend live tournaments or wade into heated debates in forum arenas in order to make a positive impact on the game."
Stickyrice1 And Reckful Gather Huge Followings
However, huge followings are not just reserved for WSOP bracelet winning poker pros, and the most recent surge in traffic noted by the USA's biggest offshore poker site, Bovada, has come courtesy of two main recreational players by the name of 'stickyrice1′ and Byron "Reckful" Bernstein.
Stickyrice1, for instance, has inspired more than 100 poker forum pages devoted to analyzing his play after followers saw him increase his $2,000 bankroll to $40,000 in one night playing $10/$20 NLHE on Bovada, while World of Warcraft expert Byron "Reckful" Bernstein has more than 274,000 followers on Twitch, with his broadcasts instantly attracting thousands of viewers to watch him play poker or video games.
Next Big PR Opportunity For Poker Operators
In addition to the players already mentioned, Team PokerStars Pro Randy "nanonoko" Lew has also created a popular Twitch stream which regularly attracts sizable audiences, and occasionally uses his broadcast to help promote his sponsored site. Unsurprisingly, poker operators are now beginning to wonder whether live streaming sites such as Twitch.tv could provide the next big PR opportunity for the online poker industry.
Although no hard statistics have been released to date, some observers have asserted that traffic to Bovada has jumped when stickyrice1 is online, and its often been reported that some viewers enjoy joining and competing against Jason Somerville at the table after he starts live streaming. All in all, it provides a unique, and personal experience for poker enthusiasts and interested fans alike.
About Twitch.tv
Twitch.tv was created in 2011, and the live streaming gaming-related platform was sold three years later to Amazon for $970 million. The site currently boasts an averages of 43 million viewers each month, and currently accounts for 1.8% of US online traffic at peak times.