Shared Online Poker Liquidity Fails to Benefit New Jersey
Home
»
Poker News
» Shared Online Poker Liquidity Fails to Benefit New Jersey
Thursday, September 6th, 2018 | Written by Stephen Smith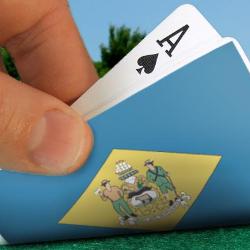 On May 1st, New Jersey joined Nevada and Delaware's shared liquidity network in an attempt to give its online poker market a much needed boost. Three months later, however, and the 'Multi-State Internet Gaming Association' (MSIGA) seems to have brought little benefit for the Garden State's internet poker market, which has continued to produce disappointing monthly results.
Reasons For Joining MSIGA
Delaware, Nevada and New Jersey launched their respective online poker markets back in 2013, and at the time there were high hopes that the sector's popularity would resume from the point it managed to achieve pre-Black Friday. After a promising start, however, the market has instead traveled in the opposite direction, as can be seen from the following annual online poker results:
2017: $24.25m
2016: $27.21m
2015: $23.65m
2014: $29.76m
In other words, New Jersey's online poker market in 2017 generated 8% less revenues than it did in 2016, and roughly 2% more than in 2015, the year in which the state's online poker market experienced its worst year to date. Furthermore, 2017 saw New Jersey iPoker revenues return 10 straight months of year-on-year declines, with just January and February bucking the downward trend.
Player Sharing on May 1st
After resisting Nevada and Delaware's offer to join their player liquidity pact, by last year New Jersey could deny the woeful state of its online poker market no more, with even the addition of PokerStars in 2016 failing to halt its slide. In October, seeing no way other way to improve its lot, the state subsequently announced its decision to become a participant in the MSIGA, before officially combining its players on May 1st, 2018.
NJ's Shrinking Poker Market
With three months of data collected, though, the MSIGA appears to have provided little relief, let alone benefits, for New Jersey's internet poker market. Apart from a slight uptick in June at the height of the World Series of Poker in Las Vegas, revenues and their year-on-year comparisons have continued their wayward ways, as seen here:
July: $1.85m (-8%)
June: $1.75m (+2%)
July: $1.90m (-9%)
Highlighting the liquidity pact's ineffectualness in improving the state's online poker market, in 2017 the sector reported five months in which revenues topped $2 million, while in 2018 that level hasn't been attained even once.
Why's Shared-Liquidity Not Working?
One of the main reasons accounting for the MSIGA's failure to ignite the market is related to the uneven nature of the sharing agreement. Currently just the 888 Poker/WSOP.com. partnership has a presence in all three regulated states, making it the only one able to benefit from the MSIGA. Meanwhile, PartyPoker does not hold a license to operate an online poker rooms in Nevada, while PokerStars is presently excluded from applying for a Nevada license due to its 'bad actor' status.
As a result, the Resorts casino's (Resorts, Mohegan Sun, PokerStars NJ) online poker operations, and those under the Borgata network (Borgata, PartyPoker NJ, playMGM) have seen their share of the state's market cannibalized by that of the Caesars/888/WSOP partnership.
Case in point, PokerStars had dominated NJ's iPoker market ever since launching back in April 2016, while Borgata was firmly entrenched in second spot. Post-MSIGA launch, however, Caesars has zoomed to the top of the list and in July earned $727,842 in revenues, given it a 40% control of the market. PokerStars and Borgata, on the other hand, posted their worst ever monthly revenue results in June, and in July generated $653,107 and $468k in revenue respectively, both of which represented year-on-year declines.
Pennsylvania a Potential Lifeline
Thus far, New Jersey's online poker sites have been unable to attract new players or get their existing players to compete more frequently at their virtual tables. All this despite an increase in the size of its player pool, in addition to more tournament and cash games to offer its players.
According to some analysts, this may be due to Nevada and Delaware's combined population of around 4 million people being insufficient to enable New Jersey's market of 9 million people to reach critical mass. As the country's fifth most populated state, however, Pennsylvania (12.8m) may be able to tip the balance if it ever decides to throw in its lot with the USA's other regulated online poker states.
Nevertheless, Pennsylvania is not expected to launch its own iPoker market until next year. Moreover, no indication has been given thus far as to whether it intends to join the MSIGA, or simply pin its hopes on its own huge population of players.