Youngest Up and Coming eSports Players
Sunday, October 22nd, 2017 | Written by Shane Larson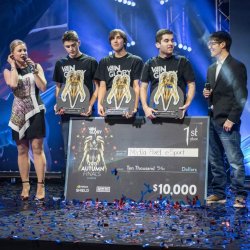 The eSports industry is currently booming, as millions of viewers tune in to watch global video tournaments offering multi-million dollar prize pools for the world's most talented players. Furthermore, the genre is changing each and every day thanks to players as talented as they are young, and in today's article we'll be looking at five of the best players revolutionizing eSports gaming today.
Benedict "MrKCool" Ward (14 Years Old)
Ward was one of the youngest professional eSports players to join a professional team when he signed with Mousesports in April 2016. The prodigy joined the German eSport club in a deal that also brought them the roster for Rebirth of an Empire, including such other talent as Orkan "UpFyr" Bolat, Alican "GreatkhALI" Uzum, and Deniz "Nettetoillette" Heinzelmann.
During his tenure with the team, Ward has also become recognized as an elite Vainglory player, and together with his team won the Vainglory Master Series, and also booked a third place finish at the European Winter Live Championship. Commenting upon the achievement, Ward stated:
"We have risen to the pinnacle of Vainglory with a homegrown group of awesome players, of which I am proud to be a part."
He also added that joining Mousesports would be a great opportunity and exciting journey for everyone involved. In Spring 2017, Ward subsequently won the VGL Challenger Series Europe, which isn't bad for a kid that is only just 14 years-old.
Anathan "Ana" Pham (17 Years Old)
Pham has the distinction of being one of the youngest players in the history of eSports to join the list of top 100 highest career earners in the under 18 year old category. At the tender age of 17, this Australian player has built a solid reputation on DOTA 2, and has racked up $604,739 in earnings across 15 tournaments, having won his first prize in 2016 aged just 16.
The eSports superstar already boasts an impressive resume, with his list of accolades including the Boston Major 2016, the NEA Beijing 2016, Elimination Mode 2.0, Elimination Mode 3.0 and the Kiev Major 2017. Pham also acknowledges that his parents getting behind him has made his success all the more achievable, stating:
"They're pretty cool with it now. Now they support me. It's really cool."
Cuyler "Huke" Garland (17 Years Old)
It's not often a 17 year old could be called an experienced professional, but Cuyler "Huke" Garland certainly fits the bill. This Halo prodigy of pre-college age has won over $200,000 since becoming an eSports gamer in 2014. Over that time, he has taken part in 48 tournaments, with his biggest single win of $62,500 recorded in 2016 when he won the Halo World Championship playing Halo 5: Guardians. Garland has also competed at tournaments for Call of Duty: Advanced Warfare, making him a versatile pro gamer.
The only problem that Garland faces at the moment is a temporary one, namely his age. At just 17, he is restricted from entering some international tournaments, such as the Call of Duty Championship and Gfinity, but that will all change next year when he reaches 18.
Leonardo "MKLeo" Perez (16 Years Old)
At the age of 16, Mexican player Perez has already amassed £47,657 in eSports winnings, with his specialty being a game called Smash. Throughout his brief but impressive career, Perez has captured a number of major titles, with his largest single win booked at the GameTyrant Expo 2017 for $20,000. In fact, Perez has won a total of 18 tournament titles, making winning something of a habit for the young professional, with his prospects looking exceedingly bright going forward.
David "Deevo" Morrow (17 Years Old)
Rocket League isn't the most well-known eSports game around, but this 17 year old has still used it to create an eSports career for himself. The British pro has amassed $37,850 to date, with his biggest win ever coming after a victory at the RLCS Season 3 Finals in 2017 for $18,333.
Even though Morrow is only just old enough to start driving lessons in his native UK, he is ranked 50th amongst the country's highest-earning eSports players, which is incredibly impressive considering his specialty game does not have the same high profile or prize pools as other eSports games, such as League of Legends, DOTA 2, and Starcraft II. Deevo began playing Rocket League after his friend told him about it in 2015, and managed to build up his skill by watching other pros at work.