Brand Investment In eSports Up Almost 50%
Tuesday, March 13th, 2018 | Written by Stephen Smith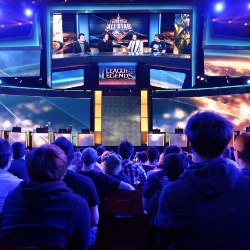 With the continuing meteoric rise of eSports, the sectors brand investment has experienced a dramatic 48% increase over the past twelve months.
In fact, this year the eSport economy is expected to reach a whopping $905.6 million, with the majority of revenues (77%) generated from brand investments. Breaking it down further, $359 million will be spent on sponsorship, $174 million on advertising, and $161 million on content licenses and media rights, with the remaining amount accounted for by tickets and merchandising ($96m), and game publisher investments ($116m).
The effect of brand investment in eSport
Newzoo collated the latest figures above, with the sums of money invested clearly demonstrating that the eSports industry is heading in the right direction. As more investors continue to invest in the eSports industry, its growth will subsequently attract greater number of tournaments offering ever expanding prize pools. As Newzoo CEO Peter Warman then explains:
"As a consumer phenomenon, eSports continues to grow its huge base of passionate fans across the globe. As a business, eSports is now entering a new and critical phase toward maturity. Big investments have been made, new league structures have been launched, sponsorship budgets have moved from experimental to continuous, and international media rights trade is starting to heat up."
Putting eSports' meteoric rise into perspective, the annual Dota 2 eSport championship, known as The International, launched in 2011 with a $1.6 million prize pool. By 2017, its prize pool had then shot up to $24 million, which is the biggest in the history of eSports. The International 2017 which was hosted in Seattle, Washington, US also pulled in a record-breaking viewership of 5 million people.
As brand investment in eSports has shot up by almost 50%, viewing numbers are also expected to rise in the same way, with global eSports audience numbers predicted to reach 380 million this year, taking the eSports industry to new heights.
What future holds for eSports
According to a 2017 survey, most of the respondents from eSports teams expect eSports to take between 5 and 10 years before becoming a fully developed industry. However, the same research found that brands expect eSports to be fully professionalized within the next 3 to 5 years. Despite the discrepancy, however, this year will help determine whether eSports will truly become the global multi-billion dollar business we are all envisaging. Many factors will determine the speed of the growth of eSports, though, and these include how well it engages new fans, the growth of mobile eSports, team profitability, and the franchising structure's success.
The global obsession for eSport
Despite the fact Asian teams, especially South Korea, have dominated eSport competitions recently, North America has been tipped to remain the world's largest eSport market for the time being. In 2018, North America is set to generate $345 million in revenue, with an increase in sponsorship levels being the primary reason behind the huge figure. The fact the region will also be hosting a huge number of eSport tournaments is another factor behind the revenue surge.
Western Europe comes second to North America with an expected $169 million in revenues by the end of 2018, with the eSport community in Western Europe being the strongest on the whole continent. This region will also be key to the industry's continued growth in Europe. Local eSports league organizers like ESWC in France, LVP in Spain and Gfinity in the UK have all performed well, too.
Meanwhile, China is predicted to develop a booming eSport economy with revenues hitting $164 million and viewership numbers 125 million this year. Mobile eSports is contributing tremendously to that growth, and it is an area that will be attracting more attention over the coming years.
eSport investing is a lucrative opportunity
The global popularity of eSports is currently fueling the huge rise in brand investments in the industry, with experts predicting the market will be worth around $2.4 billion by 2020. Even if more conservative experts have placed that figure to be around $1.4 billion, it still makes eSports a great investment opportunity that many brands will want to keep a close eye on, and not overlook.
Finally, Alibaba Group Holding, the official sponsor of the 2028 Olympics Games, is currently lobbying to have eSports video game competitions included in the Olympic's sport itinerary, as long as they are not violent in nature. This would see games such as League of Legends and Player Unknown's Battlegrounds banned, but other sports games promoting peace included, such as those related to soccer and car racing.