Staying Sharp for eSports and Gambling
Sunday, January 7th, 2018 | Written by Charles Washington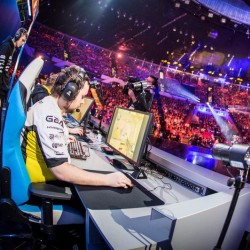 As eSports and online poker grow in popularity, increasingly younger players are starting to compete for the massive cash prizes typically seen in other more traditional sports. While this allows the best players to earn impressive incomes before even being legally allowed to drink, on the flip side the longevity of their careers are often short lived with few still competing professionally beyond their mid-twenties.
Optimal Age of eSport Players
ESport tournaments typically have a minimum age of 17, with most pros having played for years before being eligible to enter these competitions. By comparison, an athlete of a similar age playing at this level would be considered a prodigy, while most eSports players would then have retired within ten years of starting their career. In fact, there are plenty of examples of eSport players retiring from eSports before obtaining their driving car, with the average age of a StarCraft II player being 23 years old, and that of a League of Legends player being 21.2 years.
One study of SC2 players subsequently found that 39-year old with the same experience as 24-year old players were 150 milliseconds slower. It doesn't sound like a lot, but it offers a massive advantage in a typical 15 minute eSports game. The study further concluded the peak age for StarCraft 2 players was only 24. These natural age limitations therefore make it almost impossible to maintain a long career in eSports, even in games that don't require raw speed like fighting games.
Optimal Age for Poker
Poker is another area where the next generation is aiming to compete at the very highest levels. Over the past ten years, for instance, nine of the last players to be crowned WSOP Main Event winners were in their 20s. That said, poker tournament as a whole certainly attract a much more diverse age-range than eSports, although their eventual final tablists' average age is falling and in the recent past used to be in the 30s.
One of the main reasons for this average age drop following the online poker boom of the early 2000s is that poker players are able to gain vast amounts of experience by playing a multitude of hands online, unlike their predecessors who were forced to play on the live circuit only.
Needless to say, experience is certainly seen as a chief factor in determining a poker player's success. Case in point, a recent review of UniBet players revealed that their interest in poker peaked around the age of 23, while players aged between 28-33 and over 59 also tend to be the ones winning tournaments.
Therefore, poker is different from eSports in that winning older players abound, with good examples provided by the 2016 WSOP Main Event winner Qui Nguyen who was 39 years old, and last year's WSOP Main Event Final Table which included players in their 40s and 60s. This then makes poker something of an egalitarian sport where success depends entirely on the amount of time and effort one is willing to spend honing ones skills.
Brain Training
Any type of eSports or poker competition will require a great deal of focus and concentration from the player. While cognitive performance may start to decline before we've reached our mid-20s, however, this isn't necessarily a sign of cognitive decline, with several long-term studies showing that the brain continues to improve in several key areas as we get older.
Furthermore, even once the brain's processing speed is reduced, our ability to remember faces, learn new words, and solve problems has been shown to actually improve. Helping to explain this phenomenon is the strengthening of dendrites, or branches of the brain that send and receive neurons. While our brain maintains the same level of neurons, the dendrites thicken and establish more connections as we age, in the process improving the "connection speed" between neurons and – with it – our ability to perform mental tasks.
These are improvements that generally happen organically as we get older. Nevertheless, they are also similar to muscle growth in that they can be trained and strengthened, with one good method being through the playing of video games.
Case Study
A study of seniors aged between 60 and 85 by the University of California San Francisco had participants play a game called NeuroRacer, which requires players to navigate a virtual car and remember the road signs they pass at the same time.
Researchers say that playing the game for just 12-hours subsequently boosted the memory, attention, and multitasking ability of participants even after just six months. Similarly, Harvard Medical School recommends everyone continues to learn, use their senses, maintain social connections, and stay active in order to keep their brain functioning efficiently as they age.
While most of us have missed the boat as far as making millions by playing eSports and poker is concerned, these activities can nonetheless still help sharpen our minds and improve our ability to make money in our own current fields.