Which States Will Adopt Online Poker Legislation In 2015?
Home
»
Poker News
» Which States Will Adopt Online Poker Legislation In 2015?
Sunday, December 28th, 2014 | Written by Stephen Smith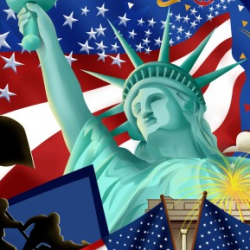 In 2013, the USA launched its first regulated online poker website in Nevada, and the very same year Delaware then New Jersey did likewise, raising hopes the country would soon have dozens of states lining up to embrace online gambling industries of their own. Unfortunately, that scenario failed to materialize in 2014 as the revenues generated by the USA's three regulated states failed to catch the country's imagination, and analysts are now predicting 2015 may be similarly disappointing, with the exceptions of perhaps California. However, every year optimism is expressed as to who may be the next legitimate contender to adopt regulated online poker, and as we have discovered in the past predictions are far from being considered sure bets.
Morgan Stanley's Predictions
In September, Morgan Stanley issued a less bullish forecast of the state of US online gaming in the coming years, revising its estimates to a market worth $1.3 billion by 2017 and $5 billion by 2020, as opposed to its initial prediction of $3.5 billion and $8 billion respectively.
Furthermore, California is mentioned as the only state likely to go online in 2015, with Illinois, New York and Pennsylvania more likely to follow suit in 2016. Looking further ahead, Colorado, Iowa and Massachusetts are predicted to adopt regulation of their own in 2017, while Connecticut, Florida, Maryland, Michigan and Ohio are expected to join 2018. Finally, Morgan Stanley forecast Louisiana, Missouri, Mississippi, Rhode Island and West Virginia will embrace regulation in 2019, such that by 2020 a total of 20 states will be live in the USA.
PokerStars To Spur Other States To Action
Nevertheless, Morgan Stanley's forecast was based upon the belief PokerStars reentry into the USA was a foregone conclusion, and would act as a catalysts for other US states to join the online poker bandwagon. Six months after industry experts were touting the poker room's imminent approval in New Jersey, however, a breakthrough seems as distant a prospect as ever. Although there seem to be a number of reasons for the delay, a major factor would appear to be New Jersey Governor Chris Christie seeking to avoid a political hot potato such as online gambling ahead of his 2016 Presidential campaign.
Online Poker In California Next Year?
In December, the Internet Poker Consumer Protection Act (AB 9) was introduced to the California legislature by Assemblyman Mike Gatto, with the intention of establishing an online poker-only framework for just California residents. Although such bills have been introduced several times in the past, this time around the Democrat politician seemed confident his bill would find greater success this time around, stating that AB 9 "is different from previous proposals, in that it endeavors to address both the external criticisms of the industry, and expand the pie to obtain accord amongst competing gaming interests."
Unfortunately, a number of contentious issues were still included in the bill, such as excluding the horse racing industry from offering online poker, and only allowing players to deposit online from brick-and-mortar casinos. In addition, there is a "bad actor" clause effectively blocking PokerStars from being part of a state online poker industry, which naturally caused a harsh reaction from a coalition of Californian pro-PokerStars supporters, including the Morongo Band of Mission Indians, the Commerce Club, the San Manuel Band of Mission Indians, the Bicycle Casino, and the Hawaiian Gardens Casino. Therefore, Assemblyman Gatto's optimism does not seem to be reflected in reality, and as the coalition explains:
"Unfortunately, [the bill] is a rehash of previously unsuccessful proposals. Any bill that seeks to establish artificial competitive advantages for some, while denying Californians the best online poker experiences, will only serve to divide the community and will be opposed by our coalition."
"Let NY Play"
Another state considering a push for regulated iPoker in 2015 is New York, whose campaign is backed by MGM Resorts which is keen to get its hands on the extra revenue likely obtained from legalized iPoker legislation. Supporters have even coined the slogan "Let NY Play", in reference to  the fact their neighbor New Jersey has had online poker since 2013.
According to estimates, New York has the potential to divert some of the $110 million currently wagered annually on unregulated sites towards its own state coffers, with an extra $80 million or so added from the license fees paid by those operators wishing to business in New York. New York online poker is also likely to be more lucrative proposition than that of New Jersey, too, as it has 20 million residents, more than twice the 9 million population of its neighbor.