Should Political Views Be Promoted At Televised Poker Events?
Home
»
Poker News
» Should Political Views Be Promoted At Televised Poker Events?
Tuesday, August 26th, 2014 | Written by Charles Washington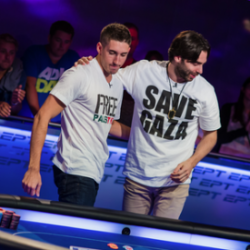 Last week, two of poker's biggest names, Olivier Busquet and Daniel Coleman, evoked an outpouring of views from the poker community after choosing to wear T-shirts supporting the plight of the Palestinian people at the final table of the televised European Poker Tour Super High Roller in Barcelona. Immediately afterwards many poker pros and fans alike joined in the heated debate online, ultimately begging the question whether players should be allowed to broadcast their political views at televised poker events?
Rational Group, parent company of the EPT and PokerStars, however, seems to have a very clear view on the subject after the company's head of corporate communications, Eric Hollreiser, issued a statement, saying:
"In retrospect it was a mistake to allow them entry. Our tournaments are designed to promote poker and poker competition and not as a platform for political statements. Players have many channels to express their views on world politics, but our tournaments are not an appropriate place. We will refuse entry to any player displaying political statements of any kind."
Operation Protective Edge
At the heart of the latest controversy is Israel's military campaign, named Operation Protective Edge, which was launched against the Gaza Strip on July 8, 2014, and seven weeks later is showing no signs of abating. Up until now Israel has lost 64 soldiers and 4 civilians, whilst on the Palestinian side 2,104 people have been killed and 10,500 wounded, 80% of which have been civilians. The sight of seeing daily casualties on news outlets has stirred up strong emotions amongst some players, with many taking opposite views on the situation.
Negreanu starts controversial debate
Canadian superstar Daniel Negreanu is PokerStars' top sponsored pro and in addition to his prowess on the felt is noted for his strong views on a range of subjects and his willingness to share them via social media. The 40 year-old pro then took to his twitter account on July 29th to air his support for Israel, sparking off a heated debate amongst some of his 320,000 followers, a debate which eventually subsided only to be resurrected once again after EPT Super High Roller champion Olivier Busquet and runner-up Daniel Coleman wore T-shirts at the televised event stating "Save Gaza" and "Free Palestine," respectively.
Interestingly, Negreanu has now released an article on whether political messages should be shown at poker events, with an excerpt stating:
"For non-televised I'm pretty much OK with someone wearing anything they want, whether it be offensive or not.. In fact, I think one of the shirts is inclusive and the other is exclusive.. "Save Gaza" is quite vague and if that offends you, you may be a bit too sensitive!.. "Free Palestine" is the one that I find to be exclusive. This is a more loaded political message."
Robbie Strazynski claims EPT embarrassed itself
While the EPT Super High Roller was being broadcast, Cardplayer Lifestyle poker creator Robbie Strazynski immediately tweeted that the EPT had embarrassed itself by allowing Colman and Bousquet to wear "those t-shirts". Strazynski has since drawn criticism from a number of poker fans who, in his own words, accused him of "selective outrage", with even an EPT commentators saying he "was the one bringing attention to the issue." As a result, the Israeli resident decided to give a detailed response to the argument by posting an article on his site entitled 'There's No Room for Politics in Poker'. At the end of his impassioned piece, Strazynski then concludes:
"I call upon tournament officials to consider the issue of enshrining rules for a dress code as well as prohibit political statements at the tables. PokerStars has de facto now made their position clear. Other organizations that sanction poker events ought to follow suit."
Frankly, we need more politics
According to poker historian Nolan Dalla, however, Rational Group decision to ban political statements from televised poker tournaments is "misguided," and "merits the strongest possible protest." For the outspoken writer who describes himself as a "socialist, humanist, skeptic, contrarian, free-thinker" on his twitter account, we need more politics and discussion about problems and their solutions, and as he concludes in his article:
"Language and thought shouldn't be guarded by anyone, let alone a corporation, and what appears on a t-shirt should be the last thing the organizers of a poker tournament should be interested in.. I commend anyone who takes a stand on important issues that extend beyond themselves. We don't need less of that. We need more of that. A lot more."
Vicky Coren advocates discretion
Finally, top female poker player, role model and columnist for The Observer and The Guardian newspapers, Vicky Coren Mitchell, felt compelled to write an article called 'No Politics At The Poker Table?' in which she basically calls Busquet and Coleman troublemaker in donning the T-shirts as soon as the TV broadcast started, although she also points a finger at Robbie Strazynski for his "no political slogans" stance on the matter, stating his "failure to distinguish between thinking somebody shouldn't do something and that they shouldn't be allowed to do something." Likewise, she calls PokerStars decision as "a bit of short-term troubleshooting" and instead advocated discretion on a case-by-case basis.
Victoria Coren also highlighted an important point about the criticism often leveled against the new legion of young poker pros of being too boring and displaying no character. As Coren, explains:
"Besides, I bang on enough about how sad it is that so many modern players sit in silence or listen to iPods at the table; the game really doesn't need any more disincentive to conversation. It's not the Olympic 400 metres. It's a social game."