The Stars Group Revenue Soars By 23% to $393M in Q1
Home
»
Poker News
» The Stars Group Revenue Soars By 23% to $393M in Q1
Friday, May 11th, 2018 | Written by Charles Washington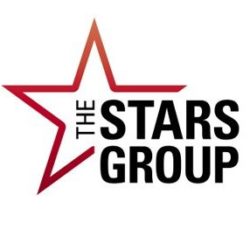 The Stars Group shares are currently trading at an all time high of C$45.84 on the back of its solid results released for Q1 of 2018. During the three month period ending March 31st, the online gambling giant generated $392.9 million in revenue, marking a 23.8% increase compared to Q1 of 2017. Nevertheless, foreign exchange rate movement had a significant role to play in lifting the numbers, without which the annual growth would have been closer to half its final total.
Overall, The Stars Group reported gains across all its product offerings, and commenting upon the first quarter figures, CEO Rafi Ashkenazi praised the operator's continued organic growth, stating:
"We are pleased with the performance of each of our verticals, poker, casino and sportsbook, which are benefiting not only from the continued success of Stars Rewards but also from our strategy of focusing on the customer and continued improvements to our product offerings."
All told, The Stars Group derived 62.6% of its Q1 revenues from poker, with the remaining 34.2% coming from its sports betting (20.7%) and casino operation (13.5%).
Online Poker Up 12.4%
The Stars Group generated $245.9 million from its online poker vertical, with revenue from its flagship PokerStars brand rising by 12.4% year-on-year. As mentioned, however, a strong dollar helped flatter its growth numbers, and if the exchange rate had remained the same as during Q1 of 2017 the poker revenue gain would actually have been a mere 2.3%.
Nonetheless, even that figure is impressive considering PokerStars withdrew from several markets last year, including Australia and Colombia, with the negative development offset by a number of positive factors, including a revamped Stars Rewards loyalty program, and in mid-January PokerStars combining its player pools in France and Spain.
In fact, shared liquidity actually accounted for a massive 30-35% increase in its revenues, with further gains expected to be made this month after Portugal joins the combined player pool. Italy, however, will have a more far reaching impact on the shared liquidity platform, although it still has to satisfy the concerns of politicians and is not expected to join until 2019.
Sports & Casinos Up 55%
Sports betting and casino provided the biggest growth in Q1, with their combined revenues higher by a massive 55% at $134.5 million in the first quarter versus Q1 of 2017. The segment, which the operator reports as a combined figure, received a significant boost from The Stars Group's investments in Australia, the world's second-biggest internet sports betting market. This includes acquiring an 80% stake in CrownBet, with the Australian online betting company contributing $11 million in sportsbook revenues during the quarter, with its purchase of William Hill Australia at the end of last month expected to bumping up results further going into the next quarter.
The 2018 FIFA World Cup from 14 June to 15 July is also expected to produce further solid gains for The Stars Group's sports revenues, with BetStars currently running an audacious $135.13 million free-to-enter promotion. The money will be won by whoever manages to predict the result of all 64 matches played in the soccer competition, which although highly unlikely, still has the potential to draw many new players to its sports betting brand.
Looking Ahead
In addition to CrownBet and William Hill Australia, The Stars Group has also announced its intention to buy UK-based online operator Sky Betting & Gaming for $4.7 billion, which upon completion will transform The Stars Group into the world's biggest publicly traded online gambling firm.
The Stars Group stands to gain manyfold benefits from the deal on account of Sky Betting's attractive customer base, which is predominantly young (mostly 18-34 years olds), recreational, and loyal, with 58% of its customers using Sky Betting exclusively. The Stars Group is therefore expecting to record further gains following an anticipated influx of Sky customers trying their luck at PokerStars' poker tables, potentially helping to rebalance its poker ecology even further in favor of regular players.
While Sky players will initially continue playing poker using the brand's traditional software, its players will likely soon find themselves combined with PokerStars players via a re-branded version of the Sky site compatible with PokerStars, and sharing a common wallet. This should then lead onto greater liquidity for games, as well as larger tournament guarantees and even more attractive promotions.
Summing up The Stars Group's positive outlook going forward, CEO Rafi Ashkenazi explains: "These acquisitions will help diversify our revenue base, increase our exposure to regulated markets, and transform our combined sportsbook into a second customer acquisition channel. These new additions will accelerate not only the organic growth we are seeing in our existing business but also our progress towards realizing our vision of becoming the world's favorite iGaming destination."