PokerStars Raising Funds to Aid Typhoon Victims in Philippines
Home
»
Poker News
» PokerStars Raising Funds to Aid Typhoon Victims in Philippines
Friday, November 15th, 2013 | Written by Lucy Brown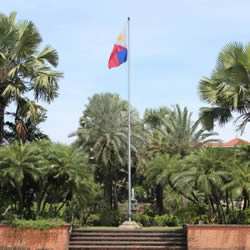 PokerStars is known for being one of the biggest and best online poker rooms in the world, and now it is doing something to help a country in crisis by embarking on a fundraising effort designed to help those who have been left devastated by the recent Typhoon Haiyan in the Philippines.
Site pairing up with aid organization to help those affected
This week the company but up an announcement on its web site to draw attention to its work to offer relief to the victims of Typhoon Haiyan, which is the second-largest typhoon ever to hit the island nation of the Philippines.
Typhoon Haiyan struck last week, causing a vast amount of damage and taking more than 3,000 lives, a casualty number that is unfortunately expected to rise even higher.
PokerStars has teamed up with CARE International, "a leading humanitarian organization fighting global poverty." For every dollar raised from its vast network of worldwide online poker players, PokerStars will donate two dollars.
A statement on the PokerStars site read, in part, "On November 8, 2013, the lives of millions of Philippines residents were forever altered by Typhoon Haiyan, one of the strongest storms ever recorded. To give much-needed assistance to those who have lost their homes and livelihood, PokerStars, through its corporate giving programme 'Helping Hands', has partnered with global relief charity CARE International to launch an emergency appeal."
The focus of CARE International in the Philippines will be to provide relief in the form of food, shelter, and other urgently needed basics.
Players can donate to the fund a number of ways
Those who wish to join in the undertaking are able to do so via a number of channels. Players can opt to enter into "dummy tournaments" on the PokerStars site, whereby buy-ins – which are available at a number of levels – will go toward typhoon relief. Multiple tournament entries are not only allowed, but are encouraged in order to raise as much money as possible.
Another way that PokerStars users can help is by simply donating directly through the site using the player transfer feature.
Lastly, players have the option to go directly to the CARE International web site, where they can not only submit a donation but can also read more about the organization's aid efforts in the Philippines.
According to a report on the U.S. online poker news site Poker Fuse, PokerStars has already managed to drum up over $100,000 in donations from its user base, an amount that the company said via Twitter it would double.