New Hampshire Hoping For Online Lottery by Early 2018
Home
»
Poker News
» New Hampshire Hoping For Online Lottery by Early 2018
Tuesday, August 8th, 2017 | Written by Lucy Brown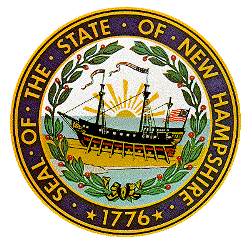 It may be happening slowly, but online gambling is beginning to push its way through state legislative bodies across the United States. Nevertheless, there are a number of people who oppose such legalization, while infighting between major gambling operators is making it hard for new states to follow suit and join the already regulated states of New Jersey, Delaware and Nevada. In the meantime, last month, the Governor of New Hampshire subsequently put his name to a bill that would allow the New Hampshire lottery to offer its lottery products online, and with this move, New Hampshire has allowed itself to become one of the few states to take a plunge into the world of online lottery, the others currently including Illinois (2012), Georgia (2012), Michigan (2014), and Kentucky (2016).
Charlie McIntyre, the NH Lottery Commission Executive Director, is hoping that this will take place in early 2018, and has stated that he does not anticipate any real issues with online lottery. Elaborating further, the Union Leader explained:
"For us, it's just an evolution of how we do business. We're not really selling anything new. We're just doing it in a different way."
Lottery Evolution
The bill states that this law would allow the lottery commission to sell its tickets online as well, as through cell phone apps, with the technology thus allowing regulators to devise practices that will address problematic gaming, and ensure that it stays a safe environment for people to play. It further states that there will be an age verification procedure in place that will require players to be over the age of 18, with players register for accounts having to prove their age by first going to a lottery retailer licensed place of service.
The lottery purchases will also be restricted to transactions that are completed and initiated within the border of the state itself, and there will be limits for the daily, monthly and weekly wagers that are set forth in order to help curb problem gambling. Finally, it provides a voluntary program that allows players to exclude themselves for making wagers for a set amount of time.
In fact, the only main difference between the New Hampshire bills and the ones that are found in other states is how one goes about registering for an account. As mentioned, it involves sending that person to a brick and mortar store to register for the account, which will help verify a person's age, and thus prevent anyone from lying online and engaging in illegal activity.
Paving the Way for Progress
This also paves the way for other gambling initiatives to take place, with the most recent success including a daily fantasy sports bill, H 580, that was signed by governor Chris Sununu in mid-July. In so doing, New Hampshire has now become the 15th state in the US to offer regulated DFS wagering, with 6 states having approved regulation this year alone.
Brighter Future
As more and more states begin to legalize online gambling and lottery games, it is becoming clear that the technology being put in place is certainly able to ensure the safety of its gamers. The same technology can also ensure that the regulatory requirements are being met, and there have only been a few issues with the legalized system in New Jersey, setting a model for the rest of the states that says online gambling definitely has more benefits than it does drawbacks.
Likewise, the Illinois Lottery, which regulated DFS wagering two years ago, has also praised its age verification and geolocation procedures, and as Illinois Lottery Director Michael Jones explains: "The Lottery, through its private manager, launched the first Internet sales portal in the United States during the $656 million Mega Millions jackpot week of March 2012. Two years later, it is clear that the age and geography constraints that were key parts of the test are working as designed."
In addition, initial fears of an online lottery industry cannibalizing other gambling products, such as those offered by traditional brick-and-mortar casinos, have proved unfounded, with a report on the Michigan market produced by Digital Gaming Group on the Michigan Online Lottery, stating:
"The Michigan Lottery's success story should be a page in the book of every lottery looking to convince its stakeholders of the value, certainty and complementary nature of this new sales channel… Multi-channel growth has been observed across the globe where iLottery is present and the industry is finally obtaining domestic evidence as well."