Japan Looking to UNLV Report for Casino Regulation Guidelines
Home
»
Poker News
» Japan Looking to UNLV Report for Casino Regulation Guidelines
Saturday, December 9th, 2017 | Written by Shane Larson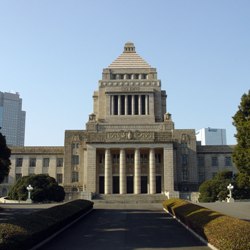 Early next year, the National Diet, Japan's legislature, is set to start discussing gaming regulations in order to finalize the rules that will govern its recently approved casino industry when launched. However, the Japanese government is keenly aware that the key decisions it makes may either make or break its fledgling casino market, and so legislators are eager to examine as much market research as possible before deciding upon which gaming regulations to chose. At this early stage, the country has already shown it has a preference for the gaming model of Singapore, and has spent a lot of time studying the gambling regulations of the island state, and comparing and analyzing its two integrated casino resorts.
In the meantime, Japanese legislators have commissioned the University of Las Vegas (UNLV) International Gaming Institute, and Washington State University (WSU) to compile two reports about the impact that a casino industry may have on Japan and the gaming regulations necessary in order to keep the industry running smoothly. Today we'll be taking a brief look at some of the recommendations made in these important reports.
UNLV and WSU Reports
Legislators and wealthy business leaders from Japan commissioned UNLV researchers Bo Bernhard, Brett Abarbanel and Jennifer Roberts, along with Kahlil Philander from Washington State University to carry out research into the Japanese market and formulate an analysis of the Japanese casino industry. It's estimated that casinos will generate around $25 billion annually for the country, with the team also tasked with providing insights into what should be included when establishing gaming regulations.
The first of the reports was entitled "Socio-Economic Impacts of Japanese Integrated Resorts", with the 100-page long study having been submitted at the beginning of September. In the report is then found an in-depth analysis of what kind of impact full-scale resorts could have on tourism and the Japanese economy as a whole, as well as explaining the potential negative consequences of gambling addiction and organized crime. The report subsequently offers a range of recommendations for legislators to consider when finalizing new gaming regulations.
There was also a second 31-page report submitted at the end of August called "Practical Perspectives on Gambling Regulatory Processes for Study by Japan: Eliminating Organized Crime in Nevada Casinos", that looked into how Nevada was able to eliminate organized crime from its casinos, and how Japan might hope to do the same.
Preventing Organized Crime
While undertaking their studies, University researchers worked in close collaboration with legislators and businessmen based in Japan, and spent time in the country conducting first-hand research before compiling their reports. As mentioned, the second report offers legislators information about what should be avoided or adopted in order to ensure that organized crime stays out of the casino industry, as well as for preventing problem gambling. Understandably, these are two major concerns of particular interest to those groups that oppose legalized casino gambling in Japan.
The report states investigating casino operators before issuing them licenses, being selective when deciding which operator gets a license, and establishing post-licensing procedures aimed at regulation compliance and internal controls are all necessary steps in preventing organized crime and problem gambling from becoming an issue.
International Partnerships
Major casino operators in the United States like MGM Resorts, Caesars Entertainment, Wynn Resorts, and Las Vegas Sands Corp are keen to become part of the lucrative Japanese gambling market, and have already spent millions of dollars researching the country's market, and sending their own senior executives to meet locally with Japanese legislators. During these discussions, international operators have expressed their interests in investing in Japan, and have also offered their lobbying advice in order to have particular regulations approved.
There are several domestic gambling firms already operating in Japan, along with several non-USA international operators looking to obtain Japanese casino licenses. Researcher Kahlil Philander expects that local businesses are going to have an advantage in the Japanese market, though, due to their understanding of market conditions, ready-made potential customer databases, and current brand reputation. Sega Sammy is one such local business that international firms may want to partner up with, and as Philander explains:
"Sega Sammy has a strong brand, it appears in many of these markets that are being considered. Even if they don't have direct experience in running, developing or building an integrated resort, they still might have some assets, brands or connections to players that would be useful for a partnership or some other type of joint venture."