Singapore Casino Model An Example For Japan
Tuesday, January 3rd, 2017 | Written by Stephen Smith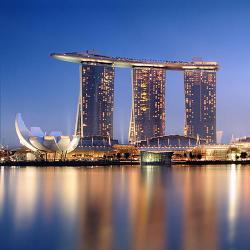 Singapore's casino model is currently being carefully studied by Japan, with several of the country's officials having visited the Southeast Asian city-state in recent years. Their visits have coincided with Japan's decision to consider and ultimately adopt a bill legalizing casinos only last month, and it appears Singapore's casino industry has been singled out as a prime example for Japan to follow.
Striking a Balance
In 2010, the wealthy but strict island nation approved casino gambling, thereby allowing two integrated resorts to be established, namely Resorts World Sentosa and the Marina Bay Sands. At the forefront of the Singaporean government's thinking was the need to strike a balance between developing the country's reputation as a world class tourist attraction, while also putting several safeguards in place to protect its indigenous population from any negative ills associated with gambling.
In fact, so successful has Singapore been in its endeavors that many countries around the world have been scrutinizing the country's casino model, and see it as an ideal way of deriving maximum benefits from casino gaming, whilst reducing any potential downsides.
Integrated Resort with Casinos
From the outset, Singapore's government was ahead of its time and insisted on building a casino industry in which the actual gaming floor took up no more than 3% of each integrated resort, with the other space devoted to attractions that would appeal to tourists. As Singapore Prime Minister Lee Hsien explained back in 2005:
"We are not aiming to become like Las Vegas or Macau, where gambling is the main industry. We will not allow casinos to sport garish neon displays on the facades and have jackpot machines everywhere."
Challenging Global Casino Market
Nevertheless, the world casino market is currently experiencing difficult times, including those based in Singapore, with a major contributing factor being the anti-corruption campaign launched by China a few years back which has resulted in fewer high rollers gambling at home and abroad. In addition, the protracted global economic decline, as well as increased competition from other rival Asian nations has also added to the decline.
As a result, Singapore has seen its casino revenues fall from $6.077 billion in 2013 to just $4.8 billion in 2015. Nonetheless, the island-state still maintains a thriving casino industry which currently accounts for 2% of the country's economy, as well as providing employment for over 20,000 people.
Tourism Thriving
It is important to note that despite waning casino revenues, Singapore's two casinos have become big money earners for the country as a whole. According to data collected by Singapore's Department of Statistics, the country's visitor arrivals have soared from 9.7 million in 2009 to 15.2 million in 2015. Consequently, tourist receipts improved from US$8.8 billion in 2009 to $15.16 billion in 2015.
The Secret to its Success
Helping to explain the buoyant situation is a government well aware of the adverse effects that casino gambling could have on a society, and so from the onset designed its casinos to appeal to foreign visitors. In the meantime, several regulations were stipulated to discourage locals from gambling at the country's two casinos.
For example, Singapore's casinos have entrances which offer separate lanes for foreigners and locals, and while foreigners can enter hassle free, local residents have to pay a US$70 entrance fee, or as much as US$1,381 for an annual pass. Furthermore, there is a strict system of exclusion in place in which individuals with severe monetary problems can get blacklisted and barred all together from the casinos. People can also choose to self-exclude themselves, as well as their family members.
One Singaporean local who has experienced the dangers of gambling first-hand is a 78-year-old retired engineer who said that he lost S$200,000 (US$138k) within just a single year, before desperation led him to approach money lenders for more gambling funds. Needless to say, the situation continued to spiral further out of control, and although he has since barred himself from all the country's casinos, he still has been saddled with a mountain of debt. Sounding a cautionary warning to Japan, the unnamed man stated:
"The Japanese government should not let local people go to casinos,. It is better to allow only foreigners in. If you allow local people in, many people will become bankrupt and commit suicide."