Is Mobile Gaming Killing the Console Market?
Friday, February 17th, 2017 | Written by Lucy Brown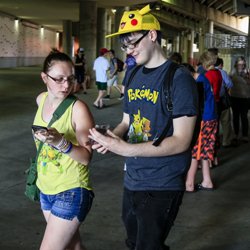 In the world of gaming, it wasn't a console game that created a buzz in 2016–it was a mobile game. After all, there is no denying that Pokemon GO was the industry's story of the year, with media outlets reporting on the phenomena in which people of all ages took to the real world seeking Pokemon in countries all across the globe. As was reported by the University of Waikato last year:
"In the wake of Pokémon Go, game developers and other companies are rushing to capitalize on the game's popularity and successful application of augmented reality. Several developers released look-alike apps in places where the game wasn't available. These topped mobile downloads in those countries."
In fact, with Pokemon Go at the head of the pack, mobile gaming had a great year in 2016 having generated $36.9 billion in revenues, according to Newzoo BV, accounting for 37 percent of the total gaming market. Meanwhile, PC games generated just $31.9 billion, and console revenues came in at third with $29 billion in sales. Mobile gaming is therefore clearly having an impact on the console gaming market, causing its share to shrink, although those in the console business are still seeing impressive levels of sales. But could that change in the future?
Console Game Interest Waning
Industry experts believe that as mobile gaming technology continues to advance, interest in console gaming may wane. Smartphones and tablets give players round-the-clock access to games, and these days it is now possible to continuing playing while waiting for the bus, a meal at a restaurant, or even from the comfort of your own home. While this is true of mobile gaming consoles as well, mobile games on smart devices do not require players to carry around a secondary device, giving them a clear advantage.
Web GL A Game Changer
One technology that is sure to disrupt the gaming market is WebGL (Web Graphics Library). This Java Script API makes it possible for game designers to create three-dimensional graphics that can be viewed across many different web browsers. As this technology continues to develop, the door will then open to online and mobile games that look as impressive as console and PC games. Graphics will be brighter, richer and more active, allowing for more immersive, compelling gaming environments that will only encourage players to reach for their mobile devices more often.
Virtual Reality
Another technology that could mean big things for mobile gaming is virtual reality. At the present time, users can experience the best virtual reality games through computers, and it will be a long time before other platforms are able to replicate their incredible immersive environment. For instance, mobile virtual reality gaming on smartphones and tablets is much more simplistic, while the virtual reality possible with PlayStation's new VR console falls somewhere in the middle.
While you may not get the full experience playing a virtual reality game on a smartphone or tablet, VR is much more readily accessible through mobile devices. The cost of entry is lower than purchasing a console and certainly much less expensive than equipping your computer for a high-end virtual reality experience. As a result, most industry experts believe that at least in the near future, low-end mobile-based virtual reality will see the most play.
Conclusion
Just when computer and console-based virtual reality games and hardware may become financially feasible to a wide market is unclear at present, but it's possible that mobile gaming will have greatly increased its revenues and market share at the expense of its competitors by the time that does occur. Nevertheless, other experts argue that consumers appreciate the widely different experiences offered by console and mobile games, and that the gaming industry's future is essentially multi-platformed. Consequently, it has been argued that the cannibalization of each others customers is not necessarily a concern, and as Konami CEO Hideki Hayakawa explained recently:
"With multiplatform games, there's really no point in dividing the market into categories anymore. Mobiles will take on the new role of linking the general public to the gaming world."