Phil Hellmuth Captures Record 15th WSOP Bracelet
Thursday, July 12th, 2018 | Written by Shane Larson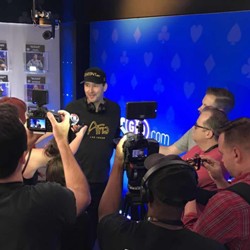 Last night, 2009 Main Event champion Joe Cada navigated his way through to another WSOP Main Event final table, attracting much of the media's attention. Meanwhile, another developing story failed to receive its fair share of coverage, despite it potentially being one of the most remarkable of this year's Series so far.
WSOP legend Phil Hellmuth, a 14-times bracelet holder, made his way past a field of 452 players at Event #71: $5,000 No-Limit Hold'em (30 minute levels), to eventually claim a victory worth $485,082. More importantly for the Hall of Famer, though, Hellmuth has also increased his bracelet tally to 15, further cementing his place in the WSOP history books, and placing further daylight between himself and nearest contenders Doyle Brunson, Johnny Chan, and Phil Ivey on 10 bracelets each.
"It means everything to me, because my life is poker, number one," explained a beaming Hellmuth. "Number two, I'm trying to spread positivity to the world. I want to be remembered in two ways: one, having 24 bracelets and number two, starting the positivity movement and having a lot of influence on people lives."
Eating Humble Pie
The 2018 World Series of Poker was beginning to look like one that Phil Hellmuth would prefer to forget. Aside from cashing in at just five events for $24,412, the 'The Poker Brat' demonstrated a complete lack of table protocol during one of his infamous outburst that essentially contributed to firefighter James Campbell's exit from the Main Event.
Hellmuth was berated so badly by his fellow pros after the incident that he admitted to losing sleep that night, and subsequently offered to buy Campbell back into the 2019 Main Event, which the latter humbly accepted. As 8-times WSOP bracelet winner Erik Seidel tweeted following Hellmuth's remorse:
"This is a very nice gesture, it appears you did recognize how serious this was & found a great way to make amends."
A New Resolve
Perhaps Hellmuth having to confront his shortfalls and make amends in such a public manner may have helped the 53 year-old pro to more sharply focus his mind on his poker game, rather than the frustrations his opponents were causing him. The level of criticism and harsh comments he received from both the players and the community as a whole may have also given him an extra resolve to reclaim some of his lost honor following the controversy. As Hellmuth noted after crashing out of the Main Event without a cash:
"I couldn't sleep, I felt so bad. I didn't know how to handle it. The fact is: when I busted out from the Main Event and the poker room was cheering, I was crushed. I was like 'oh my god, what did I do? Everyone is against me. It felt like such a low point for me in my career."
From Low to High
This years WSOP features 78 events, and with the Series scheduled to finish on July 17, time seemed to be running out for the pro to capture his first bracelet since taking down the 2015 WSOP $10,000 Seven-Card Razz for $271,105.
Hellmuth subsequently entered the $5,000 No Limit Hold'em event, together with a pro heavy field of 452 players. Amongst the recognizable names cashing in at the event was Chris Ferguson in 53rd, Anthony Zinno in 37th, Davidi Kitai in 36th, Liv Boeree in 31st, Antoine Saout in 30th, Chance Kornuth in 18th, Griffin Benger in 15th, and Jeremy Ausmus in 12th.
After the final table had been reached, 2-time WSOP winner Steven Wolansky (A-9) proceeded to eliminate Ralph Wong (5-5) in 8th place, before later being dealt pocket kings and seeing off Aliaksei Boika (A-K) in 4th. Wolansky completed his trio of eliminations after his A-Q bested Alan Sternberg's J-9 holding, to bring the tournament to its final phase.
Hellmuth vs Wolansky
Steven Wolansky entered heads-up play holding a 3-1 chip advantage over Hellmuth, and at one stage the latter appeared to be heading out of the competition after moving all-in preflop with K-10, and running into the dominating K-J of his opponent. Luckily for Hellmuth, a 10 eventually hit on the river to keep his tournament hopes alive, and soon after Wolansky moved all-in holding A-9, with Hellmuth making the call holding pocket threes.
Hellmuth didn't have to sweat the result much, though, after making a set on the 9-3-2 flop, after which a 6 and 8 on turn and river sealed yet another remarkable victory for the Wisconsin born pro. Meanwhile, Steven Wolansky collected $299,807 for his runner-up finish, and heaping praise upon his impressive performance in the event, Hellmuth stated:
"He wouldn't give an inch, I know he wouldn't give an inch. I had to start thinking about how I wanted to handle this. I thought, I have to try and steal more pots against him to give myself a chance because he's just not giving a chip away."
Following news of Hellmuth's 15th career bracelet win, social media has been commenting upon his amazing feat, and as his fellow Poker Hall of Famer Mike Sexton tweeted:
"Some love him & some hate him, but if you play poker, you need to salute him. 15 bracelets speaks for itself. Congrats @phil_hellmuth Truly impressive!"
Final Table Results
1: Phil Hellmuth $485,082
2: Steven Wolansky $299,807
3: Alan Sternberg $204,789
4: Aliaksei Boika $142,458
5: Ken Fishman $100,956
6: Matt Glantz $72,911
7: Paul Hoefer $53,682
8: Ralph Wong $40,309
9: Eric Hicks $30,881