Colombia's Newly Regulated iGambling Market
Sunday, August 6th, 2017 | Written by Stephen Smith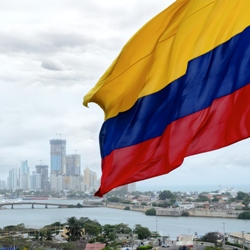 PokerStars has opted to exit the newly regulated iGambling market in Colombia after the decision of Coljuegos, the online gambling regulator, to block a list of 325 unlicensed online gambling operators. In the fall, Colombia became the first country in Latin America to regulate online gambling, and a few months later PokerStars subsequently sent an announcement via email to local players that they would no longer be able to play real money poker as of July 17, 2017.
Regulated Market
In the message that it sent to its gamers, PokerStars told them that they it was leaving the market because of the new online gaming regulations, and that it did not hold the right license to legally offer its product in the country. Even so, the operator stated that it did want to obtain a license when possible, meaning that PokerStars may return to Colombia if it is given the right approval. As the operator stated in its email:
"PokerStars has been, and will continue to be, in positive and proactive discussion with Colombian government officials on this issue, and we hope to offer real money games again in the future."
Staying Away from Gray Areas
PokerStars has been trying to do things the right way ever since its 2011 indictment by the United States Department of Justice for offering real money, illegal services to players based in the United States. This violated the Unlawful Internet Gambling Enforcement Act (UIGEA) of 2006, and since then, the operator has been attempting to stay far away from any sort of black market operation, as it doesn't want to risk its operations based in other, legal markets. Consequently, PokerStars now only operates in legal markets, and some others that where the law is less clear, referred to as gray areas.
Lucrative South American Market
Colombia and Latin America as a whole has always been one of those gray areas targeted by PokerStars, as well as other major online gambling firms because the industry recognizes this region as being one that holds plenty of potential. They have therefore been trying to make as much money as possible as as they establish their brands in the region, and over the past few years this potential has allowed those in charge of making laws in a number of different Latin American countries to explore the possibility of regulation. Aside from Colombia, a country which has now legalized online gambling and established a regulatory body for licensed gambling, there are also a number of other noteworthy countries making waves, including Brazil and Mexico.
All of these countries have been trying to amend the current laws in their country in order to make the industry work, although there are a number of legislative issues and roadblocks to take care of first before viable regulated markets can be established. Still, people do believe that this is something that can eventually be attained in the future, and if this is the case, it is likely that PokerStars will not only return to Colombia, but begin breaking new ground in Mexico and Brazil as well.
Wplay.co Issued First License
At the end of June, Colombia issued its first official online gambling license to the Aquila Global Group, a Colombian based electronic gaming machine operator which plans to offer its product via the Wplay.co brand. According to the company, it now intends to invest around $4.9 million setting up its online gambling operations over a three year period, and hopes to have attracted 1 million signed up customers over that time.
Although the first company to officially receive a regulated license, Aquila Global Group is not the only company with a strong interest in the country's gaming industry, with Coljuegos head Liliana Viveros stating that the regulator has already received more than 60 inquiries from applicants, and that it is expecting to have granted seven online licensees by the end of 2017.
According to the rules set up by Coljuegos, successful applicant will need to pay an annual license fee of $200k, and subsequently pay a 15% tax on the gross gaming revenue they generate. The government then hopes the industry will generate around $2.6 million in its first year of operation.