Aussie Women's Attitudes Towards Gambling Becoming More Positive
Home
»
Poker News
» Aussie Women's Attitudes Towards Gambling Becoming More Positive
Sunday, December 31st, 2017 | Written by Charles Washington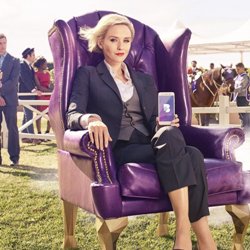 Australia is a hotbed of gambling with more than 80% of all Australian adults having engaged in some form of gambling during their life. In the past, however, it was men who were seen as the more likely to gamble, but that is all beginning to change gradually as is highlighted in a recent study carried out by Dr Samantha Thomas from Deakin University. According to the associate professor, Australian women's attitudes towards gambling has improved significantly due to PR and advertising campaigns that now make women the stars of  commercials rather than just "decoration".
Aussie Female Gamblers Increasing
Gambling adverts aired by firms such as CrownBet and Sportsbet clearly present women in more lead roles, which is a departure from the usual male-led gambling commercials which have dominated PR campaigns of the past. CrownBet, for example, put Australian actor and model Nicky Whelan (photo) at the forefront of its latest marketing drive, while SportsBet used Sophie Monk from the TV series 'The Bachelorette' as the face of their campaign.
Changing Times
Details of the study have been revealed at a time when gambling firms in Australia have been subject to more and more scrutiny and regulations from authorities. This includes a greater level of restrictions being placed upon them in terms of the gambling advertisements they can show, and when, where, and to which audiences they can be shown.
According to Dr Thomas's study, Australian women are now adopting more favorable views towards gambling and are also gambling on a wider range of products than ever before. As she then explains:
"Women are gambling on a more diverse range of gambling products, and we are also seeing that younger women have more positive views towards gambling. Our initial studies show they're more socially accepting of gambling and say it's something they do as part of a night out with friends."
At the same time, however, it has been shown that women spend only a quarter of what men do when gambling, meaning participation figures remain predominantly male. This ties in with another study conducted in 2014 which showed that men gambled more often and with more money than women, and were more likely to develop a gambling addiction. This new study seems to indicate that attitudes are shifting, though. In other words, marketing campaigns that include women just as much as men are helping to make gambling more socially acceptable amongst women.
Furthermore, if current trends continue then there could come a day when women become the main focus of gambling advertising over men as companies try to re-balance the gap between these two groups of customers.
Political Shifts
One of the reasons women are starting to embrace gambling is the changes to Australian gambling laws instigated by The Interactive Gambling Act of 2001. The piece of legislation was introduced to help limit how many real-money gambling products could be available online in the country, although at the time the law didn't affect Australian players much given the amount of unlicensed overseas operators that had been offering their products in Australia.
That all changed after the law was amended in 2017, with additional licensing then needed by those operators that wanted to market their products to Australian players. Opt-out schemes were introduced as well to address the potential for gambling addiction issues. This created an extra safety barrier for online gambling in the country, and has no doubt made online gambling both safer and more approachable to female gamblers.
Only the Beginning
The study is only the beginning of the work currently being conducted by Dr Thomas and her researchers into the gambling habits of women. The research team from Deakin University, for instance, is already planning another study to determine how marketing is now making gambling socially acceptable for women. Commenting upon a key area of focus for their research, Dr Thomas said:
"While there has been a significant amount of research on young men and gambling, there is almost no research on the gambling behaviors of young women in Australia. We want to properly understand this behavior so we can develop strategies to help reduce and prevent gambling harm among young women."
The relationship between women and gambling firms could become a lot closer over the next few years if operators continue putting women at the front their advertising campaigns, and presenting them in a positive manner more welcoming for women. If this is going to be worthwhile, though, gambling firms need the enthusiasm and attitude of women towards gambling to remain positive. In other words, more women need to start gambling or the growth of female gamblers in Australia is going to stop before it has even had a chance to really begin.