PokerStars Launches French and Spanish Shared Liquidity
Home
»
Poker News
» PokerStars Launches French and Spanish Shared Liquidity
Wednesday, January 24th, 2018 | Written by Lucy Brown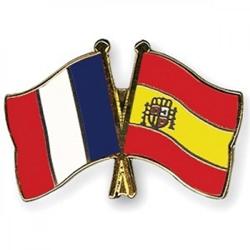 It was at the end of December 2017 that France's gambling regulator AIUEL said that it would be sharing poker liquidity with Spain in just a few short weeks. On January 16th, PokerStars subsequently announced that it had become the first online poker room to allow players from both Spain and France to compete at the same table, in the process ushering in a new era for online poker in Europe.
Commenting after the announcement was made, Guy Templer, Chief Operating Officer of The Stars Group, hailed the hugely positive development for the game's popularity in Europe, stating:
"This will be great for players and great for the poker category. Having a strong, competitive regulated offering — which comes from combining player pools — has proven to be attractive to consumers who might otherwise be choosing to play on unlicensed and potentially unsafe sites."
Failed Ring-Fenced Markets
In legalizing and regulating their online poker markets, France, Spain, Italy, and Portugal have shown themselves to be well ahead of many individual states in the USA. However, rather than setting up the best institutions in order to give their nascent markets a boost, these countries chose to opt for a ring-fenced approach which then led to them isolating themselves from Europe and the rest of the world.
As everyone knows, poker player liquidity or player flow is a vital ingredient of a successful online poker industry as you can't organize attractive games and tournaments if there's no one around to play. Furthermore, the less players there are on a site, the greater the chance that its numbers will continue to diminish because players want to play at busy, popular sites. This is not rocket science and has been known from the very beginning, making these European countries' decision to intentionally limit their player pools nothing short of incomprehensible.
Shared Liquidity U-Turn
In July of 2017, France, Spain, Italy, and Portugal subsequently announced that they would be removing the shared liquidity barriers that they has set up and start combining players with one another, although they would still remain cut off from the rest of the world. It was then recently revealed that Spain and France would be the first countries to go ahead and combine their player pools, and that Portugal would join them not long after. Italy is expected to join these other countries latter on in the year, but in the meantime it first needs to solve some internal issues presented by politicians worried about money laundering possibilities, as well as a range of other concerns.
"Seat Me" Fair Play Practice
As part of its landmark shared liquidity launch, PokerStars also announced the implementation of its "Seat Me" system on the combined network. This was fist introduced on PokerStars.es a year earlier as a way of ensuring recreational players would not be preyed upon by professional and advanced players. Basically, Seat Me allows players to choose their game type, stakes, and max players only, instead of being able to choose a specific table and seat. The computer then seats them at a table that matches their level.
Severin Rasset, Director of Poker Innovation and Operations for PokerStars, has said that the testing of Seat Me in Spain was a complete success, which is the reason it will also be extended to France as well.
One of the most challenging aspects of implementing Seat Me proved to be time penalties, though, as the software had to be refined in order to stop abusive players, but without harming legitimate players. The main behavior the company wanted to stop was a practice called bumhunting, as well as seating script use against recreational players, and not the prevention of multi-tabling or moving between tables for legitimate reasons.
"Overall, I feel that we are close to this goal as the larger proportion of our players, particularly the recreational players, are rarely, if at all, exposed to the time penalties implemented, while the more experienced players can also continue to showcase their talents at the table," explained Rasset.
Interestingly, the practice was thrust into the limelight again recently after PokerStars ambassador Daniel Negreanu showed a number of players immediately sitting out after he quit a game. This then prompted popular poker presenter Joe Ingram to post a video urging PokerStars to "fix high stakes poker."