Spanish Internet Gambling Continues its Stellar Growth in 2018
Home
»
Poker News
» Spanish Internet Gambling Continues its Stellar Growth in 2018
Friday, September 28th, 2018 | Written by Shane Larson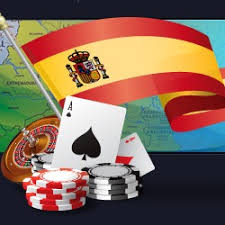 In 2011, Spain officially launched its legalized online gambling market, while sports betting exchanges were introduced a few years later in 2014. Following an initial slow start, online casinos and sports betting have since established themselves as the bedrock of the industry and last year generated an impressive €560 million ($678m) in gross revenue, representing a huge 31.9% increase versus the €438 million ($514m) recorded in 2016.
Continuing their stellar trajectory into 2018, gross gambling revenue (GGR) rose by 27% to €163.3 million ($190.5m) during the first quarter of the year, followed by a massive 40.1% spike to €167.2 million ($195.87m) in Q2. Moreover, the positive momentum is expected to keep building and reach revenues of between €1-€1.5 billion ($1.22/$1.84bn) within the next 3-5 years, according to a report released by consultancy firm Ficom Leisure.
Q2 Results Jump 40.1%
Spain's online gambling revenues skyrocketed in the second quarter, and produced solid results across the whole range of its vertices. Commanding the lion's share of the market is its sports betting segment which generated €87.6 million in Q2, up by 46.7% year-on-year, and currently accounting for more than 50 per cent of all online revenues.
Online casinos, too, contributed significantly to the industry and reported a 36.9% revenue improvement to €56.5 million during the last quarter, with slots followed by roulette its biggest earners.
Nevertheless, positive gains have been reported across the whole online gambling sector, including bingo which was up by 16.9% to €3.3 million, and online poker whose revenue returned a 34.8% year-on-year improvement to €19.5 million. Helping the vertical's fortunes to greater gains was the shared European liquidity network launched in conjunction with France in January, followed by Portugal in May.
Tax Break for Operators
Online gambling operators can expect even greater profits this year after the Spanish government proposed a 5% tax reduction on their revenues in its 2018 budget, with Prime Minister Mariano Rajoy giving it his nod of approval in June. As a result, companies have now seen their tax rate reduced from 25% to 20% of GGR, providing multi-faceted benefits for the country and operators alike.
This includes encouraging more firms to apply for licenses, which will in turn help reduce the level of illegal gambling within the market. In addition, it also removes the discriminatory tax rates which previously existed between the various forms of gambling vertices, bringing the industry it in line with directives supported by the European Commission. Commenting upon the positive development, the Spanish law firm Asensi Abogados stated:
"Operators will be able to make better offers to the players who will not go to illegal markets. The latest figures from the DGOJ show that all areas of online gambling are expanding, particularly with sports betting and online casino games, so I believe that these new measures will also lead to more tax being collected."
Spain proposed the tax break after it felt sufficiently comfortable that it had emerged from the financial crisis which struck the country and the global economy in 2007–2008. The country even had to request a massive €100 billion ($125bn) bailout package to stop its economy from collapsing, and promptly injected almost half of that money into its beleaguered banking system. Spain's economy has since grown by more than 3 per cent per annum over the past three years, and in 2017 was one of the the fastest growing of all advanced economies.
Problem Gambling Concerns
As its gambling market continues to grow exponentially, authorities have been keeping a close eye on the potential social costs of the industry, especially the high level of problem gamblers currently in Spain which according to El País has now reached between 2%-3% of the population. The news report has blamed insufficient gambling regulation as a major contributor to the situation, and last year the Council of Ministers went so far as to classify problem gambling as "drug addiction without substance," subsequently including the term in the Drug Support Council's 'Action Plan on Addictions 2018-2020'. The mandate had previously been restricted to tackling addiction issues related to the use of illicit drugs, as well as licit substances, such as alcohol.
More than €1 billion in funding has thus far been allocated to the project, a quarter of which has come from the confiscation of drugs trafficking money. The Drug Council has said that it will use some of the money to create a new advisory board with expertise in gambling addiction matters, and to explore ways in which to improve treatments for the vulnerable members of society.