New Jersey iPoker Revenue Could Grow by 12% in 2018
Home
»
Poker News
» New Jersey iPoker Revenue Could Grow by 12% in 2018
Thursday, March 8th, 2018 | Written by Charles Washington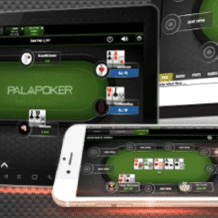 After experiencing teething problems following its launch in November of 2013, New Jersey's online gambling industry has gone from strength to strength and in 2017 experienced a 25% growth spurt versus the previous year, with revenues totaling $245.6 million.
Furthermore, 2018 has continued in a similar vein and in January revenues reached $21.96 million, marking a new record for the state, and beating the previous high of $21.7 million posted in March 2017. As a result, online gambling in New Jersey has now grown for 11 straight months.
Thus far, however, the industry's growth has been driven by demand for its online casino products, while poker's share of the market continues to diminish unabated. Nevertheless, the situation may soon change with internet casino growth slowing down this year, offset by positive growth in the online poker vertical, according to a recent report produced by Robert DellaFave from NJOnlineGambling.com.
Key Statistics
In 2016, New Jersey's online gambling market was worth $196.7 million, rising to $245.6 million in 2017, representing a 24.9% year-over-year improvement. Helping to account for the increase was the online casino segment, whose revenue soared by 30.1%, while internet poker went in the opposite direction, and fell by 8.5%.
This year, the NJ Online Gambling report has subsequently forecast that gross gaming revenue will increase by a further 10.7% to $271.9 million, with online casino games rising by just 10.6%, but online poker reversing its negative trend and increasing by 11.8% overall.
A Mature Market
According to the report, New Jersey's online gambling market is currently approaching maturity and will not be able to continue the impressive growth rate it has returned over the past two years. Revenues are likely to wane even further, too, as companies turn their time and efforts towards establishing operations in neighboring Pennsylvania, which is expected to launch its online gaming industry in the second half of 2018.
Similarly, last year online poker produced little excitement for gambling operators in New Jersey, and despite MGM Grand, Pala Poker and other sites entering the market, its overall size failed to grow as these new sites simply drew players away from their competitors. One silver lining was provided by the state's regular online poker tournament series, though, that helped lift the numbers a little, without which the plummeting cash game segment would have depressed the market even more.
This year, there is not expected to be any great push to grow the market through an innovative marketing or advertising campaign, either, with its one saving grace being the liquidity arrangement approved by New Jersey, Nevada and Delaware last year.
Liquidity Agreement
Consequently, online poker is forecast to experience an upsurge in interest and growth in 2018 after the interstate poker liquidity agreement is finally launched. This then should lead onto a number of new brands launching websites in the Garden State, resulting in more attractive tournaments and a greater number of participants overall.
That said, WSOP and 888poker are currently the only brands operating in all three regulated states, and while these firms may stand to do well from their privileged positions, the lack of other operators in the same position is likely to limit the market's potential growth until further expansion can take place.
iPoker Network Expansion
Meanwhile, Pennsylvania is expected to launch its newly regulated online poker market in 2018, and has indicated that it is prepared to join the other states' shared iPoker network thereafter, although that is unlikely to be before next year. Furthermore, the network is likely to become even more attractive if other US states decide to pass online poker legislation of their own in 2018, with possible candidates including the likes of New York, Michigan, and Illinois, to name but a few.
One possible fly in the ointment, however, may emerge if billionaire casino mogul Sheldon Adelson makes any progress in trying to get online gambling banned at the federal level. Over the years, Shelson has donated millions of dollars funding lobbying groups, and organizing anti-online legislation, including his Restoration of America's Wire Act (RAWA). Whether he is able to achieve any success in 2018 will therefore have an important bearing on any future direction New Jersey's internet poker industry may take.