Atlantic City Casino Revenue Surges 24% to $304m in August
Home
»
Poker News
» Atlantic City Casino Revenue Surges 24% to $304m in August
Thursday, September 13th, 2018 | Written by Stephen Smith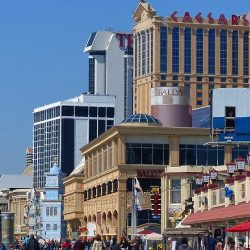 Following a decade of decline, Atlantic City's casino market has been on the ascendancy since returning to positive territory in 2016. Recently, the state's gambling revenues received a further boost after two new casinos, the Hard Rock Hotel & Casino Atlantic City and the Ocean Resort Casino, opened for business in June, followed by the launch of the state's legal online sports betting market in August.
This has subsequently been reflected in the impressive financial results released by the New Jersey Division of Gaming Enforcement (DGE) on Wednesday, which showed a huge 24.1% increase in casino revenues to $303.9 million. That figure was also higher by a whopping $30 million compared to the previous month. Even without sports betting and online gambling verticals being included, however, Atlantic City's casino market would still have generated around $270 million in revenue, or 20.7% more than was collected in August 2017.
Number Up Across the Board
All of the state's gambling segments recorded impressive year-on-year gains last month. Producing the lion's share of revenues was the slots machine vertical which rose by 18.3% to $196.4 million, followed by table games up by 28% to $75.5 million. In the meantime, online gambling contributed a further $24.8 million, representing a solid 16.6% year-on-year improvement, while the nascent sports betting market generated $5.2 million from its casino operations, with a further $4 million derived from New Jersey's licensed racetracks, namely Meadowlands and Monmouth Park.
New Casinos Boost Revenues
Leading Atlantic City's 9 land-based casinos in August was the Borgata Casino Hotel and Spa whose $70.9 million in revenue was 0.7% higher than the same month last year. It was followed a long way back by Tropicana Atlantic City on $32.2 million (-4.3%), and then Harrah's Atlantic City on $31.3 million (-3%) for the month.
Overall, most of the state's casinos reported either small gains or losses, except Bally's which saw its business plummet by -10.7% to $18.7 million. Helping to account for the existing casinos generally lackluster year-on-year results was Atlantic City's new casinos, without which revenues would actually have declined by 1.8% year-on-year, or by $4 million from the $219.6 million collected in August 2017.
Last Month, Hard Rock Atlantic City added an extra $30.8 million to the state's total gambling market, down from the $32.4 million taken in July, while Ocean Resort Casino saw its business improve to $19.6 million from July's tally of $15.8 million.
Land-Based Casino Revenue (Aug)
Borgata: $70,399,755 (+0.69%)
Tropicana: $32,194,916 (-4.30%)
Harrah's: $31,282,019 (-3.02%)
Hard Rock: $30,764,976
Caesars: $27,956,659 (+0.83%)
Golden Nugget: $20,523,258 (+2.94%)
Ocean: $19,606,998
Bally's: $18,714,799 (-10.69%)
Resorts: $18,008,562 (-3.40%)
Borgata Awards $2.5m Jackpot
Borgata is likely to see its revenue numbers take a hit in September, as at the beginning of the month a Hawthorne woman, who has chosen to remain anonymous, struck an enormous $2.5 million jackpot after placing a $10 bet on one of the casino's progressive slots machine. As a tweet posted by Borgata subsequently stated:
"Talk about a way to end the summer! Just after 3pm yesterday, a Hawthorne, New Jersey woman hit the progressive jackpot on a Wheel of Fortune Double Sapphire Gold Spin game. She hit the jackpot on her very first spin, turning her $10 bet into $2,481,940.75! Congrats!"
Online Gambling Up 16.6%
Ever since online gambling was launched in New Jersey back in November 2013, the market has continued to skyrocket each month. In July of this year, for instance, the $25.6 million generated by the segment represented a new peak for the industry, while also stringing together three straight months of record revenues for the state. That record winning streak may have come to an end in August, but the $24.8 million that was collected still represented a 16.6% improvement versus the same month in 2017.
Nevertheless, it is the online casino vertical that has been doing all the heavy lifting, while poker continues to shrink each month. Case in point, online casinos saw their year-on-year earnings rise by 20% to $23 million in August, giving it a 92.5% share of all online gambling revenues. Meanwhile, online poker shrunk by 13% to $1.8 million, despite the Garden State joining Nevada and Delaware's poker liquidity sharing network on May 1st.
As things stand, however, Caesars (888, WSOP) is the only online poker operation to benefit from the tri-state liquidity agreement, as is reflected in its new found status as New Jersey's biggest online poker provider. In August, Caesars then generated $725k in revenue, once again besting the Resorts/PokerStars partnership on $651k, and Borgata (Borgata Poker, PartyPoker, playMGM) on $440k.
In terms of overall iGaming revenues, the Golden Nugget's internet casino-only websites led the market with $8.2 million in revenue last month, followed by Borgata on $4.65 million, and Resorts Digital Gaming ($4m), with Tropicana ($3.6m), and Caesars ($3.5m) bringing up the rear.