New Jersey Casinos Down For Third Straight Month in March
Home
»
Poker News
» New Jersey Casinos Down For Third Straight Month in March
Friday, April 13th, 2018 | Written by Shane Larson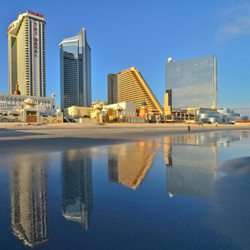 Atlantic City's seven land based casinos saw their overall revenues slide by 1.5% to $218.4 million in March, completing three straight months of decline for the industry. The trend is inversely proportional to the state's online gambling market which has set all time highs during each successive month of the first quarter. Commenting upon the trend, gaming analyst Steve Ruddock stated:
"Online gaming is increasingly important to the bottom line of every casino operator in New Jersey. It was a key factor in the gaming industry's 23.7 percent increase in gross operating profit in the fourth quarter of 2017."
Casinos Down 3.6%
Not including online gambling revenues, New Jersey's land based casinos generated $192.9 million in March, lower by 3.6% versus the same month in 2017, but still almost $23 million higher than the previous month's earnings. Including online gambling, however, the overall revenue figure in March came in at $218.5 million, or lower by a more moderate 1.5% year-on-year. Assessing the situation, James Plousis, chairman of the New Jersey Casino Control Commission, commented:
"I don't know what impact the weather had, but four nor'easters in March sure didn't help Atlantic City's casinos. Internet gaming win continued to grow in March, but not enough to offset a decline at the gaming tables."
Gamblers Get Lucky
According to the results released by the New Jersey Division of Gaming Enforcement (DGE), most of March's brick-and-mortar casino decline can be accounted for by punters getting lucky at their gambling tables. Last month, for instance, the slots revenue total of $137.2 million was virtually flat compared to March 2017, while table games saw their revenue plummet by 11.5% to $55.6 million.
Just three of Atlantic City's casinos saw their year-on-year business improve in March, led by Borgata, whose revenue increase by 0.6% to $60.3 million, followed by Harrah's up 7% to $31.6 million, and the Golden Nugget higher by a huge 17.6% at $19.4 million. Meanwhile, Caesars posted the biggest year-on-year decline with its revenue dropping by 25.2% to $21.9 million, with its slight slots revenue growth offset by its table game revenue being almost cut in half.
iGaming To The Rescue
By contrast, New Jersey's online gambling market continues to show no signs of letting up and has now produced three consecutive months of gains in 2018, all of which have been record months. Furthermore, the $25.6 million that the vertical generated in March demolished the previous record set in February by a staggering $3.6 million.
Accounting for last month's gains was the state's online casino market, with the $23.6 million collected up 5.5% on the previous month, and soaring by 21.1% year-on-year. On the flip side, online poker's revenue of $2 million was flat compared to February, but down by 12.7% from a year ago.
Leading the iGaming market in March was the Golden Nugget, whose online casino-only operation generated a record $8.65 million in revenue, followed by Borgata ($4.6m), Caesars ($4.5m), Resorts AC ($4.4m), and Tropicana ($3.7m).
A Tale of Two Markets
For the first three months of 2018, land based casino revenues have now fallen by 8.3% to $525.3 million, with slots down by 5.7% at $370.9 million and table games sinking by 14% to $154.4 million. Online gambling, on the other hand, has seen its revenue surge by 17.3% to $69.5 million over the first quarter.
Nevertheless, Atlantic City's casino market is expected to receive a boost this summer after two previously shuttered venues reopen as the rebranded Hard Rock Atlantic City, and Ocean Resort Casino. As James Plousis from the Casino Control Commission explains:
"The industry is on the verge of a significant expansion this summer which will create a new array of attractions and attract a lot of additional visitors to the city. That expansion may put pressure on the current operators, but I think the industry is well positioned to deal with the new competition."
The NJ DGE recently released its results for the whole of 2017, with the state's casinos generating revenues of $3.54 billion, or 0.9% higher than in 2016, and marking two consecutive years of growth following a decade of declines. From that total, $2.6 billion was derived from land based operations, while the remaining $250 million was attributed to online gambling.
Regarding Plousis' concern, the former Trump Taj Mahal shut down in October 2016, meaning just seven of Atlantic City's casinos were operating in 2017. Therefore, while the city seems able to support seven healthy venues, it remains to be seen whether a return to nine casinos will have a positive or adverse effect on the market's overall competitiveness and profitability.