Atlantic City Casino Profits Soar 22.5% to $723m in 2017
Home
»
Poker News
» Atlantic City Casino Profits Soar 22.5% to $723m in 2017
Thursday, April 12th, 2018 | Written by Charles Washington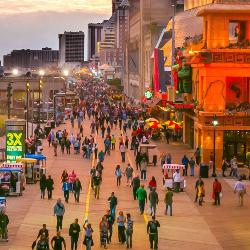 Atlantic City's seven casinos saw their gross operating profits soar by 22.5% to $723 million in 2017, while net gaming revenue was also higher by 5% at $2.67 billion, according to the latest results released by New Jersey's Department of Gaming Enforcement (DGE) on Monday.
Impressive Profits
In 2017, Atlantic City's casino market generated $133 million more in gross operating profit compared to the previous year, with the metric measuring earnings before interest, taxes, and other charges.
Furthermore, Harrah's was the only venue to post a profit decline, with business down by 2.7% to $115.8 million compared to $119 million in 2016, with all other operators experiencing impressive results. As Christopher Glaum, deputy chief of financial investigations for the DGE, subsequently commented:
"Three casino hotels reported record net revenue and gross operating profit under current ownership, and both internet casino licensees had their best year as well. Industry-wide, strong growth in net revenue led to gross operating profit growth in excess of 20 percent for the year. These operating results bode well for the industry expansion expected to occur in mid-2018."
Leading the way was the Borgata with $292 million in profits, up by 19.5% from 2016; followed by Caesars with $92 million, also higher by 19.5% year-over-year. Also posting solid profits was Tropicana up by a massive 71% at $92 million; Bally's up 8.1% at $42.1 million; the Golden Nugget up 38.3% at $40 million; and Resorts up 23.6% at $23.1 million profit.
In terms of online gambling, Resorts Digital went from producing a $791,000 loss in 2016 to a $14 million profit in 2017, while Caesars Interactive-NJ also noted a 12.7% profit increase to $11 million.
Further Expansion Concerns
Between 2006 and 2015, the Garden State's casino industry roughly halved in value before returning to growth with revenues of $2.6 billion in 2016, up by 1.5% from a year earlier. However, 2017's results present a favorable comparison to 2016 when the Trump Taj Mahal became Atlantic City's fifth casino to shut since 2014, while the earlier closure of four other casinos has been haled as the catalyst that allowed the previously saturated market to return to growth.
This has led some analysts, including Colin Mansfield from Fitch Ratings, to conclude that while the market is currently in a good place, the opening of two rebranded properties may not bode so well for Atlantic City. This summer, the former Trump Taj Mahal will reopen as the Hard Rock Hotel & Casino Atlantic City, while the former Revel closed since 2014 will become the rebranded Ocean Resort, and commenting upon the situation, James Plousis, chairman of the Casino Control Commission, state:
"The industry is on the verge of a significant expansion this summer which will create a new array of attractions and attract a lot of additional visitors to the city. That expansion may put pressure on the current operators, but I think the industry is well positioned to deal with the new competition."
Increasing Visitors Key
Professor Anthony Marino from Stockton University's Lloyd D. Levenson Institute of Gaming, Hospitality & Tourism would seem to agree with the assessment of Plousis, and has maintained that the casino floors, restaurants, bars, entertainment and conference spaces offered by Hard Rock and Ocean Resort will be instrumental in attracting new patrons to visit Atlantic City.
"The new arrivals to the Atlantic City tourism market can certainly be expected to generate considerable publicity and large crowds. The result of all this activity should be a significant surge in visit-trips to Atlantic City this summer," stated the Levenson Institute report.
The opinion also echoes the views expressed by Drexel University Gaming and Casino Management Professor Robert Ambrose last year that Atlantic City is no longer merely a casino city, and that "the formula for feeding an oversaturated market is to expand the amount of guests visiting the city."
In 2017, the number of tourists visiting the resort dropped by 1.2% to 24.1 million, representing its lowest point since 1982 when 22.9 million visits were recorded, and extending a declining trend that has continued since reaching a peak of 35 million in 2005.
Nevertheless, both occupancy and room rates rose in 2017, with Caesars having the highest average occupancy rate (91%) and Golden Nugget the lowest (77.8%), and Borgata the most expensive average hotel rooms ($133.04) and the Golden Nugget at the other end of the spectrum ($83.38). Overall, the average hotel occupancy rate in Atlantic City was 86.9% in 2017, or 5.4% higher than in 2016, while the average room rate in 2017 was $108.35, up slightly from $106.71 a year earlier.