Nevada Lowering Gambling Age an Uphill Struggle
Monday, February 27th, 2017 | Written by Charles Washington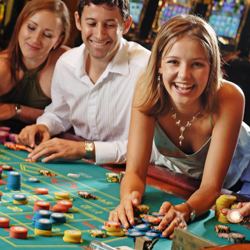 At most casinos across the USA, those people gambling at the tables and slot machines are at least 21 years of age, which is designed to coincide with the minimum age for purchasing and consuming alcohol. That includes the most popular destination for gambling in the United States, Las Vegas, but one particular politician has called the current law into question and introduced a piece of legislation that he hopes will lower the legal age to 18.
Assembly Bill No. 86
Republic Assemblyman Jim Wheeler of the 39th District has introduced a bill that would lower the minimum gambling age for all of Nevada. If his legislation, Assembly Bill No. 86, is successful, people as young as 18 years of age would be free to enter casinos and gamble at their leisure. Under the bill, however, the minimum age for drinking alcohol in casinos would remain at 21.
Revenue Considerations Key
Wheeler's proposal is designed to increase revenue for Nevada's casinos. In 2016, the industry brought in $11.26 billion, marking only a 1.3 percent increase in gross gaming revenue over the previous year. When you consider that those modest gains can be explained by increases in population alone, it's clear that the Nevada casino industry is in a state of stagnation. While profits aren't shrinking, the industry is not growing either, and Wheeler is hoping that by admitting 18, 19 and 20 year olds into casinos, he can increase gambling and give the casino industry a much needed boost.
Serious Concerns Exist
While the logic behind Wheeler's bill seems sound, many have spoken out to criticize the legislation, with one serious concerns being the negative societal impact of allowing teens and young adults to gamble. In fact, some studies suggest that young people who begin casually gambling may be vulnerable to an increased risk of developing a gambling addiction later on in life. The research has led many to worry that lowering the minimum gambling age will ultimately result in higher rates of problem gambling in the future.
Another criticism of the proposed legislation is that it could put strain on already financially strapped young people. Most 18 year olds, after all, have a negative income, meaning that they end up owing more money at the end of the year than they make. The trend continues until people reach their early 20s, when they begin to earn sufficient levels of income to offset their debts. Many who are familiar with this information worry that allowing 18, 19 and 20 year olds to gamble will lead to higher rates of debt among young people and put young adults in a position where they end up owing more than they can ever repay.
Odds Not Looking Favorable
It may be some time before we know whether there is real interest among Nevada lawmakers in lowering the minimum age for gambling as Democrats currently control the Nevada General Assembly and have the final say in what bills make it to committee for a vote. Because Wheeler is a Republican, his bill is unlikely to get top priority, although we'll all have to wait and see what the ultimate fate of Assembly Bill No 86 will be.
Nevertheless, the signs are not looking favorable for the limit passed way back in 1931 of being amended. Nevada Gaming Commission Chairman Tony Alamo, for instance, is quoted by the Las Vegas Review-Journal as stating that "the industry has not come to us with any wants for dropping this [age]."
In other words, while the casinos have set their sights on attracting Millennials to their casinos by including innovative new gambling games, such as skill-based slot machines, Centennials, or those born after 1996 are not on their radar. Its not just the Nevada Gaming Commission and casinos that has voiced strong opposition to the bill, though, as the Nevada Resorts Association is also not on board. On balance, it therefore seems reasonable to assume that Jim Wheeler's bill is unlikely to go anywhere in a hurry.