Greece Unveils New Online Gambling Framework
Monday, September 17th, 2018 | Written by Lucy Brown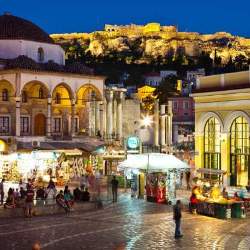 On September 11, Greece finally unveiled the new licensing regime to be imposed on its online gambling market as part of a wider overhaul and expansion of the industry. Nevertheless, gaming companies are likely to be taken aback by the higher associated cost of operating in the southeastern European country, as well as the greater level of restrictions and requirements that they will now be facing.
In the meantime, a consultation period concerning the new framework will be left open until October 10, after which the proposals will be sent to the European Commission for review. That part of the process is expected to take up to four months before being fully completed. All being well, the Greek Parliament will then be able to vote upon the legislation in 2019, and begin issuing license to operators by the end of the year.
Higher License Fees
Since 2011, the Greek government has granted 'transitional permits' allowing a total of 24 operators to offer their online gambling services in Greece. In 2017, they generated a combined €5.3 billion in revenue, or €300 million more than in the previous year, although that amount was roughly matched by revenues earned by those operators not holding a Greek license.
According to the new licensing framework, license holders will now be required to pay a €4 million fee for obtaining an online sports betting license, while other online products, such as casino and poker services, will be made available for an additional €1 million.
Furthermore, each applicant will need to stump up a €10,000 fee for each license application, submit a €500k deposit, and provide financial records covering their last three years of operation. They must also be in receipt of a license to offer online gaming products in at least one other European Union market, and therefore hold a registered office in one of the different EU states, or in Greece itself. Those operators based outside of Greece, however, will be required to have a server set up within the country.
Black-Listed Operators
Applications will not be accepted from any operator who has been added to the country's internet gambling blacklist in the 12 month period prior to filing their license application. Each applicant will subsequently be informed as to whether they have been accepted within two months of their application submission.
Thus far, Greece's blacklist includes 2,708 online gambling websites, of which 1,083 were added only recently by the Greek Gambling Commission. Counted among the huge list of banned domains are such operators as Betsson AB, 888 Holdings, Ladbrokes, Videoslots, Evoke Gaming, Nektan, and GVC Holdings.
Taxation Rules
Greece had originally planned to level a high tax rate of 35% on gambling operators' revenue, and while this has not been confirmed in the new framework, given the country's huge debt burden this is likely to remain intact.
In terms of taxation on the winnings of individual gamblers, anything under €100 will not be taxed, rising to 15% on winnings between €100-€500, and as high as 20% on any amount won above €500.
Integrated Casino Resort
In related news, the Greek government approved a highly contested casino expansion bill in January of this year. At present, there are nine licensed casinos operating across Greece, including two of the largest three situated in the wider Athens area. As part of the new legislation, an integrated casino resort will be built in Athens, which will be the first of its kind in Europe, with the international tendering process for a casino license to be opened next month.
Lamda Development is currently in the process of preparing the site of the former Ellinikon International Airport for development, and once construction begins early next year the casino project is estimated to cost around €8 billion to complete. In addition to an integrated casino, this will include such facilities as hotels, convention and exhibition venues, shopping, restaurants, as well as other tourist attractions. Commenting upon the exciting project, Lamda Development stated:
"[The casino will] substantially contribute to the repositioning of Athens as one of the major world-class tourist destinations as it will provide a significant number of new units as well as thematic tourism venues, [which is] expected to attract at least 1 million new tourists, significantly reduce seasonality and at the same time increase the average stay over and spending of tourists in Athens."
According to the Hellenic Gaming Commission, five companies have thus far expressed an interest in obtaining a casino license in Athens, including Caesars Entertainment, Hard Rock International, Mohegan Gaming & Entertainment, Las Vegas Sands and Melco Resorts & Entertainment.