Georgia Mulls Legalized Casino Gambling for 2017
Wednesday, January 4th, 2017 | Written by Charles Washington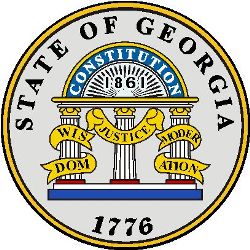 Georgia is one of the few holdout states that has failed to legalize any type of casino gambling, but it's not for a lack of trying. In 2015 and 2016, initiatives were launched to explore the possibility of legalizing casino gambling, but none ever got off the ground. Now, it seems that the divisive topic will be up for debate once more in the Peach State in 2017.
In a meeting held in mid-December, Georgia state lawmakers expressed an interest in revisiting the topic of casino gambling, although their goal this time is to put the matter to a public referendum, thus allowing Georgia voters to make the ultimate decision on whether to move ahead with the initiative. But just what would a casino gambling program look like in Georgia?
Five Individual Gaming Zones
As it stands, the state would be divided into five separate regions known as zones, with each area receiving one casino license that would be issued to an operator able to meet guidelines established by the state. Two casino licenses would also be issued in the Atlanta metro area, meaning there would be seven casinos allowed in the state overall. Under the proposed plan, if any of the seven operators lost their licenses, a new license could be issued to an operator within that zone, so that the number of operating casinos in the state would always be seven.
Competition May Erupt
While on the surface the plan seems fair, lawmakers point out that it may be difficult to implement as cities within one zone will be pitted against one another as they fight to become the chosen location for the casino in that area. Elaborating further, Rep. Randy Nix from LaGrange, stated:
"If you want to see what casino gaming can do for a local economy, go to Wetumpka, Ala., and find out how many restaurants are no longer there. Find out how many events that have entertainment are no longer there. It's all going right in that one place."
A more fairer system, according to a number of lawmakers, would be to make the five locations in the zones decided at the state level based on where there already exists major tourist destinations. They argue that this would help protect already established businesses that might otherwise be hurt if a casino is built in a remote location.
HOPE Fund Scholarship a Beneficiary
If Georgia does manage to come to an agreement on casino gambling and residents of the state support the move at the ballot, college students could end up being the biggest winners. The plan is to use a portion of the tax revenues generated from casino gambling to invest in the state's HOPE Fund Scholarship, which provides tuition assistance for Georgia residents, and is currently funded in part by the state's lottery.
Tourism Boost
Proponents of legalized casino gambling in Georgia believe that opening venues in the Peach State won't just draw Georgians to the slot machines and gaming tables, but will also help attract out-of-state tourists from neighboring states. This perhaps strengthens the argument that casino licenses should be tied to certain areas that already have other forms of entertainment and ample dining opportunities, so that the casinos can develop into true tourist destinations.
Even though plans to legalize casinos in Georgia are still in their initial stages, the industry isn't waiting to begin checking out potential sites. Sheldon Adelson of the Las Vegas Sands Corp recently visited Atlanta, and Jim Murren of MGM Resorts scoped out locations in both Atlanta and Athens.
House Convenes on January 9th
On January 9th, the state's House of Representatives will convene its first legislative session of the new year, when the topic of legalized casino gambling will be taken up once more. In 2016, Rep. Ron Stephens failed to make any progress on his proposed bill, HR 807, and this year he said that he intends to introduce a similar piece of legislation
A constitutional amendment that was approved by a state House committee last February called for casino investments of $1.25 billion for the Atlanta zone, and between $400 and $750 million for the other areas. In addition to generating around $250 million in gambling tax revenues, an established casino industry is forecast to create more than 10,000 direct jobs for the state.