Anti-iGambling Argument Makes Case for Regulation
Thursday, February 16th, 2017 | Written by Lucy Brown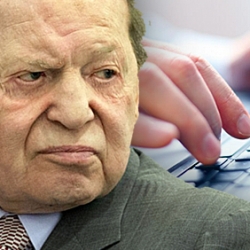 While support for online gambling is continuing to grow, there is still a group of opponents that take every opportunity to speak out against the industry. Their line of reasoning is largely along the same lines, and when analyzed closely actually seems to argue more for regulated online gambling than gambling prohibition. Let's take a look at some of the biggest objections that critics have raised against legalization, and subsequently highlight how regulation is actually the solution to the problem.
1. Money Laundering
Many who oppose online gambling assert that iGaming provides a way for terrorists and organized crime gangs to launder money under the radar. While there is little hard evidence to back this up, even if you give the argument some clout, the truth is that illegal online casinos are currently providing this money laundering avenue right now. In fact, regulated gambling actually helps to combat such illegal activities, as sites require players to register and share a social security number, as well as other personal information, thus taking away anonymity.
Laws also require operators to place limits on deposits and withdrawals, and force sites to report large transactions to the Internal Revenue Service. Furthermore, all deposits and withdrawals are carefully tracked, thus creating a paper trail. Therefore, a would-be money launderer is sure to find all of these security measures unappealing.
2. Underage Gambling
Opponents of online gambling often use the "think of the children" argument, asserting that minors will be able to go online and gamble far too easily if online casino sites are legalized. Of course, it's impossible for online sites to promise a 100 percent success rate when it comes to prohibiting minors from accessing the site; however, gambling legislation requires operators to take steps to ensure that children are not signing up for accounts. In most cases, a valid driver's license or state-issued ID and other age-verifying information is required to register. Illegal gambling sites, on the other hand, are not required to put these types of safety measures in place, meaning kids already have unfettered access to online casinos if they want to seek them out.
3. Increased Gambling Addiction
Another worry among online gambling opponents is problem gambling. They argue that online access makes it too easy for people with gambling addictions to take to the virtual tables; however, numerous studies have found that regulated online gambling does not lead to increases in problem gambling. This is because most laws require operators to provide voluntary self-exclusion options, so those with gambling problems can have themselves blocked from the sites.
4. Decreased Revenue for Casinos
Some online gambling opponents worry about the economics of online gambling, saying that they will keep people from visiting land-based casinos, which are already struggling to turn profits in some areas. In actuality, regulated online gambling has proven to give casinos an added source of revenue. When marketed correctly, online casinos can promote and strengthen existing land-based casino bands, attracting new visitors that otherwise may not have ever considered stepping foot inside a casino. Banning online gambling does not really solve the competition problem anyway, as illegal sites are still accessible for those determined to play.
Biggest Gambling Losses Land Based
In the meantime, a recent report released by H2 Gambling Capital (H2G) revealed that the global gambling market produced $385 billion in profits for 2016. Topping the list in terms of revenues was the USA with $116.9 billion, followed by China ($62.4bn), with smaller country's in the top six including Japan ($24.1bn), Italy ($19bn), Australia ($18.3bn), and Britain ($18bn).
Moreover, most of the losses were produced at land-based gambling venues, which in the case of the USA was at casinos, followed by lotteries and then slot machines. Australia also topped the list of biggest individual losers at $990 per person, of which slot machines accounted for 50% of losses, followed a way behind by casinos.
In the meantime, online poker accounted for just 10% or so of all gambling revenues overall, which would seem to dispel arguments concerning its exponential danger compared to other gambling games. In fact, as a recent study entitled "Consumer spending in the gaming industry: evidence of complementary demand in casino and online venues", explains:
"…the expansion of online gambling will lead to new (online) revenue sources and higher revenue within existing (complementary) products.. local tourism dollars being generated by offline casinos are enhanced by the addition of online gambling legalization."