Poker Hall of Fame Opens Public Nomination Process
Home
»
Poker News
» Poker Hall of Fame Opens Public Nomination Process
Friday, June 8th, 2018 | Written by Shane Larson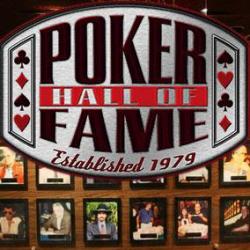 The World Series of Poker is currently in full swing, with thousands of players from all around the world descending upon Las Vegas in an attempt to capture a coveted gold winner's bracelet. Needless to say, this time of year is marked by an upsurge in interest of all things poker, making it a particularly apt time for the WSOP Poker Hall of Fame (PHOF) to open up its voting process.
Similar to previous years, poker fans now have two months in which to vote for their favorite players and industry professionals via the WSOP website link, and while multiple nominations can be made, only one submission is permissible per e-mail address.
Nomination Criteria
In order to be nominated for Poker Hall of Fame, all players have to be at least 40 years old, played at the highest stakes, and earned the respect of their peers. Industry and media professionals, on the other hand, must have significantly "contributed to the overall growth and success of the game of poker, with indelible positive and lasting results," according to the PHOF's official rules.
Selection Process
After the nomination process ends, the PHOF selection committee will compile a list of the top 10 nominees, but the body also has the authority to replace nominated individuals with others not selected if it believes that they are more deserving of recognition. One of these top ten finalists will then be chosen by all living members of the PHOF, as well as a panel of journalists, after which a winner will be announced in September, and an official induction ceremony held at the WSOP Europe the following month.
Past PHOF Winners
Created in 1979, the very first three players to enter the Poker Hall of Fame that year included Johnny Moss, and Nick "The Greek" Dandolos, as well as Felton "Corky" McCorquodale, who is credited with having introduced Texas Hold'em to Sin City in 1963. In total, 54 people have received the greatest honor in poker over the years, 25 of whom are still alive, with the long list including the likes of Doyle Brunson (1988), Phil Hellmuth (2007), and Daniel Negreanu (2014).
In 2015, the PHOF subsequently came under criticism for being mostly a North American fare, as all but one inductee hailed from the continent, and even then Englishman Edmond Hoyle was hardly a contemporary character having died in 1769. Things have changed since then, though, with Spain's Carlos Mortensen being picked in 2016, followed by England's David Ulliott last year.
2017 Inductees
Phil Ivey only turned 40 last year, making him eligible for the PHOF for the very first time, and as expected the player who has been at the center of the poker world for the past two decades proved a popular choice by fans and players alike. In addition to being a regular participant in the highest stake cash games, Ivey has won $26,127,504 playing live tournaments, and also has 10-WSOP bracelets to his credit, including winning three at the 2002 WSOP. Commenting after his induction at the time, Ivey stated:
"I want to thank the living members of the Poker Hall of Fame as well as the media who voted for me to be part of the Poker Hall of Fame. It's an honor to be inducted alongside legends like Chip Reese and Doyle Brunson. I love the game of poker and the game has done a lot for me. I am one of the lucky people who has been able to make a living playing a game which was always my passion."
Meanwhile, David "Devilfish" Ulliott was an English professional poker player, known for his dapper appearance and colorful character. He was also recognized for inspiring generations of people to take up the game after being a regular on Late Night Poker, an innovative poker show of the 1990s that was the first to use hole cam technology.
Possible Nominees
Every poker fan will have their own favorite choices for the PHOF, all of whom they will argue deserves to be immortalized as one of the game's greats. Amongst the players nominated in 2017 and likely to resurface again this year are David Chiu, Ted Forrest, Max Pescatori, Mike Matusow, and Huck Seed.
Other players who have been picked for the PHOF shortlist in the past, and may find themselves back on the list later this year may include the likes of Chris Bjorin, David Chiu, Bruno Fitoussi, and Ted Forrest, to name but a few.