Danish Gambling Industry Posts Record $234.5M in Q2
Home
»
Poker News
» Danish Gambling Industry Posts Record $234.5M in Q2
Sunday, October 8th, 2017 | Written by Stephen Smith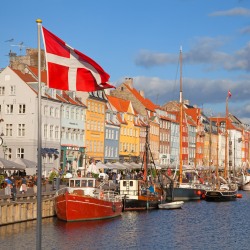 In the second quarter of 2017, the Danish gambling industry hit an all-time high with locally licensed operators generating revenues of $234.5 million, marking a 4% increase compared to the same quarter in 2016. The results covering the three month period ending June 30th were released recently by Danish regulator Spillemyndigheden, with the impressive performance mostly due to the industry's online casinos similarly reporting an all-time revenue record of $73.3 million, up by 10.3% versus the previous quarter, and a whopping 16% compared to Q2 of 2016.
Background
In 2012, Denmark transformed from a gambling market run by state-owned monopoly Danske Spil to a licensed, regulated market that accepted participation by foreign companies. That was the year than Denmark also regulated online casino gaming, and since then the country's overall gambling market has returned solid growth.
Online Casinos up 18.6%
Slots accounted for more than two thirds of all revenues collected by online casinos, while single player casino games reported an 11.7% improvement versus Q1 of 2017, and an 18.6% increase over the same quarter last year. Furthermore, online table games and slots revenue are now at almost twice the levels that they were in the first quarter of 2014, even though payout ratios have stayed roughly the same at 96%.
Online Poker down 11%
While impressive gains have been noted in Denmark's online casino market, poker, on the other hand, saw its revenue decline over the same period. In fact, the $5.2 million it generated in Q2 was not only lower than the $5.5 million posted in Q1, but was also down by 11% year-on-year, and a huge 30% since hitting its peak in Q1 of 2014.
Sports Betting Flat
Denmark's sports betting industry collected revenue of $82.4 million in Q2, making it a pretty much flat year-on-year. Nonetheless, this was a positive sign when one considers that UEFA Euro 2016 took place last summer, which would obviously have produced a challenging comparison for this year's figures. Overall, 53.1% of all sports bets were placed via mobile phones in Q2, and 23.5% by desktop, with a mere 23.5% of all sports bets subsequently placed via land-based operations. That said, land based casinos still account for the majority of individual wagering transactions.
Land-Based Gaming Machines
Gaming machines placed in land-based businesses, such as restaurants and gaming halls, generated $61.1 million in Q2, up by 4.5% from the previous quarter, but mostly flat compared to the same period in 2016. Meanwhile, Denmark's seven land-based casinos posted combined revenues of $15.1 million, which was mostly flat on both a sequential and year-on-year basis.
Voluntary Self-Exclusion
In October of 2016, the country's regulator launched its voluntary self-exclusion registry called ROFUS, which subsequently enabled players to ban themselves from gambling websites either for a set period of time, or for life. At the beginning of September, there was then 11,367 people who had utilized the service, of which 7,777 people have chosen to impose life-time online gambling bans on themselves.
Positive Trend
Denmark gambling market seems to be strong and stable, and even during its worst year did not see any major decline, while over the years it has instead continued to grow and nearly double its revenue. Moreover, most analysts seem comfortable with saying that the Danish market is likely to continue doing surprisingly well, especially as current technologies, especially mobile phones, make it increasingly simple for people to access gambling sites whenever they wish. Commenting on the situation, an article which appeared on Ukraine news site interfax.com, explained:
"None of this success has been by accident. The Danish government has not made the mistake of assuming too much or resting on their laurels, as they have demonstrated both a good understanding of what it takes to succeed in this new era of gambling regulation, as well as a commitment to continue to seek to improve it."
The Ukraine news outlet picked up the story of Denmark's thriving gambling market as the Eastern European country explores ways to regulate and make its own market attractive following possible legislation next year. As the article notes, in addition to creating a safe environment for the country's players, a well regulated industry also provides the opportunity to generate impressive tax revenue for the government, providing, of course, they are not set too high.