Legal Gambling in North Dakota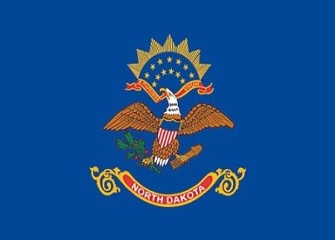 North Dakota is another one of those grab-bag states where there are laws that favor poker players, as well as laws that don't. In this state's case, online poker is most definitely illegal, although it's still possible to play online. However, it's possible (and legal) to play live poker in one of the few casinos within the state, as well as in your own home – so long as you follow the rules, of course. We've outlined all of that, and more, for you below.
Playing Poker Legally in North Dakota
Is Online Poker Legal in North Dakota?
Any form of gambling (other than regulated casinos and home poker games) are illegal under the following law:
Section 12.1-28-01

"Gambling" means risking any money, credit, deposit, or other thing of value for gain, contingent, wholly or partially, upon lot, chance, the operation of gambling apparatus, or the happening or outcome of an event, including an election or sporting event, over which the person taking the risk has no control.
In addition the North Dakota state attorney has informed the public that online gambling is illegal via their website:
Is online gambling legal in North Dakota?
No. Online gambling is prohibited under the state's Constitution, regardless of the amount wagered. In North Dakota, gambling may be conducted only by licensed non-profit organizations, Tribal casinos or through a state run lottery. Review information about ND Lottery games at www.lottery.nd.gov.
What About Home Poker Games?
Home poker games appear to be legal. There are rules that players will need to follow, though. Players cannot wager more than $25 per night. And exceeding $500 can land someone in prison for up to a year, $1k in fines and being charged with a class A misdemeanor.
12.1-28-02. Gambling - Related offenses - Classification of offenses. Except as permitted by law:
1. It is an infraction to engage in gambling on private premises where the total amount wagered by an individual player exceeds twenty-five dollars per individual hand, game, or event.
2. It is a class A misdemeanor to:
c. Engage in gambling on private premises where the total amount wagered by an individual player exceeds five hundred dollars per individual hand, game, or event.
Your best bet to stay within the law is to play a tournament where the buy-in is fixed. That way no one can exceed the limit. The organizer and operator of the game shouldn't take a rake / fee, either.
Do Casinos in North Dakota Offer Poker?
There are several tribal casinos in the state that spread poker games. This includes:
Dakota Magic Casino & Hotel
4 Bears Casino and Lodge
Spirit Lake Casino and Resort
Sky Dancer Hotel & Casino
North Dakota Poker FAQs
We receive many questions about the legality of poker in the state of North Dakota. Instead of answer each email individually, we thought that it would be more helpful to post those questions and our answers here for everyone to read.
Will online poker be regulated?
We couldn't find anything in our research about North Dakota (recently) putting effort into regulating online gambling within the state.
However, we will say that it's unlikely. Back in 2005 a law, HB 1509, was defeated 44-3 regarding the legalization of online poker. So there's definitely a lack of support/interest in the state, and it shows, considering that not much has been done since.
Is there an online poker room that accepts players from North Dakota?
Any poker room open to US players is also open to North Dakota residents.
Yes. Residents can sign up to any poker site that accepts US customers. That list includes sites like Bovada, Carbon Poker, BetOnline and Americas Cardroom.
What other forms of regulated gambling is offered in North Dakota?
North Dakota offers para-mutual horse racing, charitable bingo, raffle and poker tourneys, and a state lottery.
Where can I read more about North Dakota poker laws?
You can learn more about North Dakota's gambling laws at the following websits.
North Dakota Poker Factoids
Here are some interesting facts about gambling and poker in North Dakota.
Individuals can participate in charitable bingo in North Dakota so long as they're over the age of 18. Individuals under the age of 18 can play if with a parent/adult.
North Dakota is one of the few states that has a law exempting the use of (otherwise) illegal gambling devices. Who can use them? Any institution under the control of the state board of higher education which awards degrees of bachelors or higher, for research purposes.
Greg Raymer, 2004 WSOP Main Event winner and hooker connoisseur, was born in North Dakota.
Additional Gambling Law Reviews