New Mexico Poker / Gambling Laws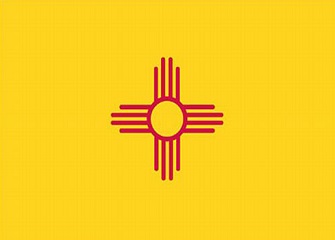 New Mexico's gambling laws are a wash for poker players. On one hands residents are able to play poker and gamble in the state's casinos. On the other hand, social gaming is not mentioned, leaving everyone to assume it's illegal under their general gambling laws. New Mexico is also one of the few states to include online gambling in their statutes, although they only mention it's illegal on a federal level and appear to be confused as to what the federal laws are anyway.
Overall, there are options for poker players. But things could look better. Read on for more details.
Playing Poker Legally in New Mexico
Is Online Poker Legal in New Mexico?
New Mexico does have laws in place that prohibit online gambling. However, from reading their statute it appears that the state might be confused as to what the UIGEA is.
INTERNET GAMBLING/WAGERING

Internet gambling is expressly prohibited by Federal law. This falls under 31 U.S.C.A. §5361, Unlawful Internet Gambling Enforcement Act. The State of New Mexico, and the New Mexico Gaming Control Board do not regulate, license, control or in ANY way sanction, endorse or approve any Internet or on-line gambling, betting activity, wagering or any aspect thereof. Any statement, reference or opinion to the contrary is wrong. Such activity is strictly prohibited and not authorized, approved or sanctioned in any manner by New Mexico regulatory authorities.
However, given the wording they used, New Mexico doesn't say they prohibit online gambling -- just that it's prohibited on a federal level due to the UIGEA (which isn't correct) and that they do not endorse it.
That said, these statutes are illegal: gambling consists of making a bet, entering a gambling place with the intent to make a bet or playing on a gambling device These could certainly be construed to mean that online poker is illegal, too.
What About Home Poker Games?
There are no statutes that explicitly mention social gaming. So you could assume that it's illegal based on the following laws:
30-19.2 Gambling
Gambling consists of:
A. making a bet;
B. entering or remaining in a gambling place with intent to make a bet, to participate in a lottery or to play a gambling device;
C. conducting a lottery; or
D. possessing facilities with intent to conduct a lottery.
30-19-4. Permitting premises to be used for gambling.
Permitting premises to be used for gambling consists of:
A. knowingly permitting any property owned or occupied by such person or under his control to be used as a gambling place; or
B. knowingly permitting a gambling device to be set up for use for the purpose of gambling in a place under his control.
A misdemeanor is the punishment for both statutes.
Do Casinos in New Mexico Offer Poker?
Yes. Here are some of the casinos that offer poker in New Mexico:
Cities of Gold
Camel Rock Casino
Sky City Casino
Wild Horse Casino
Billy the Kid Casino
Sunland Park Racetrack & Casino
New Mexico Poker FAQs
We receive a lot of questions about the legal issues of online poker and gambling in general in New Mexico. We've posted the questions and our answers below.
Will online poker be regulated in New Mexico?
Considering there are already laws in place about online gambling, we would lean towards a "no."
That said, given how close New Mexico is to Nevada, and how Nevada has already regulated intrastate poker, I wouldn't totally rule it out either.
Is there an online poker room that accepts players from New Mexico?
Residents of New Mexico can sign-up to and play at any poker site that accepts USA poker players. That includes BetOnline, Sportsbetting Poker and Bovada.
What other forms of regulated gambling is offered in New Mexico?
New Mexico also has pari-mutuel racing, bingo, raffles and a state lottery.
Where can I read more about New Mexico poker laws?
You can read more about New Mexico's gambling laws at the following websites:
New Mexico Poker Factoids
Here are some interesting facts about poker and gambling in New Mexico.
Loses that occur as a result of illegal gambling are recoverable as a debt under New Mexico law.
44-5-1. [Money and property losses; loser's right of action for recovery; nature of remedy.]
Any person who shall lose any money or property at any game at cards, or at any gambling device, may recover the same by action of debt, if money; if property, by action of trover, replevin or detinue.
Poker Alice once dealt at the casinos in Silver City, New Mexico. She's one of poker's famous women players.
When New Mexico minors gamble and lose, their guardians can sue the owner of the location of where the gambling took place.
44-5-6. [Loss by minor, servant or apprentice in grocery, store or dramshop; proprietor liable; who may sue.]
If any minor, servant or apprentice shall lose any money or property in any grocery, store or dramshop by betting at cards, or any other gambling device, or by any other bet, wager or hazard whatever, the father, mother, relations or guardian of such minor, or the master of such apprentice or servant may sue for and recover from the keeper of such grocery, store or dramshop, such money or property or the value thereof, so lost by such minor, apprentice or servant.
Additional Gambling Law Reviews