Missouri Poker / Gambling Laws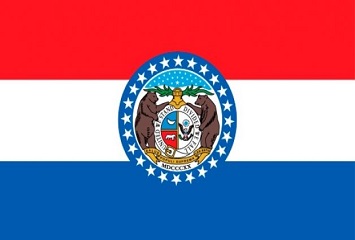 Missouri is a neutral state for poker players. Online poker isn't legal, nor does the state appear to want to regulate online gambling (one way or the other) in the future. However, it is possible to play in licensed casinos or in home games. So while Missouri isn't the best state, it's far from the worst. That is – unless you play poker for a living. Pro poker players can find themselves in some trouble. What kind of trouble? Read on to learn more.
Playing Poker Legally in Missouri
Is Online Poker Legal in Missouri?
Any form of gambling in Missouri that isn't licensed is illegal. This is backed up by the Attorney General's website.
(4) "Gambling", a person engages in "gambling" when he stakes or risks something of value upon the outcome of a contest of chance or a future contingent event not under his control or influence, upon an agreement or understanding that he will receive something of value in the event of a certain outcome…
….. Gambling does not include any licensed activity, or persons participating in such games which are covered by sections 313.800 to 313.840, RSMo;
What About Home Poker Games?
Home poker games appear to be legal so long as players are on an equal playing field, and no one is profiting from the running of the game, fees for entering the game or food, or rentals for equipment.
572.010 (8)
A person who gambles at a social game of chance on equal terms with the other participants therein does not otherwise render material assistance to the establishment, conduct or operation thereof by performing, without fee or remuneration, acts directed toward the arrangement or facilitation of the game, such as inviting persons to play, permitting the use of premises therefore and supplying cards or other equipment used therein.
However, we recommend talking to your local authorities and/or lawyer before hosting or participating in a home poker game. The reason being is that Missouri's general gambling laws explicitly state that games that are not licensed are illegal. So you'll want to double check so that you can avoid the following consequences:
572.020.
1. A person commits the crime of gambling if he knowingly engages in gambling.
2. Gambling is a class C misdemeanor unless:
(1) It is committed by a professional player, in which case it is a class D felony; or
(2) The person knowingly engages in gambling with a minor, in which case it is a class B misdemeanor.
Do Casinos in Missouri Offer Poker?
Missouri has both brick and mortar and riverboat casinos. Players will be able to participate in blackjack, roulette and other casino games, as well as a large variety of poker games. A couple of casinos that stick out include the Mark Twain in La Grange and the River City Casino in St. Lewis.
Missouri Poker FAQs
We receive a lot of questions about whether the top poker sites are legal in Missouri as well as which forms of gambling is legal or illegal. We thought it would be helpful to post those here along with our answers.
Will online poker be regulated in Missouri?
From our research we haven't found anything to sway our opinion one way or another.
On another note, a law was considered that, if passed, would prevent welfare beneficiaries from spending money at casinos.
Is there an online poker room that accepts players from Missouri?
Missouri residents are able to sign-up to any poker room that accepts US players. This includes Bovada, BetOnline and Sportsbetting Poker.
What other forms of regulated gambling is offered in Missouri?
Other than the riverboat gambling Missouri hosts licensed bingo, raffles and a state lottery.
Where can I read more about Missouri poker laws?
You can learn more about Missouri gambling laws at the following websites:
Missouri Poker Factoids
Here's some interesting facts about online poker and gambling in the state of Missouri.
Want to play poker on your phone, tablet or laptop? It could possibly land you in trouble.
572.070.
1. A person commits the crime of possession of a gambling device if, with knowledge of the character thereof, he manufactures, sells, transports, places or possesses, or conducts or negotiates any transaction affecting or designed to affect ownership, custody or use of:
(1) A slot machine; or
(2) Any other gambling device, knowing or having reason to believe that it is to be used in the state of Missouri in the advancement of unlawful gambling activity.
Possession of a gambling device is a class A misdemeanor.
Being a professional poker player can land in trouble, too, depending on how much you make. This is known as being guilty of "vagrancy," and can land guilty offenders with a felony.
"Professional player" means a player who engages in gambling for a livelihood or who has derived at least twenty percent of his income in any one year within the past five years from acting solely as a player;
Keep in mind that this is significantly less than what the IRS defines as the difference between a hobby and a job. For the IRS the cutoff point is 50%.
If someone loses while gambling illegally, they can start a civil suit to try to recover those losses.
Mike Caro, poker author, player and tells expert, was born in Joplin, Missouri in 1944.
Additional Gambling Law Reviews