North Carolina Poker / Gambling Laws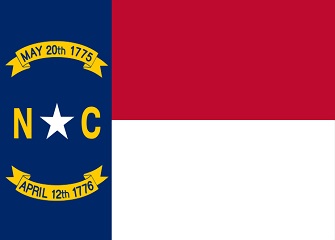 Poker is a mixed bag in North Carolina. Online poker is likely to be illegal, as well as home games. However, players still have the opportunity to play live in the one casino established within the state. And based on our research it doesn't look like any of this will change in the near future. Read on to see what I mean.
Playing Poker Legally in North Carolina
Is Online Poker Legal in North Carolina?
North Carolina doesn't have any laws that pertain to online gambling. One could then assume that online poker would be illegal based on the following laws:
§ 14-301.Operation or possession of slot machine; separate offenses.
It shall be unlawful for any person, firm or corporation to operate, keep in his possession or in the possession of any other person, firm or corporation, for the purpose of being operated, any slot machine or device where the user may become entitled to receive any money, credit, allowance, or any thing of value...
This includes video bingo, craps, keno, lotto and other video games.
To further clarify:
For the purpose of this section, a video gaming machine is a video machine which requires deposit of any coin, token, or use of any credit card, debit card, or any other method that requires payment to activate play of any of the games listed in this subsection.
The laws don't say poker specifically, but considering that online poker is like a video game, and your computer (or laptop, phone or tablet) is a device that lets you play online, that could be enough to make it illegal.
Even if that wasn't the case, gambling on any game of chance is illegal in North Carolina. And based on our research the state considers poker a game of chance. So that would certainly rule out online poker.
What About Home Poker Games?
North Carolina makes no exceptions for home poker games. All players that participate run the risk of being charged with a misdemeanor.
§ 14-295.Keeping gaming tables, illegal punchboards or slot machines, or betting thereat.
If any person shall establish, use or keep any gaming table (other than a faro bank), by whatever name such table may be called, an illegal punchboard or an illegal slot machine, at which games of chance shall be played, he shall be guilty of a Class 2 misdemeanor; and every person who shall play thereat or thereat bet any money, property or other thing of value, whether the same be in stake or not, shall be guilty of a Class 2 misdemeanor.
Class 2 misdemeanors can result 1-60 days in jail and up to a $1,000 fine.
Do Casinos in North Carolina Offer Poker?
The only casino is North Carolina is Harrah's Cherokee Casino. They spread poker games, as well as other popular table games. Prior to April 2013, these games were played at tables with video monitors, so that to comply with state laws.
North Carolina Poker FAQs
We receive a lot of questions about the legality of poker in the state of North Carolina. We've answered those questions below.
Will online poker be regulated in North Carolina?
Unlikely. We couldn't find anything during our research about efforts being made towards legalizing online poker (or gambling) in the state. And given the current laws and news, we don't see that changing for the positive any time soon.
Recent Gambling News
In February 2013, a low stakes game held in a tavern was raided by cops with assault rifles. According to one of the players, "I would have thought we were armed robbers or murderers when they came in on us," one of the owners told the News-Record. "It was one of the scariest things I ever went through. All of a sudden, you're looking at assault rifles and guns."
Is there an online poker room that accepts players from North Carolina?
Yes. Residents can sign up to any poker site that accepts US customers. This includes sites like Bovada, Sportsbetting Poker, Americas Cardroom, BetOnline and Sportsbetting.ag.
What other forms of regulated gambling is offered in North Carolina?
North Carolina runs a state lottery and allows charitable bingo and raffle events.
Where can I read more about North Carolina poker laws?
You can read more about North Carolina's gambling laws at the following websites:
North Carolina Poker Factoids
Here are some interesting facts about gambling and poker in North Carolina.
North Carolina didn't introduce a state lottery until March of 2006. To put that into perspective, Washington State signed legislation for their lottery in 1982. That's a lot of money the state missed out on. Washington State did 24.7 million more, or about a 5 percent increase over their numbers in 2011. Basic math would tell us that the state did about $450 million in 2011. So you could assume that North Carolina missed out on billions of dollars in revenue.
Beach Bingo was the first regulated and legal form of gambling in North Carolina. Gambling was made legal in 1983.
Greg Raymer, former PokerStars pro and WSOP Main Event winner, was caught with a hooker in a Wake Forest, North Carolina hotel.
Additional Gambling Law Reviews