Minnesota Poker / Gambling Laws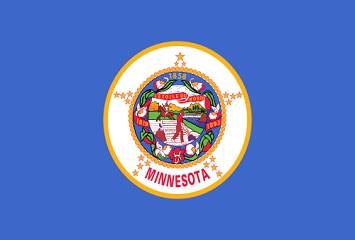 Minnesota is a quieter state compared to others regarding gambling. Online poker appears to be illegal, however, online poker sites still accept residents from this state. Home poker games are acceptable, too, as are other gambling options permitted by law. Above all, Minnesota doesn't appear to be very active in regulating online poker. So all-in-all, Minnesota is a very neutral state. Read on to learn more about what you can and cannot do poker-wise.
Playing Poker Legally in Minnesota
Is Online Poker Legal in Minnesota?
Any form of gambling is illegal if it's not specifically permitted by law.
However, if you dig into Minnesota's laws you'll notice a couple of other statutes that lean the online poker needle more towards illegal than not.
609.755 ACTS OF OR RELATING TO GAMBLING.
Whoever does any of the following is guilty of a misdemeanor:
(1) makes a bet;
(5) except where authorized by statute, possesses a gambling device.
Clause (5) does not prohibit possession of a gambling device in a person's dwelling for amusement purposes in a manner that does not afford players an opportunity to obtain anything of value.
Subd. 4.Gambling device.
A gambling device is a contrivance the purpose of which is that for a consideration a player is afforded an opportunity to obtain something of value, other than free plays, automatically from the machine or otherwise, the award of which is determined principally by chance, whether or not the contrivance is actually played. "Gambling device" also includes a video game of chance, as defined in subdivision 8
So in theory, online poker is illegal because you're making a bet and using a gambling device (tablet, laptop or computer).
An argument can also be made that online poker is a video game of chance. That statute makes any video simulation of poker, blackjack and other casino games illegal. However, if online poker was considered a game of skill than it would be excluded from this statute.
Overall, even though there are no specific laws regarding online poker, I think there is enough overlap in these statutes to determine that online poker is illegal. Therefore I would be cautious when playing online, even though poker sites will and do accept residents from this state, and even though no one has been arrested for online poker to date (to the best of our knowledge).
What About Home Poker Games?
Home poker games are legal so long as the person running it does not take a fee or rake, or charge for rental of supplies.
Subd. 10.Game.

A game means any game played with cards, dice, equipment, or any mechanical or electronic device or machine for money or other value, whether or not approved by law, and includes, but is not limited to: card and dice games of chance, slot machines, banking or percentage games, video games of chance, sports pools, pari-mutuel betting, and race book. "Game" does not include any private social bet.

Subd. 3. Social skill game. Sections 609.755 and 609.76 do not prohibit tournaments or contests that satisfy all of the following requirements:
This statute comes with rules, though. Prizes cannot exceed $200, players under the age of 18 cannot play and there cannot be any buy-in.
We're not 100% sure if this applies to home games, too. In other words, if you're able to buy-in to a home poker tournament so that you can use that money to create the prize pool.
I would guess that if you don't "buy-in," what you would do is have all the players contribute to the prize pool, and not look at it as a buy-in. Same difference, I suppose.
Do Casinos in Minnesota Offer Poker?
Yes. Nearly all of the tribal casinos in the state offer a variety of poker games. The most popular racetrack, Canterbury Park, offers poker games, too.
Minnesota Poker FAQs
We receive a lot of questions about the gambling laws in Minnesota. We thought we'd post those here along with our answers for everyone to benefit from.
Will online poker be regulated in Minnesota?
There doesn't appear to be any interest in regulating online poker in the state.
However, despite the laws learning towards online poker being illegal, there was a study done that concluded that detecting online gambling would be impossible.
Enforcing this proscription is another matter, since short of a massive invasion of privacy the state has no way of knowing when and with whom a remote bet is made. [...] It is unlikely that anything the legislature could undertake would have a significant impact on remote gambling, short of lifting all restrictions on gambling to create a truly level playing field. (Minnesota legislation)
So even if they don't explicitly make it legal / illegal, it is clear to them that there is little they can do for the time being to track and monitor illegal gambling. At least without breaking the state's privacy laws.
Is there an online poker room that accepts players from Minnesota?
Yes. Even though poker sites tend to prohibit players from strict states from signing up, this doesn't appear to be a problem for residents of residents of Minnesota. You should still be able to sign up to some of the better poker sites for American players, which include Bovada, Sportsbetting Poker and BetOnline.
What other forms of regulated gambling is offered in Minnesota?
Other than tribal casinos, Minnesota also has pull tables, bingo, para-mutual horse racing and a state lottery.
Where can I read more about Minnesota poker laws?
You can read more about Minnesota's gambling laws at the following websites:
Minnesota Poker Factoids
Here are some interesting facts about online poker and gambling in the state of Minnesota.
Minnesota is one of the few states that allow you to play dice games socially.
Statistics show that 85% of US adults have gambled at least once in their lives and 80% in the last year. 91% of Minnesota adults have participated in at least one gambling activity in their lifetime.
Greg Raymer, a PokerStars Pro, WSOP Main Event winner and hooker aficionado [Source: http://www.nydailynews.com/news/crime/pro-poker-wiz-fossilman-busted-prostitution-sting-article-1.1290012], learned to play poker while attending the University of Minnesota Law School in 1992.
Additional Gambling Law Reviews