Kentucky Poker / Gambling Laws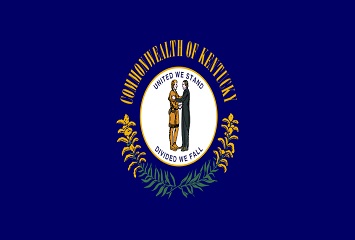 Kentucky is a weird state. They've been running horse racing operations for over 100 years and home poker games are fine, too. They don't even prosecute players when they break the law (in terms of playing). Yet, they go as far as to try to seize over 100 online gambling operator domain names. Between that and not really showing interest in regulating online poker in the state, and it's unlikely that we'll see any improvements from where Kentucky currently stands on gambling within the state. We break all of this into more detail for you below.
Playing Poker Legally in Kentucky
Is Online Poker Legal in Kentucky?
Online poker isn't specifically addressed. That said, Kentucky appears to be more interested in the operator than the player.
528.010 Definitions
(7) "Player" means a person who engages in any form of gambling solely as a contestant or bettor, without receiving or becoming entitled to receive any profit therefrom other than personal gambling winnings, and without otherwise rendering any material assistance to the establishment, conduct, or operation of the particular gambling activity. A person who engages in "bookmaking" as defined in subsection (2) of this section is not a "player."The status of a "player" shall be a defense to any prosecution under this chapter.
528.020 Promoting gambling in the first degree.
(1) A person is guilty of promoting gambling in the first degree when he knowingly advances or profits from unlawful gambling activity by:
(c) Setting up and operating a gambling device.
(2) Promoting gambling in the first degree is a Class D felony.
However, you'll have a hard time finding a poker site to play at. Many sites prohibit players from Kentucky from signing up. Furthermore, in 2008 Kentucky filed papers to seize the domains of nearly 150 gambling operators. In 2010 Kentucky tried to recover losses from Full Tilt Poker. The 2008 case definitely shows their dislike to online gambling, and both cases show how much they want to protect their players.
But it sure leaves everyone more confused.
So is it illegal? Since players don't appear to face any legal issues if caught, then it doesn't really matter either way. Your biggest challenge is in finding a poker site that will take Kentucky players.
What About Home Poker Games?
Kentucky doesn't address social gaming, however, it appears that so long as you don't promote gambling or take a fee or rake from the game you should be ok.
528.030 Promoting gambling in the second degree.
(1) A person is guilty of promoting gambling in the second degree when he knowingly advances or profits from unlawful gambling activity.
(2) Promoting gambling in the second degree is a Class A misdemeanor.
There is a caveat. Players must not earn more than $500 in one day or else they could be charged with promoting gambling.
528.020 Promoting gambling in the first degree.
(1) A person is guilty of promoting gambling in the first degree when he knowingly advances or profits from unlawful gambling activity by:
2. More than $500 in any one day of money played in the scheme or enterprise; or
Do Casinos in Kentucky Offer Poker?
There aren't any casinos in Kentucky, so no casino poker.
Kentucky Poker FAQs
We receive a lot of questions about poker state laws and gambling in Kentucky. We thought it'd be helpful to post those here.
Will online poker be regulated in Kentucky?
Given the history in Kentucky -- probably not. One look at our timeline of events will tell you that.
That said, residents of Kentucky can legally bet on horse races online. Many experts feel that Churchill Downs may look to expand this to include poker and other casino games, especially following their purchase of a gambling-themed magazine and web portal.
Regulated Real Money Poker in Kentucky - A Timeline of Events
Here is a timeline of the most important (gambling) events in Kentucky regarding regulated real money gaming online.
September 2011 / PokerStars vs. Kentucky
Kentucky files suit against PokerStars, Full Tilt Poker, Absolute and Ultimate Bet Poker.
April  2010 / Kentucky Files Suit Against Full Tilt Poker
This is a separate suit that was filed before Black Friday happened. In this suit Kentucky tried to recover losses that residents of the state occurred while playing at Full Tilt.
September 2008 / Kentucky Tries to Seize Gambling Domains
Kentucky attempted to seize over 140 gambling domains in an effort to stop illegal online gambling within the state. Domains included PokerStars and Absolute Poker, who later had suits filed against them in unrelated events.
Is there an online poker room that accepts players from Kentucky?
Only a handful of sites accept residents from Kentucky. These sites include BetOnline and Sportsbook Poker.
What other forms of regulated gambling is offered in Kentucky?
Kentucky runs pari-mutual horse and dog racing. They also have a state lottery and charitable gaming.
Where can I read more about Kentucky poker laws?
You can read more about Kentucky's gambling laws here:
Kentucky Poker Factoids
Here are some interesting facts about gambling and poker in Kentucky.
Poker pro Mark Smith is from Georgetown, Kentucky. He holds the world record for the most World Series of Poker Circuit rings won (5).
Minors are allowed to gamble at licensed charitable bingo events, so long as a parent is present.
Money lost through gambling can be recovered via lawsuit within 6 months. After that time anyone can file a claim to retrieve the money for up to 5 years.
372.020 Recovery of gambling losses from winner or his transferee.
If any person loses to another at one (1) time, or within twenty-four (24) hours, five dollars ($5) or more, or anything of that value, and pays, transfers or delivers it, the loser or any of his creditors may recover it, or its value, from the winner, or any transferee of the winner, having notice of the consideration, by action brought within five (5) years after the payment, transfer or delivery. Recovery may be had against the winner, although the payment, transfer or delivery was made to the endorsee, assignee, or transferee of the winner. If the conveyance or transfer was of real estate, or the right thereto, in violation of KRS 372.010, the heirs of the loser may recover it back by action brought within two (2) years after his death, unless it has passed to a purchaser in good faith for valuable consideration without notice.
372.040 Suit by third person where loser or creditor does not sue.
If the loser or his creditor does not, within six (6) months after its payment or delivery to the winner, sue for the money or thing lost, and prosecute the suit to recovery with due diligence, any other person may sue the winner, and recover treble the value of the money or thing lost, if suit is brought within five (5) years from the delivery or payment.
Additional Gambling Law Reviews