Legal Poker / Gambling Laws in Iowa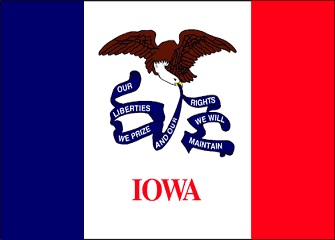 Iowa is a relatively ok state for poker players. They have options, at least. For example, poker players can participate in home games and in card games that are ran in licensed and regulated casinos. However, the legality of online poker isn't clear, which more than likely makes it illegal. This is in despite of the fact that online poker sites still accept real money players from Iowa.
Well, that's the cliff notes for the poker laws in Iowa. However, if you want to read about these laws in more detail, I encourage you to read what we've written up below.
Playing Poker Legally in Iowa
Is Online Poker Legal in Iowa?
Iowa doesn't have any state laws that mention online poker. However, that usually means that, as a default, the general statutes are used. If that is the case than online poker could be considered illegal within the state.
Section 725.1(1)

A person shall not do any of the following:

a. Participate in a game for any sum of money or other property of any value.
b. Make any bet.
c. For a fee, directly or indirectly, give or accept anything of value to be wagered or to be transmitted or delivered for a wager to be placed within or without the state of Iowa.
What About Home Poker Games?
Social poker games appear to be legal under Iowa's laws, but there are some funny restrictions. For example, to play in a social game, you must have a prior relationship with everyone involved. What that means, to what extent and how it could ever be enforced is anyone's guess. Then there's the standard law that no one can profit from the running of the game, which includes rake, door or food fees. Players cannot lose more than $50 in the game either, and must have the opportunity to deal (or run) the game, if they so choose.
In all seriousness, that pretty much sounds standard for any home game I've played in. So you shouldn't have any problems.
99B.12 Games between individuals.
1. Except in instances where because of the location of the game or the circumstances of the game section 99B.3, section 99B.5, section 99B.6, section 99B.7, section 99B.8, or section 99B.9 is applicable, individuals may participate in gambling specified in subsection 2, but only if all of the following are complied with:
a. The gambling is incidental to a bona fide social relationship between all participants.
e. No person receives or has any fixed or contingent right to receive, directly or indirectly, any profit, remuneration, or compensation from or as a result of the gambling, except any amount which the person may win as a participant on the same basis as the other participants.
g. No participant wins or loses more than a total of fifty dollars or other consideration equivalent thereto in one or more games or activities permitted by this section at any time during any period of twenty-four consecutive hours or over that entire period.
h. No participant pays an entrance fee, cover charge, or other charge for the privilege of participating in gambling, or for the privilege of gaining access to the location in which gambling occurs.
i. In any game requiring a dealer or operator, the participants must have the option to take their turn at dealing or operating the game in a regular order according to the standard rules of the game.
2. Games which are permitted by this section are limited to the following:
a. Card and parlor games, including but not limited to poker, pinochle, pitch, gin rummy, bridge, euchre, hearts, cribbage, dominoes, checkers, chess, backgammon, pool, and darts.
Do Casinos in Iowa Offer Poker?
Yes. There are a number of commercial and tribal casinos within the state. Here is a list of casinos to get you started.
Ameristar
Argosy
Blackbird Bend Casino
Catfish Bend
Diamond Jo Casino
Diamond Jo Casino - Worth
Grand Falls Casino
Horseshoe Council Bluffs
Harrah's Casino & Hotel
Isle of Capri
Rhythm City
Meskwaki Casino
Mystique
Prairie Meadows
Riverside Casino & Golf Resort
Terrible's Lakeside Casino
Wild Rose Casino and Resort
WinnaVegas
Iowa Poker FAQs
We receive a lot of questions about the legality of online poker sites and gaming in Iowa. We thought that it would be helpful to post those questions and our answers here for everyone to benefit.
Will online poker be regulated in Iowa?
That's difficult to call.
A bill was proposed this year (2013) that would allow casinos in the state to run poker games online. However, the senate shut it down out of a lack of interest. As another poker portal said, it's hard to know what to make of it in regards to future regulation. Does that mean the state's just not interested (right now) or that there's not enough support? What can you say about the bill being proposed in the first place? Someone must've been interested, right?!
So we would leans towards, yes, we think that regulation is in Iowa's future. When, we don't know. Several years? A couple of months? Either way, they're much further ahead compared to other states.
Is there an online poker room that accepts players from Iowa?
Yes. Iowa residents can sign up to any poker site that accepts US players. That list includes sites like Bovada, Sportsbetting Poker, Americas Cardroom, Sportsbetting.ag and BetOnline.
What other forms of regulated gambling is offered in Iowa?
Iowa offers para-mutual horse and dog racing in both live events and simulcasts from other states. Residents can also participate in charitable games including raffles, bingo and games, as well as the state lottery.
Where can I read more about Iowa poker laws?
You can read more about Iowa's gambling laws at the following websites:
Iowa Poker Factoids
Here are some interesting facts about gambling and poker in Iowa.
Iowa regulated riverboat gambling in 1989, making it the first state to do so. At that time the maximum bet was $5 and players could not lose more than $200 in any given session. The betting restrictions were removed 3 years later. In 2004 the state made it so that casinos located on barges in man-made water basins or lakes were ok, versus forcing riverboats to be out in the water (away from land) to be legal.
Studies show that Iowa would only receive $3-$13 million per year if online gambling was legal within the state. Keith Miller, a Drake University professor, said that the low projections could complicate any efforts to pass online poker legislation in 2012. This was a far cry from the original projections of $30+ million.
Additional Gambling Law Reviews